Ok, so we've covered a bunch of phases of vintage clothing seeking, finding, wearing in the first 5 parts of my vintage series. Here's a recap if you missed and want to go back and see them all…
Part 1: How to Style Vintage Clothing to Look Modern
Part 2: Vintage Clothing and Sustainability
Part 3: Where to Buy Vintage
Part 4: What to Look for When Vintage Shopping
Part 5: Inclusive Sizing in Vintage
For this last part, I'm going to put give you some visual inspiration now that you know all my tips and tricks. If you're still feeling nervous about going head-to-toe vintage (but want to eventually), just start with a little at a time. Here are some examples…
Start Small
The nice thing about vintage accessories (just like any other accessory) is they provide a great way to tap into a style without committing to a full outfit or look that may be new to you. Vintage shoes, belts, necklaces, rings, and more can be found both in vintage shops and online in great condition. All of the pieces shown above (as an example of a few of mine) are in excellent condition and are pieces I could wear with lots of different modern looks. Vintage rings (like shown) are my absolute favorite as they make fun statement pieces to wear day or night and can usually be found for great prices—most of mine are $25 or less!
Tip: If you're getting vintage jewelry with clasps (like bracelets or necklaces) double check that those still work as they are the first to break on older pieces.
Now, what about vintage shoes? I have bought only a handful of vintage shoes in my life. They are trickier because of sizing, and vintage shoes are often tough to find in great condition. And, while I love vintage clothing, shoes can't quite be washed in the same way. So they are extra hard to find in a minimally worn condition. I bought this pair (above) because they were so unique, in excellent condition, and in my size. But don't get discouraged if you can't find a pair – it's a more rare type of vintage item for sure. Something not to always seek but to be delighted if you come across!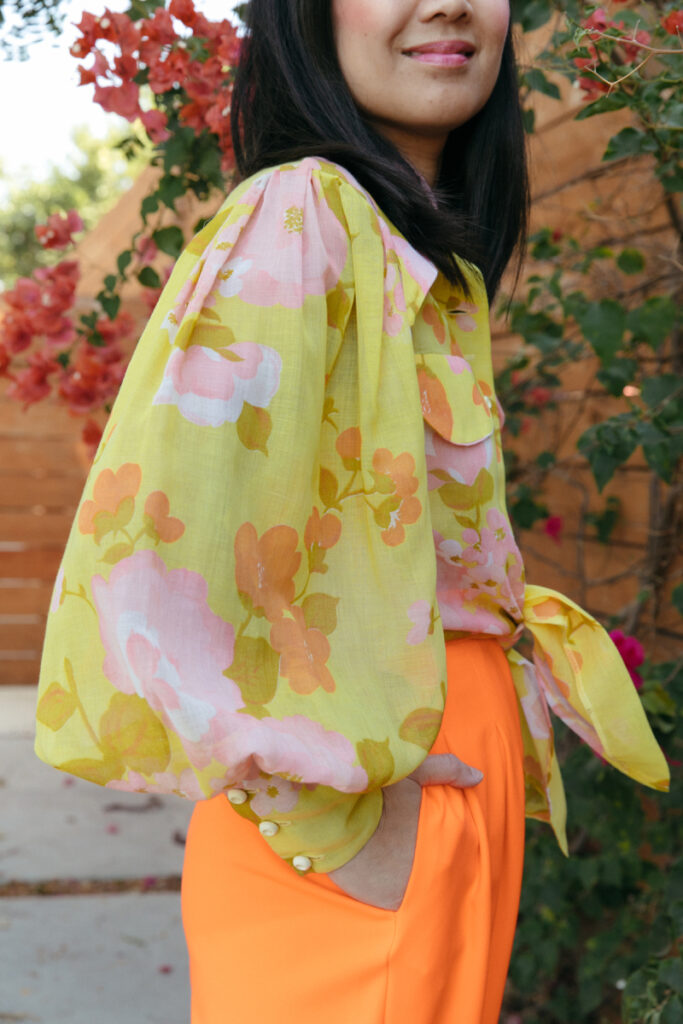 One Main Piece
Next, try working in a vintage top or pants mixed with other current pieces you already own. It's the mix that I love SO much and what makes vintage feel fresh…giving a nod to the past while not feeling too stuck there. I paired this vintage floral top with some bright orange slacks for a very vibrant look.
Now, these vintage pants (which I rented from Nuuly) are SO fun and special. All it needed was a neutral top so that the pants could really shine.
This vintage yellow top has great texture and detail (check out those bell sleeves)! So it's perfect to dress up or down by pairing with denim or other types of clean lined pants or skirt.
Tip: If a vintage piece has a bold color or pattern, mixing it with a more neutral modern piece will help balance it out.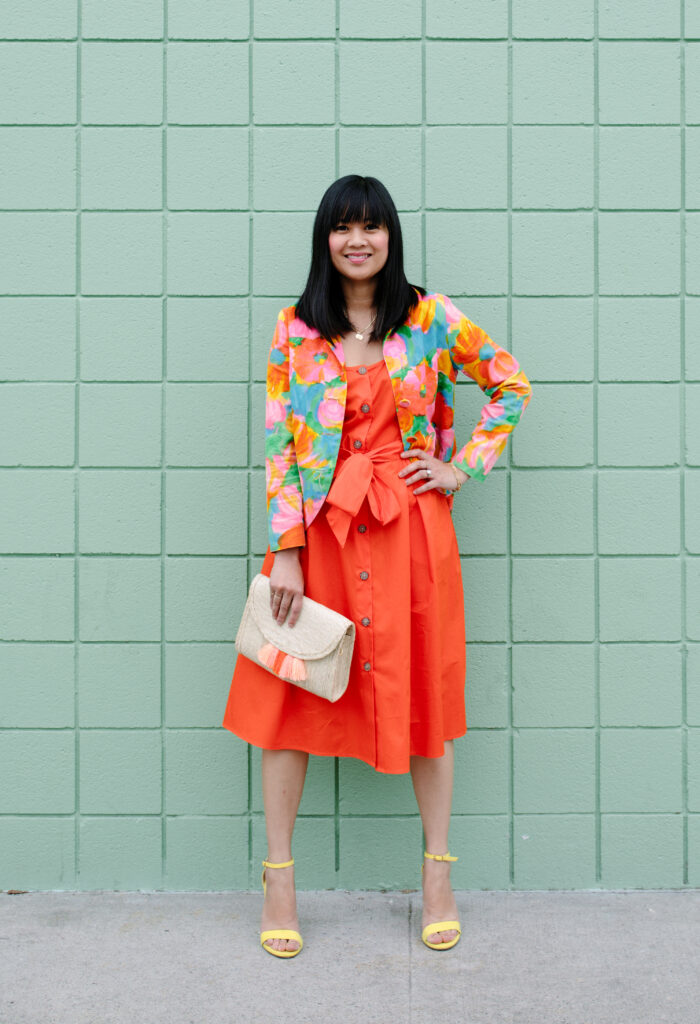 A Layering Piece
Vintage coats, jackets, or dusters are some of my favorite pieces to collect and wear. They are great for layering seasons (which is year round here in Los Angeles), but also really make any outfit more special. Any of these pieces over a simple tee, jeans, or dress makes the whole look instantly pop. Here's a floral blazer worn over a colorful dress to add even more brightness to this look.
With these two (the floral duster and the plaid jacket), the pieces underneath are more subdued really making the vintage pieces the star of the show.
Tip: Because these pieces may cost a bit more than a top or pants, make sure the fit and condition are great. For example, I'm usually willing to spend $100-200 on a great vintage jacket whereas I wouldn't typically spend that on a vintage top.
All-in-One Statement Piece
A vintage piece that's a jumpsuit or maxi dress makes for a bold look because it covers both the top and bottom halves of your body. These types of pieces are there for you to go full-on vintage when you are ready. I love this striped jumpsuit and floral dress, for example, because they allow me to express my personality with great pattern and color. These may be hard to feel comfortable in when you're just starting to wear vintage, but can also feel so perfect for you when you are ready!
Tip: Remember with these types of pieces, layer and mix here, too!
Head-To-Toe Vintage
Whether you wear one small piece, one main piece, or head-to-toe vintage is up to you and what makes you feel great! I put this outfit together as an example of two vintage pieces that I previously mixed with modern pieces. And it's a lot! Hahah! While I could wear this outfit, it's a bit too intense for me for a regular day, and I love both pieces better separately.
Tip: Wearing multiple vintage pieces can work (and not be this over the top). but it's about balancing the colors and silhouettes as you would with modern clothes, too. Ask yourself…which piece is the star of the show? What's the focus? If it's hard to say, then one piece might need to be switched to something else.
Vintage comes in all shapes and sizes (yes, we promise sizes – check out Part 5 to see!) and can appeal to so many different tastes. My vintage favorites tend to gravitate towards bold colors and patterns, and I love pieces mainly from the 50's, 60's, and 70's. But you can find something for every taste and many decades of styles: neutrals, solids, graphic, color block, statements, minimalist, maximalist, 80's, 90's, etc. If you've always wanted to wear vintage but didn't think you could, I hope this series has helped you with knowing what to look out for and how to find great pieces. Don't be afraid to take a small step towards vintage—I think soon you'll be loving it as much as I do. Together we'll keep the world a little greener, a little more colorful, and a whole lot more stylish.