Our Jess Dress is a simple and gorgeous piece that will become a staple for your closet. It's one of my favorite pieces from our collection with the ODells because it is so versatile with amazing textural details in the mixed eyelet fabric. You've seen us wear it on it's own, but it also works as a great layering piece! I'm wearing the Jess Dress in XS, and Courtney is wearing the Jess Dress Extended Size in 2X. Check out four different ways we've styled it…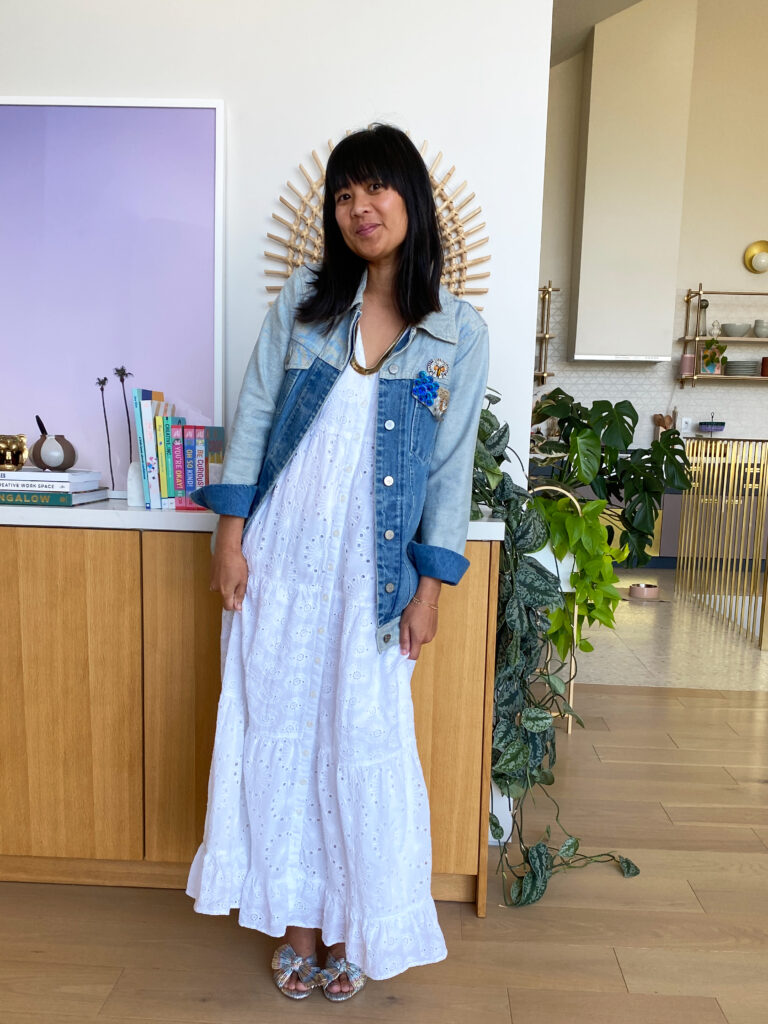 Joy's Outfit 1 – Date Night Dream
I love layering a denim jacket over this dress. The contrast of the delicate lace of the dress with the structured fabric of the jacket adds contrast in both color and texture. Adding sparkly heels and some vintage brooches to the outfit elevates it for going out. I love having that little pop on the jacket to bring something fun and whimsical to the outfit.
Tip: Remember to go from casual to dressy, accessories and layering pieces can be all you need. Those add-ons make one piece able to be worn so many ways!
Sources: Jess Dress (XS-XL; 1X-3X), Loeffler Randall Heels (past season), Ayr Denim Jacket (past season), Julia Vaughn Necklace (in sliver).
Courtney's Outfit 1 – School Teacher Chic
A simple button-up shirt is a closet staple that can be added to lots of different outfits. I like the option of adding sleeves to a sleeveless dresses if you need extra sun protection or to transition into fall. This outfit shouts breezy and fun all year long (even when we're back to the classroom).
Tip: When wearing a dress that has a lot of volume, you can emphasize the waistline by tying the shirt at the waist as Courtney did here!
Sources: J Crew Button Up Shirt, Jess Dress (XS-XL; 1X-3X), ODells Puff Slides.
Joy's Outfit 2 – Garden Party Fabulous
This dress is perfect for an summer outing. If you want to dress it up even more, adding a three-quarter length duster in fun colors makes the perfect light layer. Add on a pair of heels and a necklace for a little extra!
Did you know: The lace on our dress is called Dandi-Lash! It combines two different patterns – dandelion and eyelash. We love how the two layer delicately together and how the subtle pattern changes bring textural depth to the dress.
Sources: Jess Dress (XS-XL; 1X-3X), M.Gemi Heels (past season), Vintage Duster, Julia Vaughn Necklace (in sliver).
Courtney's Outfit 2 – Glam Pool Party
When out for a grown-up pool day (where there are more drinks than dunks), unbutton the dress to wear as a sophisticated swim cover up. Then, add pool-ready shoes and some statement sunglasses. The Jess Dress works perfectly as a cover up while looking oh-so-chic. It adds a great layer to a bright and colorful swimsuit which Courtney is rocking here!
Tip: Don't be afraid to unbutton a dress with buttons! It turns it into duster or swim cover and makes that piece even more versatile.
Sources: Aerie Swimsuit, Jess Dress (XS-XL; 1X-3X), Kate Spade Slides (past season), Slocyclub Sunglasses.
P.S. See these outfit in motion on Instagram right here!