When it comes to making a special dessert or cake, anything that feels special without taking up too much time is always a plus in my book. Today, we've partnered with Seventh Generation to share this recipe we came up with—a no-bake funfetti crepe cake that is just as beautiful as it is delicious. It can get a little messy to make and eat, but it's worth every dab of whipped cream you'll have to wash off your plates! Here's how…
You'll need:
– 30 Crepes (store bought in packs of 10, but here's a recipe if you'd like to make your own)
– 4 Cups Heavy Whipping Cream
– 1/2 cup sugar
– 1/3 cup strawberry jam
– sprinkles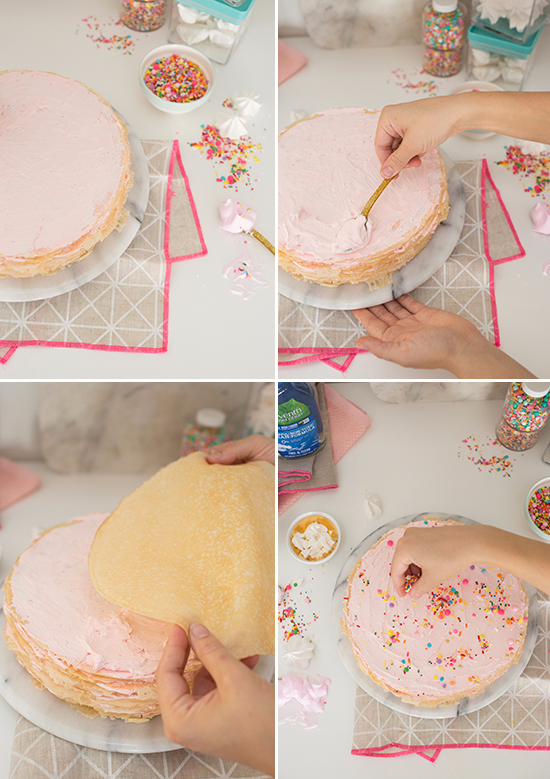 Here's how…
1. In a metal bowl, combine whipping cream, sugar and jam.
2. Use an electric mixer to whip together until stiff peaks form.
3. Begin building your cake by placing down one crepe as the base. Add one large spoonful of the whipped cream and spread a thin even layer over the crepe.
4. Stack another crepe on top of the whipped cream layer, and continue alternating until you've used all of the crepes.
5. Finish off your crepe cake with a layer of whipped cream on top – add fun sprinkles as a garnish! We also added some crumbled meringues for extra texture!
Finally, it's gonna get messy, so we use Seventh Generation's Free & Clear dish soap to wash all cream off the sticky dishes and bowls. It's non-toxic and plant-based, yet tough on grease and dried-on foods (and lots of whipped cream in our case)!  Which means it's safe for kids to help clean the dishes because it doesn't leave behind potentially harmful residue.
Because of the fresh cream, make this cake prior to your special occasion and refrigerate until serving. It's best if enjoyed the same day!
{Photos by Casey Brodley, styling by Julia Wester, crafting by Jess Hong. Recipe by Oh Joy. Props include: Leif Spoons, Leif Napkin, Target Canisters}