The dining room for me is one of the main places of gathering in any home—not just for your immediate family who lives there but also for friends and family who will come over for dinner parties and gatherings. This has been the weirdest year having a room that was designed to include guests yet with no guests to come and use it with us. Nevertheless, our dining room is destined for dinner parties aplenty soon enough! Here's a look…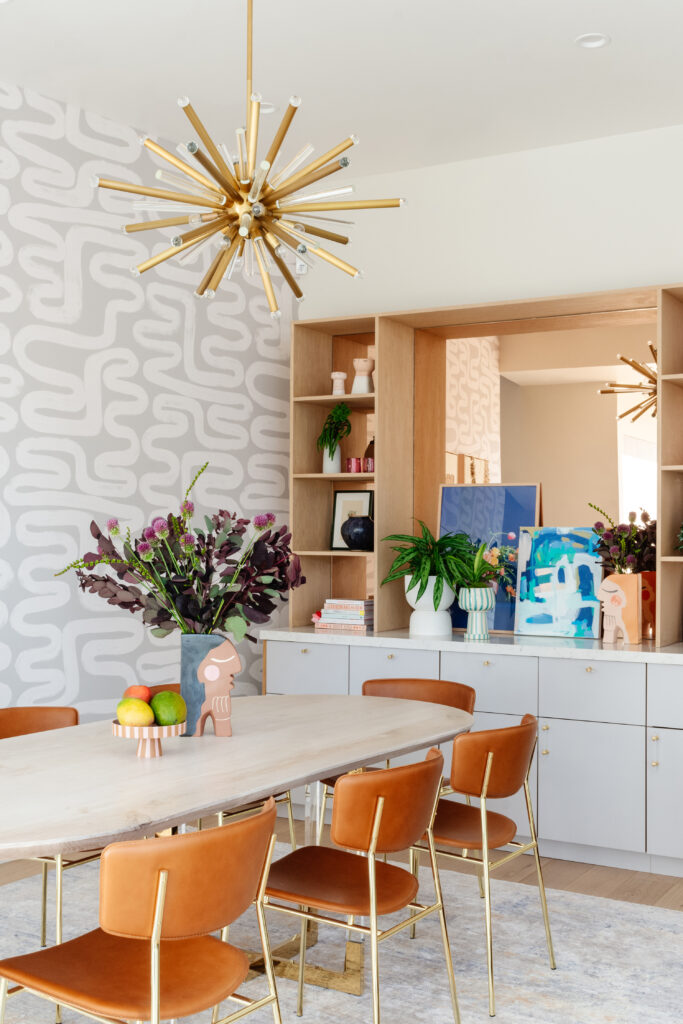 Statement Wallpaper
The dining room stayed mostly true to the original design plan except that our plan for a mural turned into wallpaper. This was the one room (of the rooms with wallpaper) that I chose removable wallpaper because I had a hard time choosing something permanent for this statement wall without first living in it. I needed to feel the flow, see the light, and live in it. Plus, it's one of the first rooms you see when you come inside. I love the wallpaper we currently installed as it's a great, large-scale abstract pattern. But knowing I could switch this up later down the line is nice, too!
Storage and Shelving
As you've seen in some of our other reveals, shelving and storage was a priority in every room of our house. While the dining room is right near the kitchen (and in many ways an extension of the space where we enjoy the food that was cooked), it has its own set of items to be stored that we wanted to maximize. We mixed semi-custom with custom and worked with Reform doors (on Ikea bases) for the bottom half of this piece and had the top half custom-made. The lower cabinets hold special occasion serving plates, vases, and pitchers as well as wine, champagne, and all the contents of a bar cart! Since we have kids, we chose to keep those items tucked away and out of reach vs. out on display.
The upper cabinets are open and therefore meant hold items that could function while also being on display. These shelves hold candles, vases, books, plants, and other decorative objects. It's backed with a rose-tinted mirror to help expand the space with a warm, bright glow.
Art
While I normally would use wallpaper fully on every wall of a room, this room is open to other spaces and therefore not defined by four walls like a closed room would be. So we focused on the statement, large scale wallpaper on the main wall as well as large art pieces that could stand on their own without the need for a gallery wall. I custom-ordered a couple pieces from Élan Byrd to add texture and a statement to one wall while adding an abstracted portrait of our family by Max Wanger to the opposite wall.
The Table and Chairs
Although our everyday meals involve just the four of us, I wanted to incorporate a larger dining table to allow space for friends and family. Whether a weekend dinner or Thanksgiving, this 8-seater helps to bridge the best of both worlds for our needs. I love the unique oval shape of the table, and I made sure the chairs were smooth and wipeable to make it livable with kids.
Plants
Plants are tucked into the shelves, on the counters, and standing in a few clusters near the dining table. I always like to add a mix in a variety of heights to add color and texture for an even livelier space!
P.S. Find all my house posts right here!
Credits:
Reveal photos: Bethany Nauert
Progress photos: Lily Glass
Design: Joy Cho with Cleo Murnane of Project M Plus
Styling: Cleo Murnane of Project M Plus
Architecture: Project M Plus
Construction: Boswell Construction
My Dress: Whit NY (past season)
Hair and Makeup: Danielle Walch
All furniture and materials sources noted within captions below photos. *Indicates an item that was designer discounted or gifted to us in exchange for coverage on Oh Joy. All opinions are my own. Please leave a comment if we missed anything you would like to know the source of!