I'm so excited to start blasting you with reveals! We started this project in 2014, so to say it's been a long time coming is an understatement. Moving into a new house during a pandemic is the weirdest thing. It gave us lots of extra time to move in, unpack, and settle in quickly. But none of our friends or family have come INSIDE our house…and we've been here for almost a year!
First up is our living room! The living room is one of the main hang out spaces of the home. We intentionally only have one living room—not the traditional formal living room and family room that some people have. We didn't have the space to have two, so we wanted to make the most of the one we do have. It mixes function, comfort, and style in a way I truly love so much…
Here's a look back along the way and my inspiration process blog post about this living room from a couple years ago when we were designing it.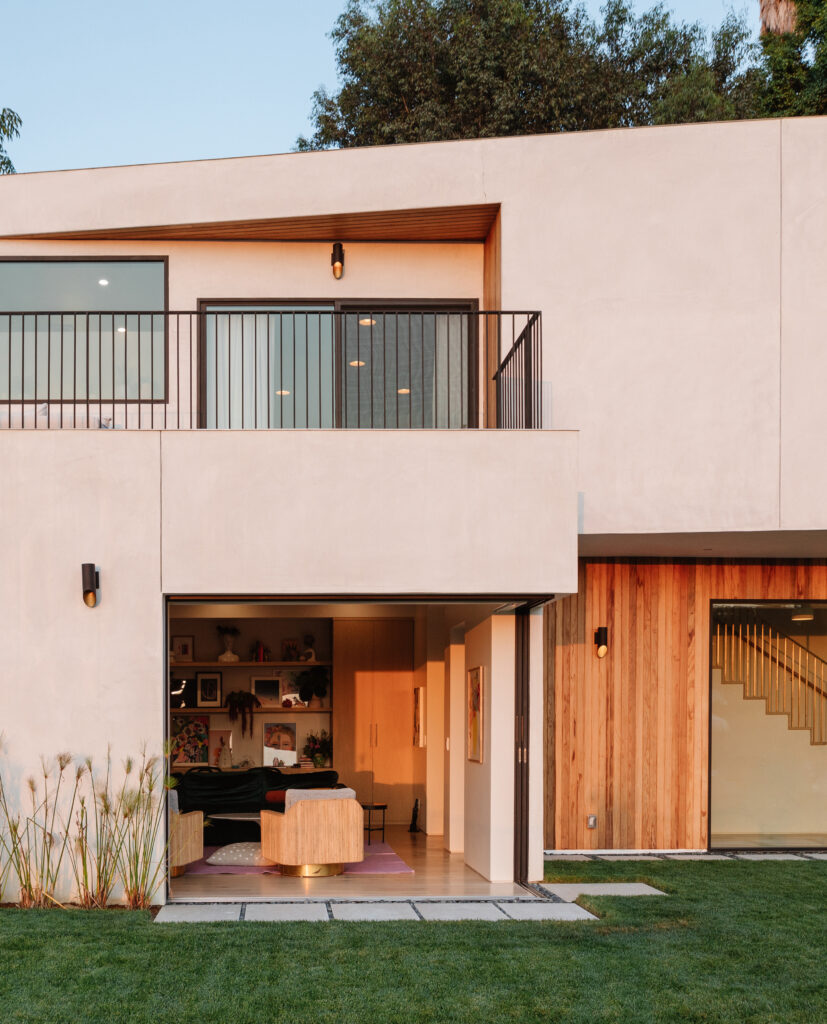 Our house was designed to maximize the indoor and outdoor flow from the yard to the main living spaces which includes the living room. The windows can fully open to enjoy the Los Angeles weather and will be amazing when we can finally have friends and family over.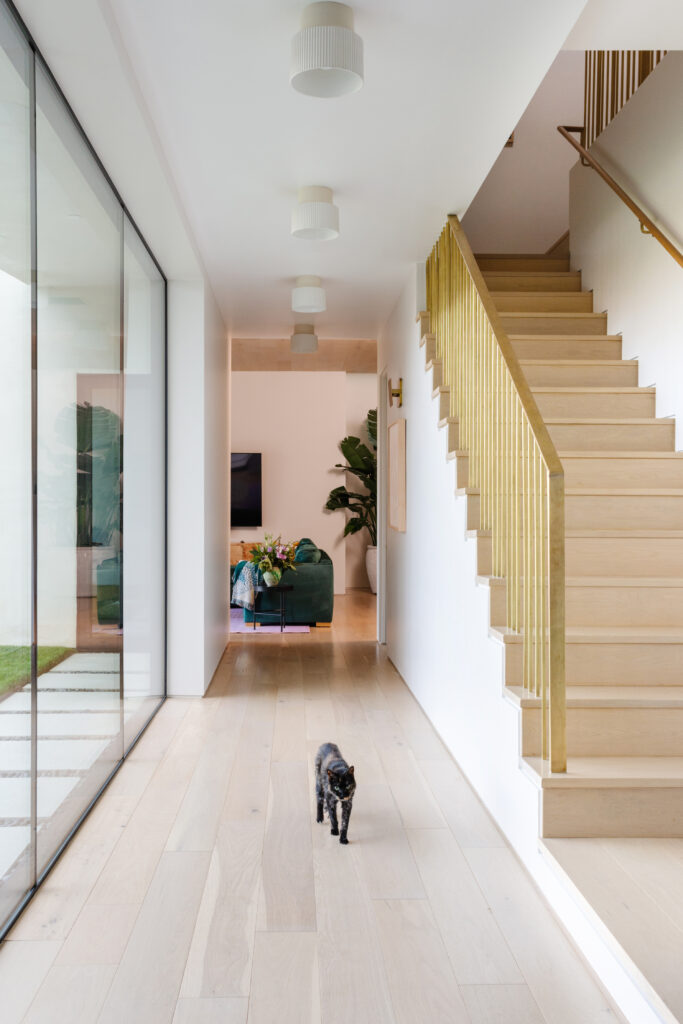 Because the back of the house is built into the hill, there are no windows on the rear side. Our architect, McShane Murnane, added light wells throughout. A light well is basically a sky light that goes from the top floor roof all the way down to the bottom floor. And, it serves as the perfect nook for this giant plant!
This desk area is probably my favorite part of the space as it combines functional storage and an area that I can display items that stay out of reach of small kids (and a puppy!). I have a huge collection of artwork made by friends, colleagues, and artists I've come across online, so the large open shelves give plenty of space to style and layer all of my favorite pieces. Cleo, who I worked with on interiors, designed this amazing custom cabinetry piece which we had built.
This desk was originally designed to serve as a simple at-home desk for me (when outside of my usual office) as well as a place for our kids to do homework. But it has turned into my kids' distant learning desk and came in handy just when we had to make that pandemic pivot last year in 2020.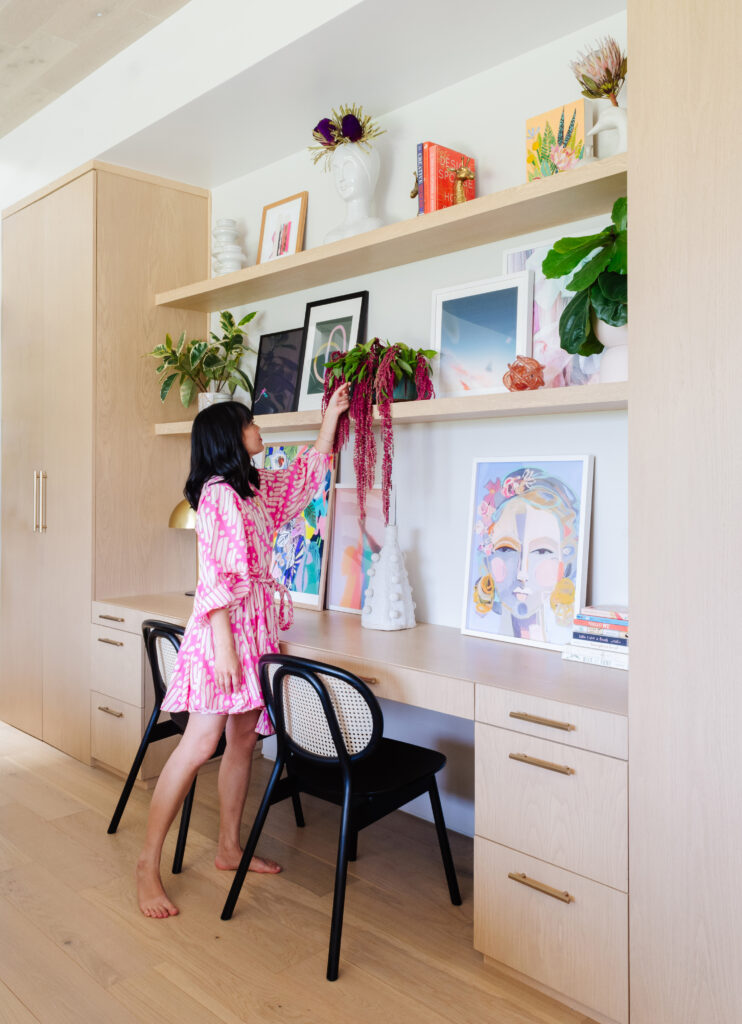 When it comes to displaying art and accessories, a mix of framed flat art, dimensional objects, functional vessels, and books line the shelves. I love that these shelve are ever-evolving. I move things around, add to them, and rotate as I add to my collection. It even looks a bit different today than it did when we took these photos last Fall!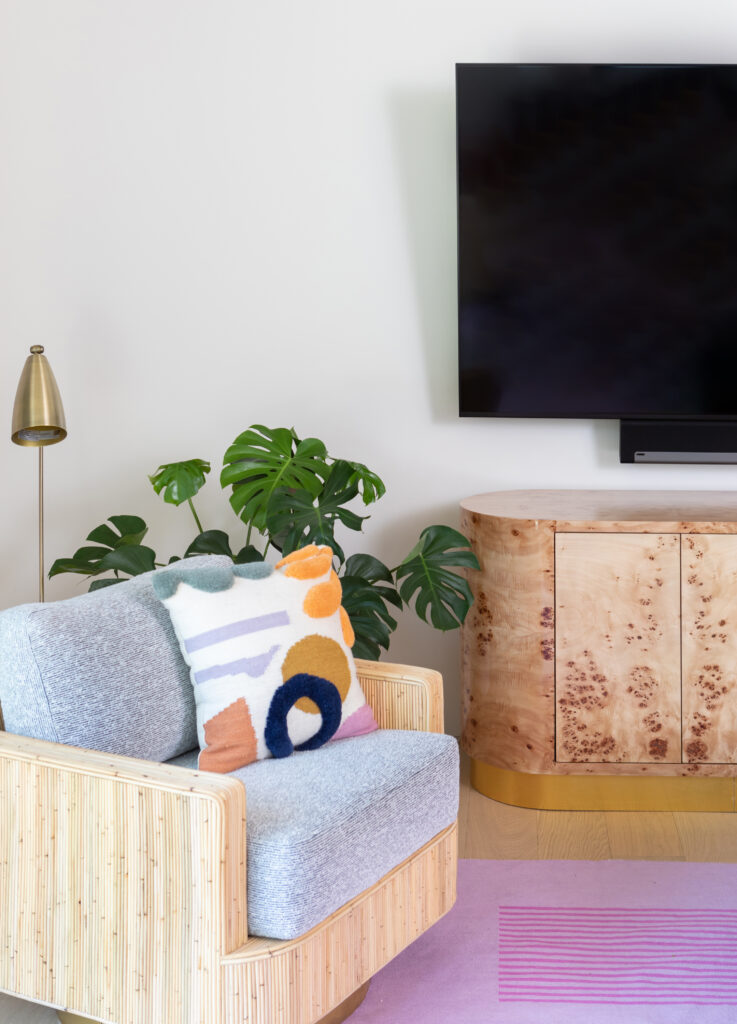 On the other side of the living room is the main seating area which includes a main couch (shown below) and two swivel chairs. It's a great way to have a space that allows for socializing and conversation when guests are over but also serves our daily functions, too, when we're watching a movie or show together on a typical evening.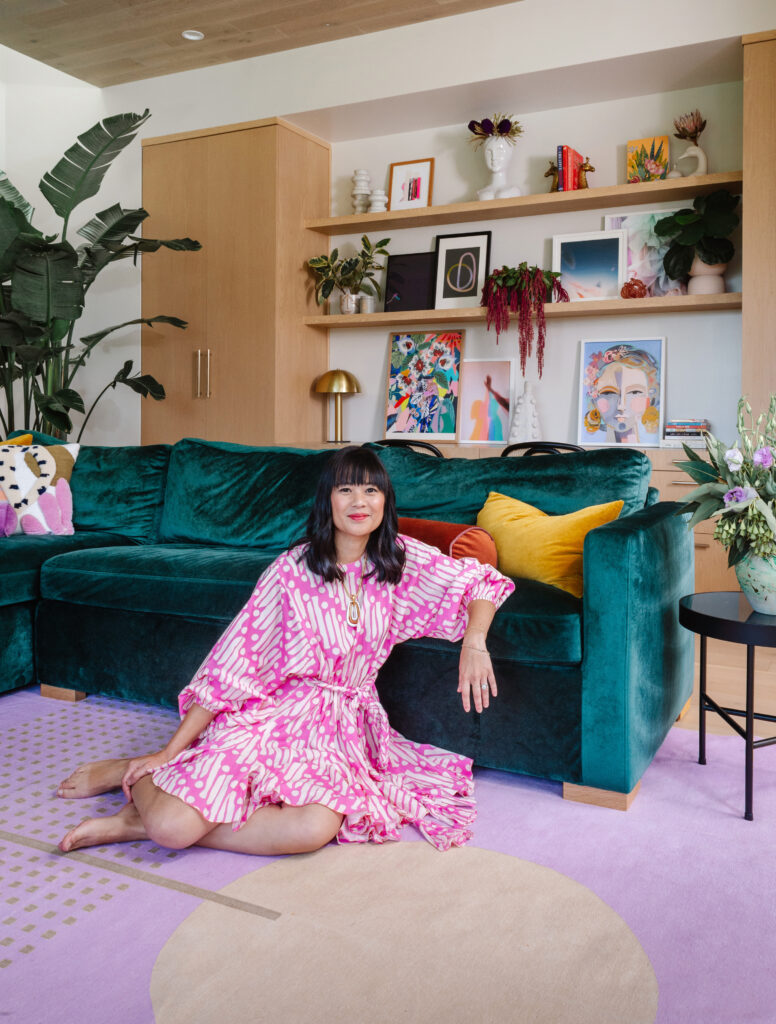 Here's me pretending like I actually lounge like this on the floor :P. I love the colors of this space. It all started with the emerald velvet couch and we accessorized from there. The Interior Define sectional is also a pull-out bed so we could maximize and future-proof for guests!
We have kids and pets, so it was important to choose a color that wouldn't get dirty too quickly. But I also wanted a true color (and not a neutral). We chose this amazing green in velvet because it looks chic but also wipes up easily should there be an occasional spill.
Ever since I had kids, I've always gone with round coffee tables and side tables. They are much safer for kids (who could potentially fall or bump their heads) and avoid extra corners. My kids are now older and would be fine without it, but for me, it's just one more thing I like to do to make spaces a bit more kid-friendly (but still chic) when possible.
Having a space you love means so much to me…especially a room you're in a lot! And remember, it IS possible to combine function and style. If you have any other comments or questions, let me know!
P.S. See all house posts right here…
Credits:
Reveal photos: Bethany Nauert
Progress photos (shown in slideshow): Lily Glass
Design: Joy Cho with Cleo Murnane of Project M Plus
Styling: Cleo Murnane of Project M Plus
Architecture: Project M Plus
Construction: Boswell Construction
My Dress: Rhode (past season)
Hair and Makeup: Danielle Walch
All furniture and materials sources noted within captions below photos. *Indicates an item that was designer discounted or gifted to us in exchange for coverage on Oh Joy. All opinions are my own. Please leave a comment if we missed anything you would like to know the source of!