It might not be typical that an office/studio would have a laundry room, but since it doubles as a space for long-term guests (like our parents), we wanted to be able to offer additional function to make them feel at home. Here's a look at this fun AND functional space…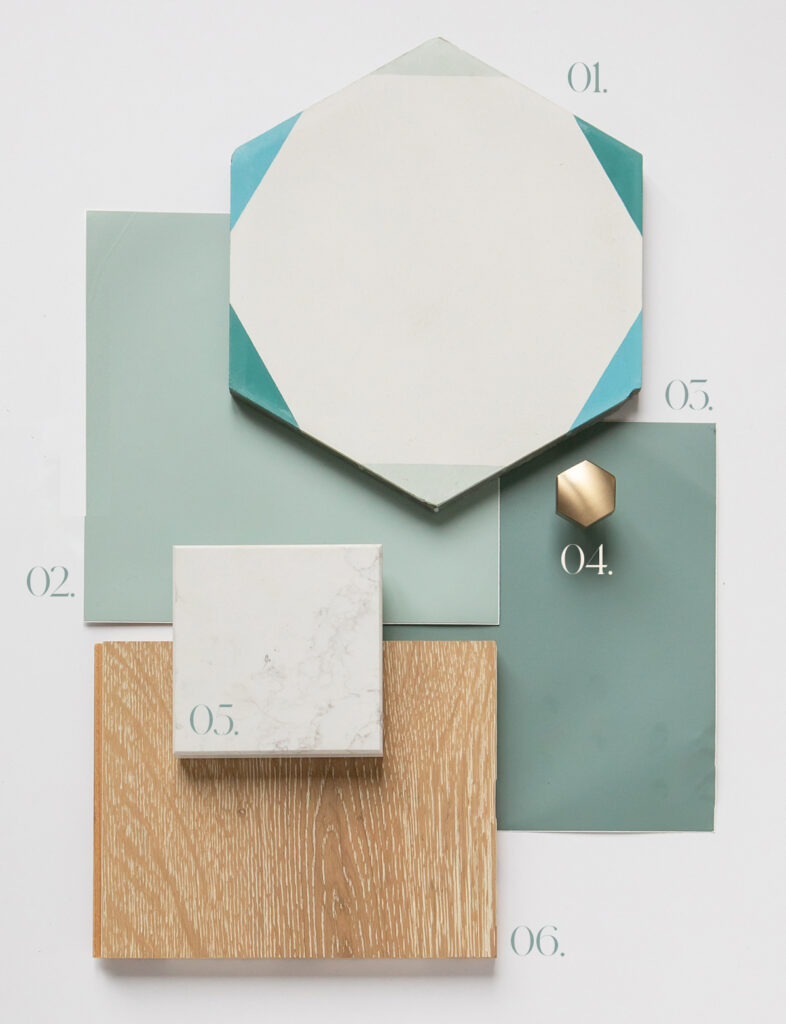 Inspiration
The inspiration for this room started with our Oh Joy for Cle Tile (in Pinwheel). We used it previously on the floor of my executive office in our former office, and I still love it so much and wanted to use it in a different way this time. Since this room wouldn't get wet or dirty, the way a floor might, I knew the white tile would do especially well here.
Here's a look (above) as the install process. This square-shaped room had enough space to create a decent-sized counter, cabinets for storage, a sink, and a stacking washer/dryer.
Two-toned Cabinets
The cabinets echo the blues and greens in the tile with one color on top and another on the bottom. It's a fun way to do cabinets by mixing two different tones together. The subtle nod to the tiles hexagon shape can be seen in the brass knobs on the cabinets, too!
Many of our long-term guests have been able to make use of this laundry room and find it so helpful to make it really feel like home. If you have any other questions about this space, please ask me below…
P.S. See all house and studio posts right here!
Credits:
Reveal photos: Bethany Nauert
Progress photos: Lily Glass
Design: Cleo Murnane of Project M Plus and Joy Cho
Styling: Cleo Murnane of Project M Plus, Jonas Bergkvist, and Scott Horne
Architecture: Project M Plus
Construction: Boswell Construction
All furniture and materials sources noted within captions below photos. *Indicates an item that was designer discounted or gifted to us in exchange for coverage on Oh Joy. All opinions are my own. Please leave a comment if we missed anything you would like to know the source of!