With the launch of our new Oh Joy! x The ODells Collection, I'll be sharing three ways to wear our mix-and-match pieces. Today, I'm starting with the Casey Skirt. This bold, turquoise print is fun and flirty, yet sophisticated to be worn with so many things. Take a look…
Outfit 1 – Easy Like Sunday Morning
Paired with a basic white tee and slip-on sneakers, you can wear this any day and any time even for school pick-up and drop-off or the grocery store!
Tip: I love a good tuck of a basic tee because it makes the look feel more put together than if it's left out untucked. Plus, since this skirt can be worn high-waisted, the tucked in look is oh-so-flattering.
Sources: Tee from Goldie, necklace by Loren Hope, Casey Skirt by Oh Joy! x The ODells, Vans Sneakers.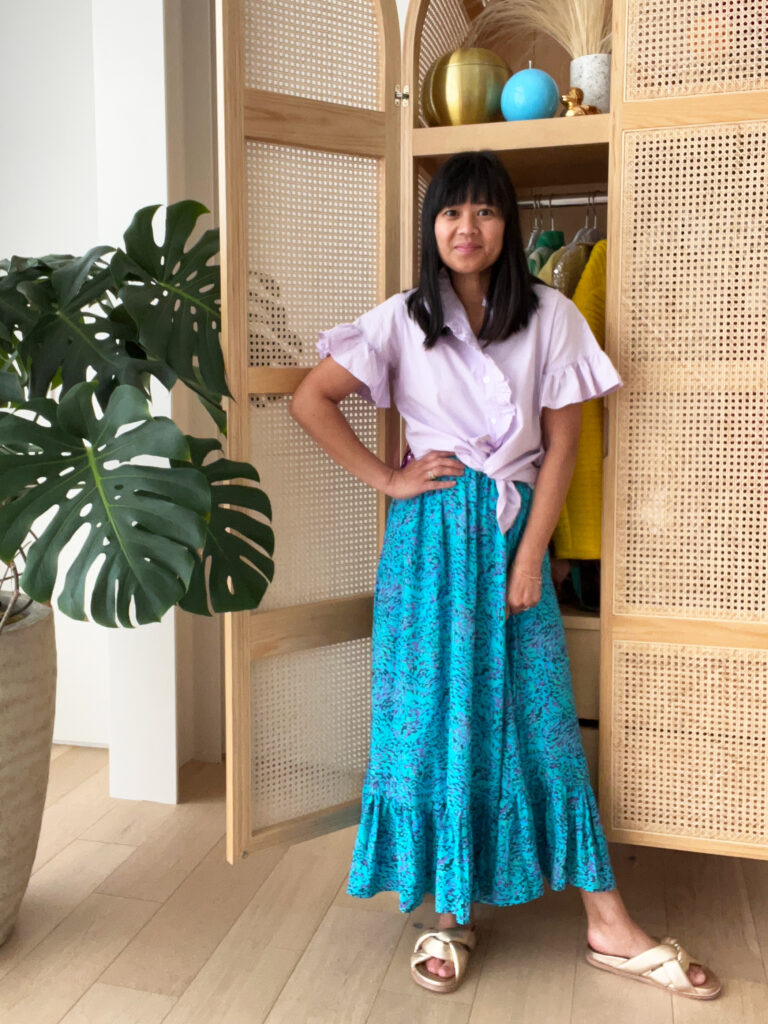 Outfit 2 – Made in the Shade
When adding color to a fun patterned piece, think of colors that complement and contrast without clashing. A basic white top will always go, but also shades of purple (like this lavender) complement the skirt so well and add another color to the look.
Tip: When wearing button down shirts, you can wear them with a skirt so many ways. I love the tuck (like above and below), but also a simple tie at waist adds a different, more casual, vibe.
Sources: Vanessa Top by Mille, necklace by Julia Vaughn (past season), Casey Skirt by Oh Joy! x The ODells, Puffy Sandals from The ODells.
Outfit 3 – Lovely Layers
To dress the skirt up a bit more and add some structure to the flowy vibe, I added our Lily Top. The eyelet top makes this look feel just right for a brunch out, a baby shower, or any day that you want to feel feminine and fun. I added a denim duster and some heels for an extra layer that feels polished yet effortless.
Tip: A structured blazer (in chambray, denim, or a solid color) would also work great as a layering piece.
Sources: Denim Duster from Anthropologie (past season), Oh Joy! x The ODells Lily Top (XS-XL and 1X-3X), Casey Skirt by Oh Joy! x The ODells, Heels by M. Gemi (past season).
P.S. See these outfits in action right here.
Top photo by Lily Glass