Hooray! Our newest collaboration is here, and I am thrilled to share our shoe collection with Rockport. My memories of Rockport shoes go back to my childhood as I vividly remember my parents wearing them as a go-to comfortable option for being on their feet all day for work. Cut to several decades later, and now I understand why these shoes are SO comfortable. I have been testing our samples for this collection, and the shoe fits and feels good from day one—which is a rare thing to find for modern, stylish shoes. I've been working with the Rockport team for over a year to create a collection that's both chic AND comfortable to go about everyday with a colorful and fun pep in your step! Here's a look at the collection…
The Briah Wedge Sandal in Oh Joy! Colorblock
I love a good colorblock anything, so we've created this sandal with gold and a pink to work with any spring outfit. These add fun height to your day without the pain (or let's be honest, agony) of heels or wedges. The base has two padded areas that keep your foot cuddled all day in comfort. These will be my go-to sandals to slide on quick for pick-ups and errands, but look good with a fun summer dress or jumpsuit! Shop here!
The Adelyn Sling-Back Flat in Gold and Painterly Pattern
Who doesn't love a good flat that's still dressy and stylish enough to wear with almost anything? These shoes have an even higher level of comfort as they use Rockport's Total Motion (click here if you want to read about it, or just take our word, very comfortable!) Pair these with a fun skirt or wear with jeans to boost your workday mood at the office. Shop here!
The Farrah Strappy Heel with Painterly Pattern
I hand-painted this pattern for this collection, and I love the soft tones and whimsical pattern that add fun to any outfit. Wear it with neutrals to bring a pop of color, but also don't be afraid to pair them with your other patterned pieces as well. Just like the rest of the collection, these shoes are comfortable. You'll love them! Shop here!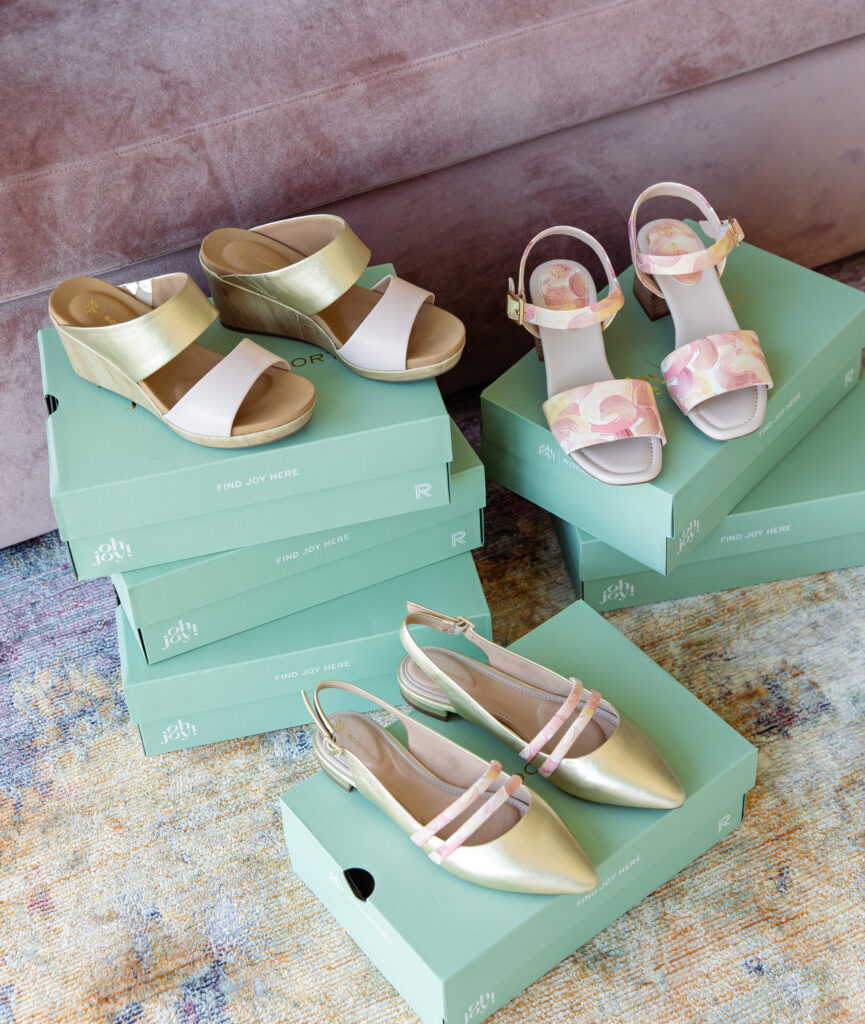 It's time to go get 'em! Head to Rockport and find your favorite pair or two or three! If you have any questions, drop them below and we'll get you some good answers. We hope you love these shoes as much as we do, and fall in love with the comfort and the style like we have. Oh Joy! and Rockport are a match made in shoe heaven 🙂
P.S. We remind you with almost every collection, and it's true here, too. We have limited numbers of the shoes, and they won't restock. So if you love them, shop while you can! We don't want you to miss out!
Photos by Lily Glass