The second half of our Asia trip was to Seoul, South Korea. Since my husband is Korean, the impetus for our trip was to take both of our parents to their homelands with our kids in the next few years before our parents can't do trips like that anymore. Here are some things we did that I would recommend if traveling with kids (but also still great without kids, too :P) to Seoul…
Just like I did with Tokyo, here are few things I wish I knew before I went to Seoul with kids…
Walking and Public Transportation
Differently than our time in Tokyo, we actually did not use public transportation that much. So I can't speak to it from personal experience, but I have heard that their public transportation is very good and used a lot. Where we stayed in Seoul had us within walking distance to a lot of things. And the couple trips we made to further away areas, we hailed a cab which was far more affordable than it is in Tokyo.
You will still walk a lot! So make sure you and your kids are ready for that and can be ready for the day of adventuring.
Best Ages
Everyone has their own opinions about when "it's worth it" to take a big international trip with kids. I personally feel like with the time, cost, and jet lag involved, it's better to wait until the kids are older (5 and up) so that they can remember it, they can walk on their own, and they are better behaved. In Seoul, because cabs are more affordable and easier to get, you could do okay here with having to grab a cab when needed if the kids (or you) get too tired. You just don't want to rely on it!
Masks
We visited Seoul in early April of 2023, so this statistic may change. But as of the time of our trip, I would say about 50% of people were wearing masks in public. Older adults and seniors were much more inclined to wear them than younger adults.
Internet and Navigation
I found that my phone's plan (Verizon) worked well over there and I had service pretty much everywhere in Seoul if you want to use your roaming plan (mine was $10/day). Otherwise, we also rented a portable Wifi router which you can rent from the airports. We tried to use that as much as possible rather than relying on our data plan fees. Also, Google Maps and Apple Maps does not work great in Seoul. We used a combination of Kakao Maps and Naver Maps to navigate.
Language
Like with any country, I always go there making sure I know at least a few basic phrases like "hello" and "thank you" at a minimum. Regardless of the fact that American tourists are easy to spot, I think it's respectful to make attempts at a foreign language whenever you can. Americans have it easy as a lot of people know a little bit of English. Plus, with Google Translate, it's easier than ever to communicate with those who don't speak English. While a lot of Koreans know some English, you should never assume they do. If you need help, you can always ask and check if they speak English or not. Many times, they will speak English to you first if they already know you're a tourist. We had it a little easier in Seoul since both my husband and Mother-in-Law speak Korean. But I felt okay getting around with my minimal Korean vocabulary, too.
Food
I always think that International travel with kids is best when your kids are open to trying new foods. Korean food is very meat-based (ie. Korean BBQ) and can be spicy. But there are also lots of dishes like mandu (dumplings) and jap-chae (sauteed noodles) that are known to be very kid-friendly for kids who can't eat spicy food. I think Korea does have decent options if you have a picky eater.
Hotels vs Airbnbs
For this trip, my mother-in-law came with us, so there were five of us total. Seoul hotels were not as expensive as Tokyo hotels, but we still got an AirBnB instead which worked out well. And, the pricing for the AirBnb was almost half the price of the one in Tokyo. Our AirBnb also provided a ride for us to/from the airport which was an amazing add-on service that made being in a new country so helpful.
Ok so now so share some of the things we did that I would recommend…
Areas We Liked
Bukchon Hanok Village
This is a touristy area near where we stayed where you can rent a traditional Korean hanbok and go around and take photos in this beautiful neighborhood. While we didn't do that rental, both kids and adult tourists alike seemed to love doing it!
Ikseon-Dong Hanok Village
This was one of my favorite areas to walk around (we went twice!). You can find a ton of cafes, restaurants, shops, and even portrait artists. The image above is not of my husband and I but it looks so much like it could be! We got tons of great treats here (which I'll share in my next food post).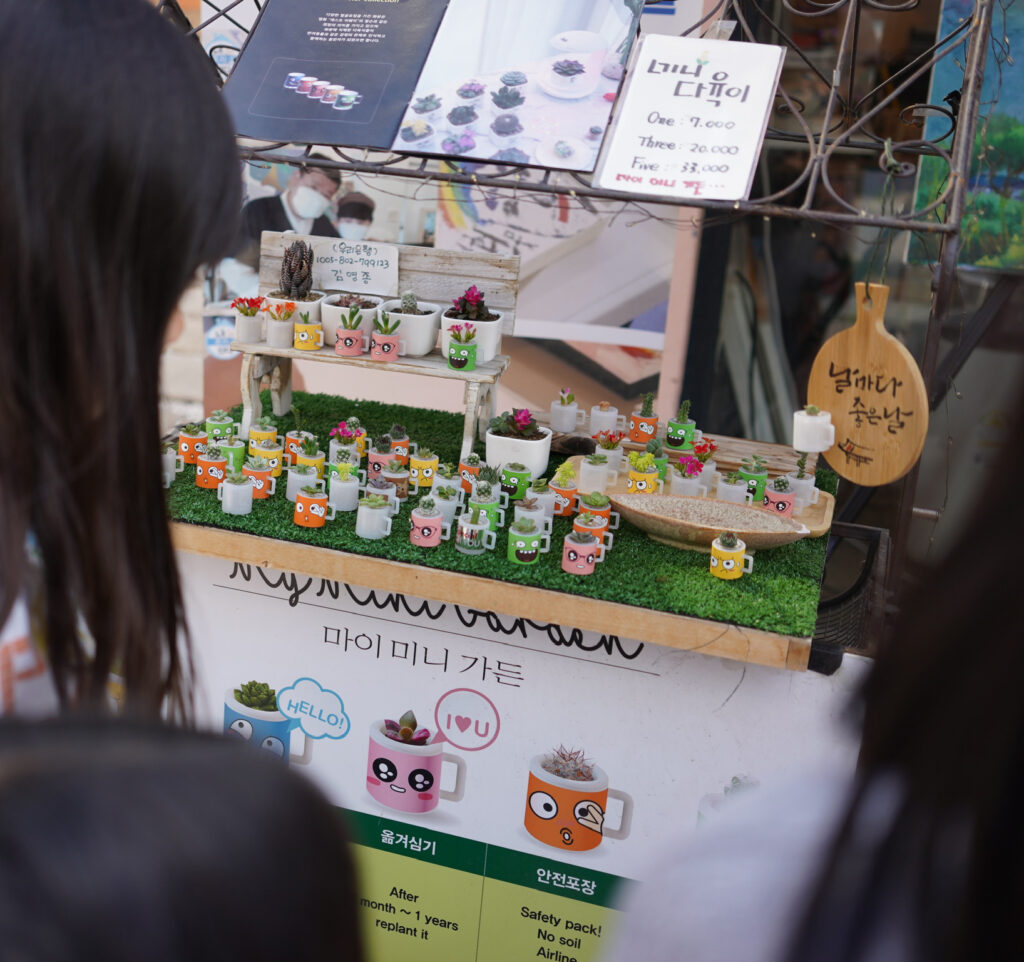 Gye-dong
This area is walking distance between the top two village areas and has a slighty more indie feel to me with cafes and shops with unique things by craftspeople and artists that I loved.
Gangnam
This is known as the fancier area of Seoul with designer and higher end shops. We didn't spend too much time here, but there was a ton of shopping if you're looking for that!
Activities with Kids in Seoul
Baskin Robbins Brown
I would normally never go to an American chain in a foreign country, but this Baskin Robbins is known for having 100 flavors, so we had to go! It was super fun to see all the new flavors that you've never heard of before.
Starfield Library
Located in the Coex Mall (which is also fun for a rainy day), is a beautiful library that is fun just to see! I swear I've seen it in Korean dramas as everyone is taking photos there so it must be famous in that way, too!
Coex Aquarium
This is also a great activity for a rainy (or super hot) day!
Gwangjang Market
This is an indoor food market that has both grocery shops/booths as well as open food stalls. It's full of so many options and is so lively and fun! It's a great spot to go for an early dinner and make space to try a few different things!
ArtBox
Okay, so this is not an experience per se, but a chain of gift/stationery stores that is the cutest store you'll ever see. My kids loved it so much, and I ended up getting a few things for myself here, too. It makes for great gifts to get for those back home!
We had an incredible time as a family, I only wish we were able to stay longer to do even more things! Stay tuned for my next post on foods we loved! And, feel free to ask me any questions here!