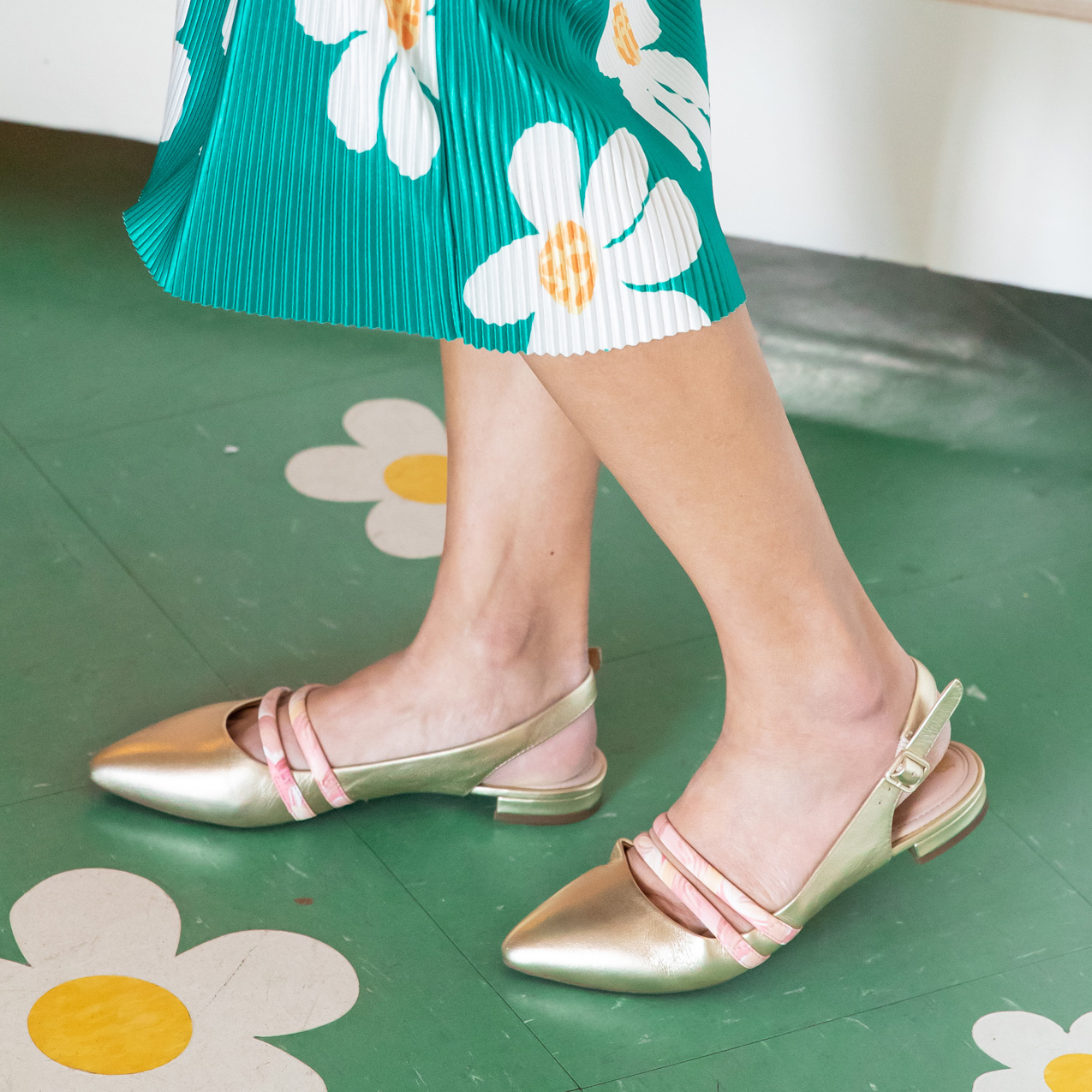 If you haven't worn heels since before the pandemic—or ever in your life—don't worry! We have the cutest and most versatile flats in our Oh Joy! for Rockport collection that can be paired with anything! Seriously, gold is truly a neutral for me that works with any color palette. Try our slingback flats with…
Minimal Color
We're starting with something most people have in their closet—a solid color. I'm wearing a dusty rose jumpsuit here to show you how the gold pairs perfectly with any color. And, the gold adds a little sparkle to even the most casual outfit!
Outfit Details: Jumpsuit from Rachel Pally, Oh Joy! Flats
Similar Jumpsuits: from Athleta; Wildfang; Target
A Simple Pattern
We're moving slowly to a little more pattern and color here with a striped top and daisy-dotted jeans. The flat are the icing on top of the cake of an everyday and easy-to-wear outfit.
Outfit Details: Vintage Daisy Jeans, Blue Stripe Top from dRA, Oh Joy! Flats
Similar Tops: from J.Crew; Anthropologie; Target
Similar Jeans: DIY Your Own!; Madewell; Hollister
All Over Color and Pattern
This look shows you how the shoes look good with everything! This dress has a multi-color floral print but stays casual with its length. Anytime you have a piece that seems hard to match shoes to, gold is the answer!
Outfit Details: Dress from People I've Loved x Nooworks, Oh Joy! Flats
Similar Dress: from J.Crew; Walmart; Target