The main bedroom is probably where I spend most of my chill time after our kids have gone to bed. Whether watching TV (yes, we have a TV in our bedroom :P), reading a book, or just decompressing from the day, it's always been my go-to space for relaxation. Here's a look at all the details…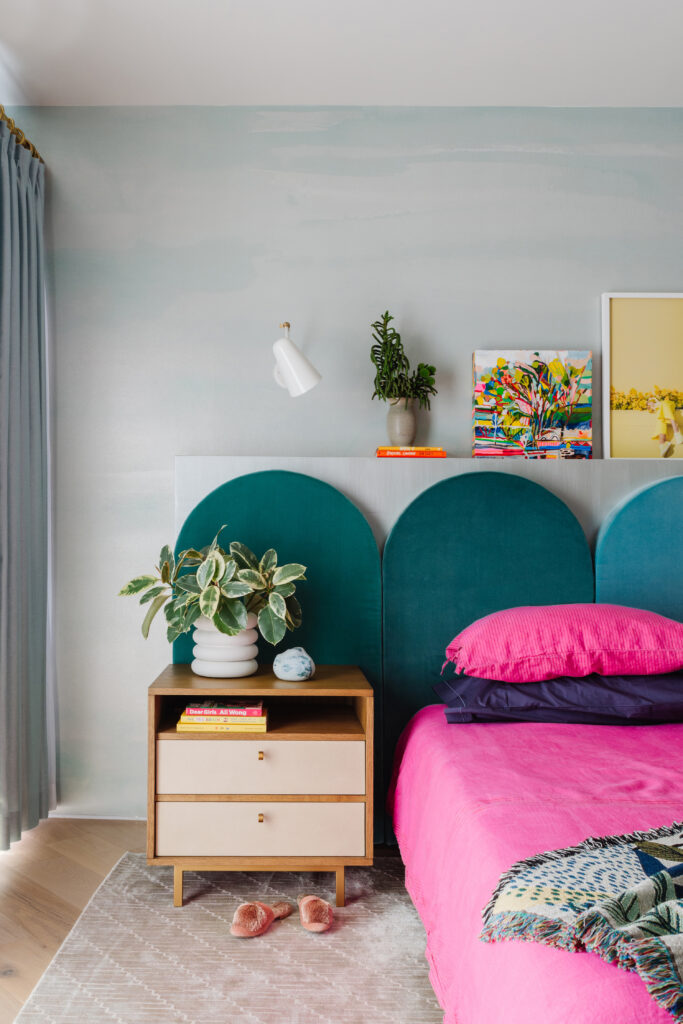 Calming blues and greens were the focus for this room which can be seen in the wallpaper and headboard. Here's a peek back at the design plans and the process….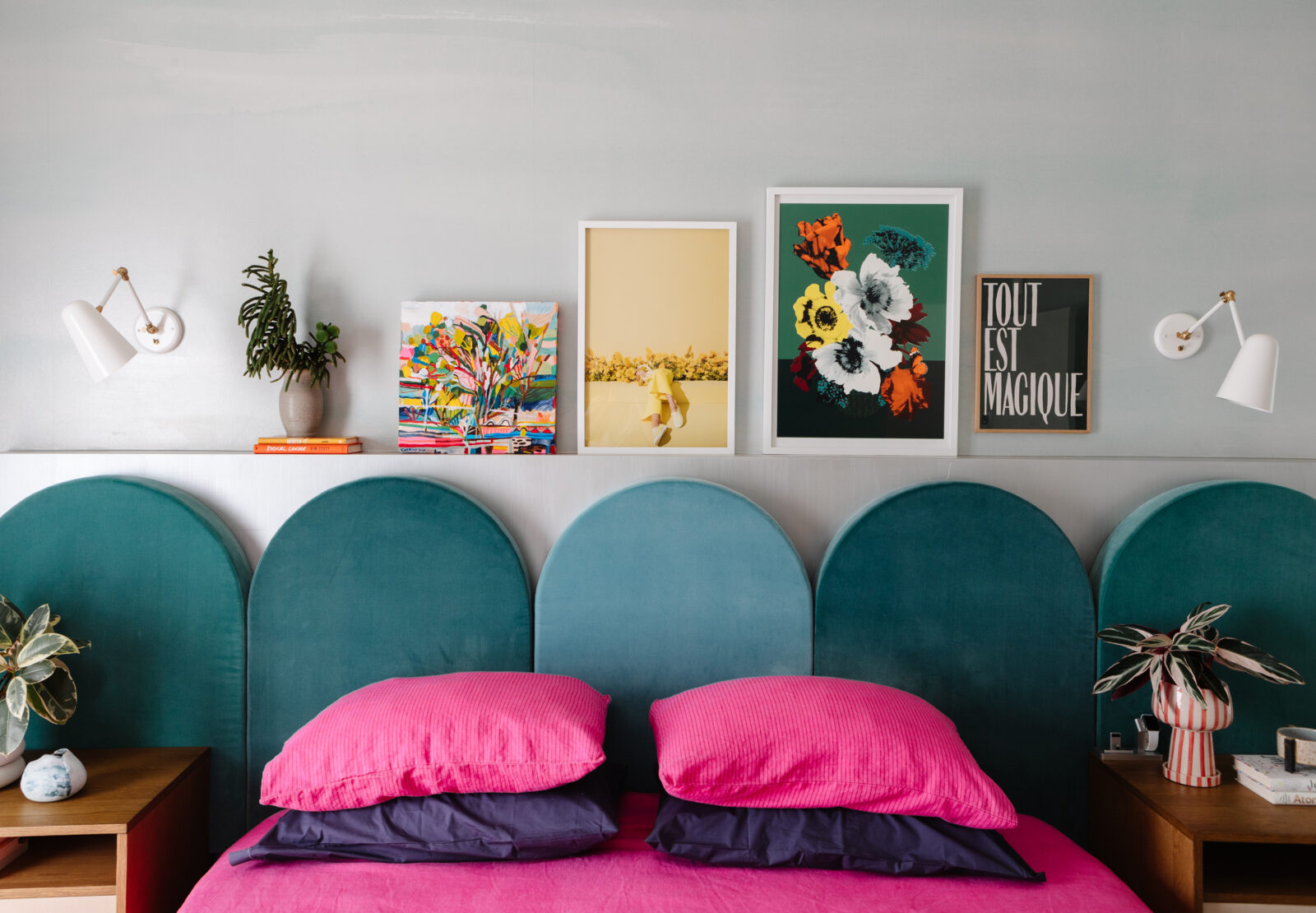 Cleo and I were very inspired by retail and hospitality spaces and the playful work of designer India Mahdavi for the headboard. It uses 3 shades of blue/green velvet for an ombre effect and spans the full wall behind the bed to serve as both a headboard and a visual focal point. To add a flat surface where art could be added, there is a built-in ledge behind it painted in a silver metallic color to compliment the iridescent, watercolor-like wallpaper.
The art is a mix of original paintings and prints that add pops of color while pulling in the blues and greens of the room. While the art appears to be leaning on the walls, they are all actually hung and secured at just the right height to still give the "leaning" look! With Earthquakes in California, we can't let anything just lean against a wall to play it safe!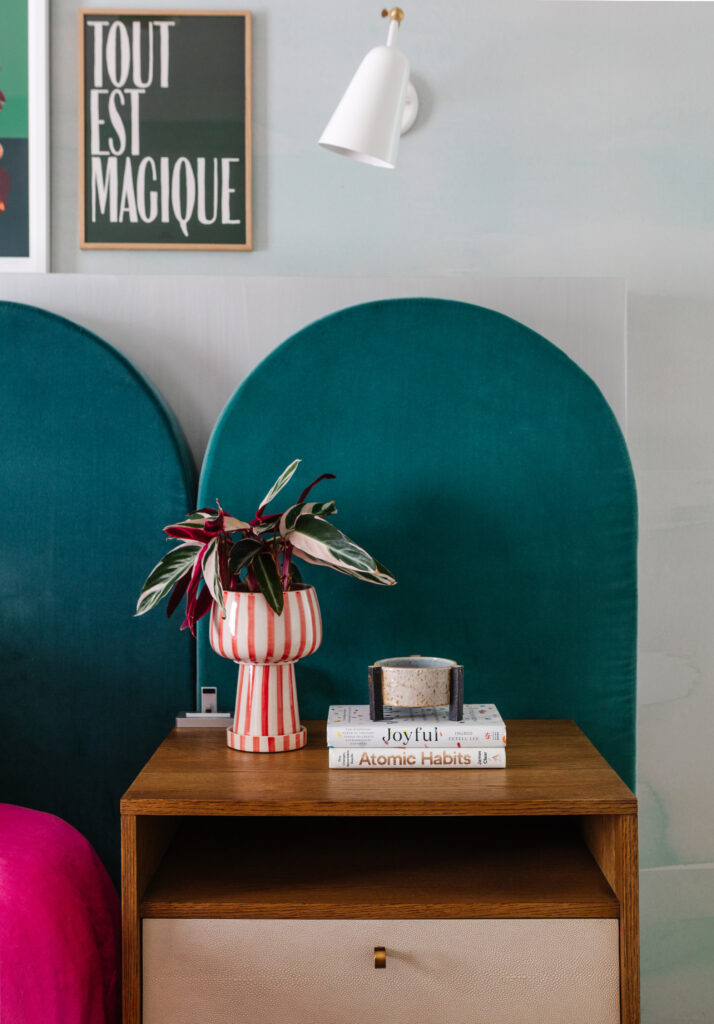 When choosing side tables, I have learned that I always need a side table with a drawer. I love that these have both an easy-to-access open shelf plus a couple lower drawers to stash things away out of sight. We also added reading lights on each side of the bed in case one of us decides to stay up later and needs the extra light. I loved that we could build that into the wall so that the bedside light doesn't take up the majority of the side table as they often do.
We've installed these Brilliant smart panels throughout the house which connects to our lights, door bell, and front door locks. The panel allows us to dim lights, create specific light settings, answer the door, and more. We have one in our main bedroom and a few others in major rooms in the house.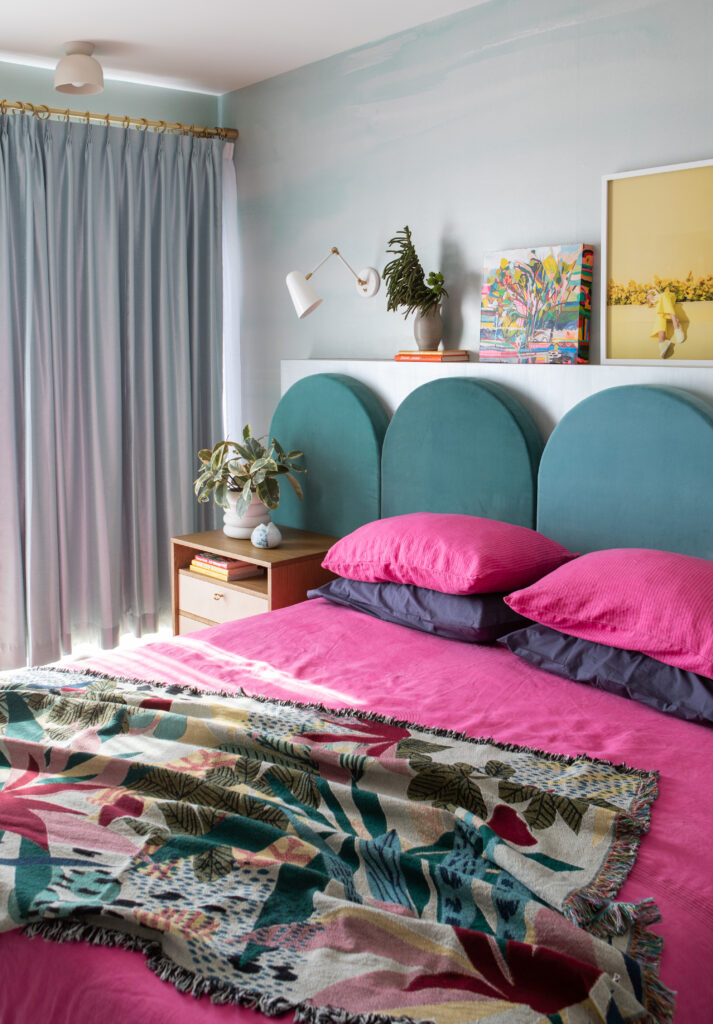 The window in this room is very large as it opens up to a small balcony. Therefore, we needed something that would provide full coverage while being easy to open and close to access the balcony. We worked with Blinds.com to have custom curtains made with two layers—one sheer and one with black out backing. The sun comes in very strong through this window, so the blackouts help not only for those early mornings but also to keep the room from getting too hot in the afternoon when the sun is blazing in.
We love this simple platform bed and how it goes with anything. When it comes to bedding, I have a few sets that we rotate between. The pink one shown is the boldest for sure and gives the room the most contrast. I also love neutral bedding here, too, as there is plenty of color in the space already to shine.
This bedroom has just enough space for all the things we need. In many parts of the country where space isn't as much of a premium, the main bedroom is often a large suite that could accommodate a desk or additional seating area. Rather than having a large bedroom, I opted to use the extra space to make my dream walk-in closet (that reveal coming soon)!
P.S. See all house posts right here!
Credits:
Reveal photos: Bethany Nauert
Progress photos: Lily Glass
Design: Joy Cho with Cleo Murnane of Project M Plus
Styling: Cleo Murnane of Project M Plus
Architecture: Project M Plus
Construction: Boswell Construction
My Dress: Vintage
Hair and Makeup: Danielle Walch
All furniture and materials sources noted within captions below photos. *Indicates an item that was designer discounted or gifted to us in exchange for coverage on Oh Joy. All opinions are my own. Please leave a comment if we missed anything you would like to know the source of!