When designing this dining room for the studio, it had to function for multiple things: A desk space to be able to work at, a dining area to be able to have meals during work breaks, and a regular dining room for when guests use the space. Here's a look at where we started…
If you face the studio kitchen, the dining room is located off to the right in a lovely spot by a long, horizontal window. Because it sits in an open studio type space, it's not defined by four walls like most rooms are. Instead, it needed to work well with everything else in the space, accommodate a good amount of seats, yet still feel stylistically tied into the rest of the room.
It's pretty crazy how much I have used this table in so many ways to work over the past year. I usually sit at one end, and Courtney (on my team), sits at the other end. When I need to be on video calls, I'll change my seat location depending on the background needed or if others on my call need to see something I'm presenting. I've sat here to do many press and TV interviews over the past year while we were all unable to travel and do those work-related activities in real life.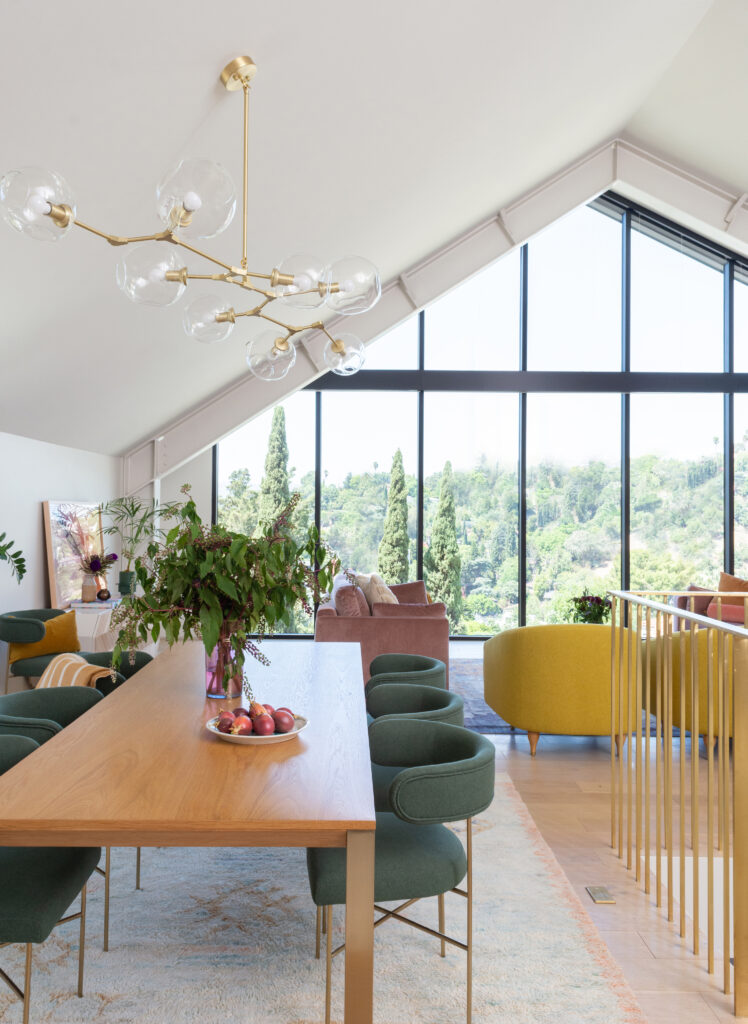 This work desk/dining room also has is an incredible view, too. You feel like you're in a tree house, and it's calming space to work in for sure. The light is simply stunning!
We had these dining chairs by Interior Define in our last studio, and I loved them so much! They're cushioned at both the seat and back which make them comfy enough to sit and work at my computer for long stretches, too! They're from a past season FYI but coming back this summer.
You might be wondering where all our work stuff goes?! Well, the funny thing is I used to have a full-on personal office with all my stuff and a place for everything. I loved that space so much but once the pandemic happened and I was working from everywhere (mostly bopping around to different tables in my house while my kids did virtual school at home), I realized how flexible I could be. I work off my laptop only now and bring it back and forth between my home and office since my schedule is ever-changing as the kids transition back to school and now summer camps.
We have this pantry closet that serves as an all inclusive storage space to hold office, design, and art supplies or when we need to tuck things away and clean-up for a photoshoot or for guests. The sliding pocket door hides everything away when the space is in guest mode vs. work mode.
There's been a lot of freedom in being able to bop around to so many areas of the space and make it what I need on any given day (and you'll see more rooms coming up)! I treat it almost like a shared work space that I have a permanent residence in 🙂 If you have any questions about this space or any of the others I've shared so far, let me know below in the comments below…
And, you can see all house and studio posts right here!
Credits:
Reveal photos: Bethany Nauert
Progress photos: Lily Glass
Design: Cleo Murnane of Project M Plus and Joy Cho
Styling: Cleo Murnane of Project M Plus and Jonas Bergkvist
Architecture: Project M Plus
Construction: Boswell Construction
My Outfit: Selkie dress, dRA blazer (both are past season)
Hair and Makeup: Danielle Walch
All furniture and materials sources noted within captions below photos. *Indicates an item that was designer discounted or gifted to us in exchange for coverage on Oh Joy. All opinions are my own. Please leave a comment if we missed anything you would like to know the source of!