Some people (ahem…me!) love color, lots of it, and everywhere! Others are a little color hesitant and aren't as comfortable using lots of colors in their home decor. An easy way to start adding color to spaces is to do a monochromatic room. You get all the lush beauty of color but the variants of one color make it feel easier to pull together. We did two monochromatic guest rooms, and we refer to them as the Pink Room and the Blue Room. Each evokes a different feeling and response, but both are built on the same principles of having one color dominate a room. Here are my suggestions for making it happen in your own home…
1. Start with your statement color on the wall, then use varying shades of the same color.
A dark, moody blue serves as the background in this room, while a mauve pink wallpaper fills every wall of the other room. We started with the base color in each room and then layered in shades of that color with furniture, bedding, and other accessories.
2. Add art and decor for texture changes.
When playing with shades of a color, have pieces that break up solid areas of paint or wallpaper to add depth. Whether you're adding art prints, a mirror, or other decorative pieces, use them in empty areas (typically eye height) to balance out all the furniture below.
3. Add neutrals and metallics.
Whether it's white, brass, warm woods, black, or neutral tones, these additions in furniture or lighting help to add material contrast without adding a defined new color. It allows you to still focus on the core color of the room.
4. Add pops of accent colors and/or contrasting colors.
For smaller accessories like bedding or objects within the room, here's where you can add colors that complement and contrast. You can see how we pulled in some orange as well as pops of black to go with the mauves and pinks of the room.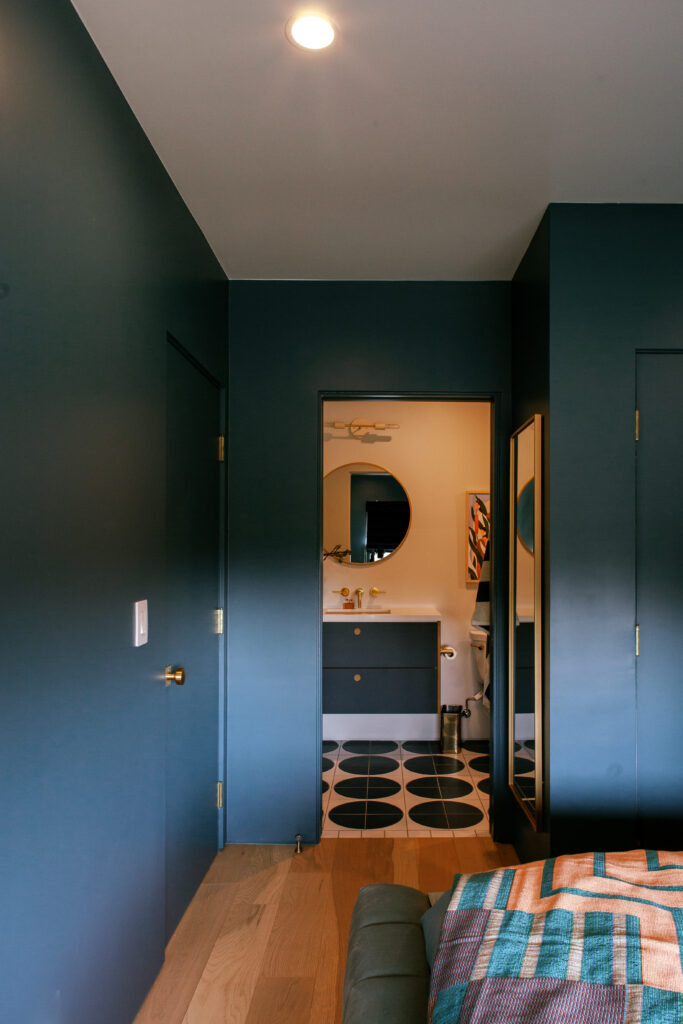 5. If you're brave enough, continue to adjoining rooms!
If you've made it this far and have pulled together your room, why not keep going?! This adjoining bathroom shows how we carried the blue from the bedroom into the bathroom in other shades so feel related to the bedroom yet still different.
Would you want to be a guest in these rooms? If your answer is YES, then think about how you can create similar spaces in your own home. And not everything has to be done at once. You can start with a bold wall color or a new headboard, and continue to add as budget, time, and comfort levels allow. We're all for more color…let the joy in!
Photos by Meiwen See