I love having people over to my house. Entertaining was one of the things we kept in mind when designing our house to make sure it was easy and convenient to have people over. Of course, there's a ton of work that goes into hosting like cooking for lots of people and cleaning it up after! So, I always try and keep things easy where possible so you're not trying to make too many things from scratch and adding stress to the pressure of hosting!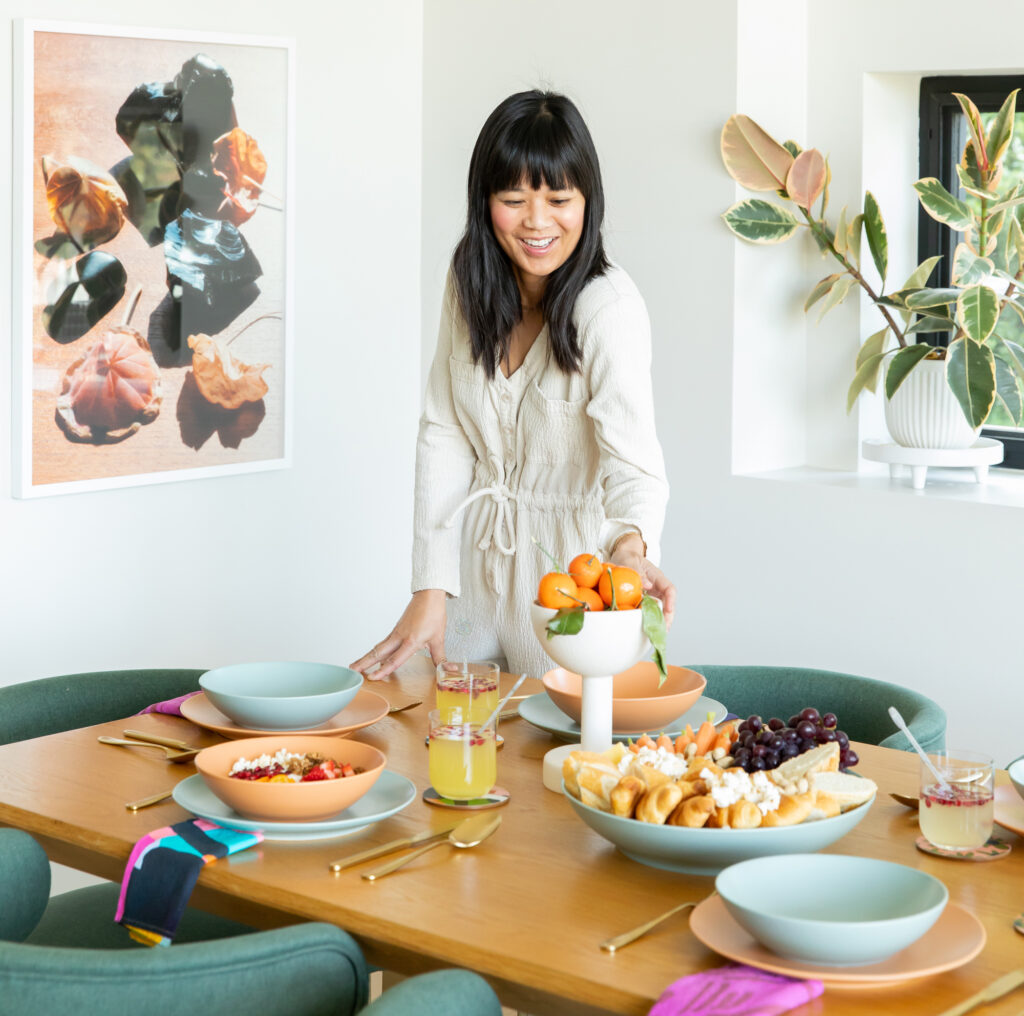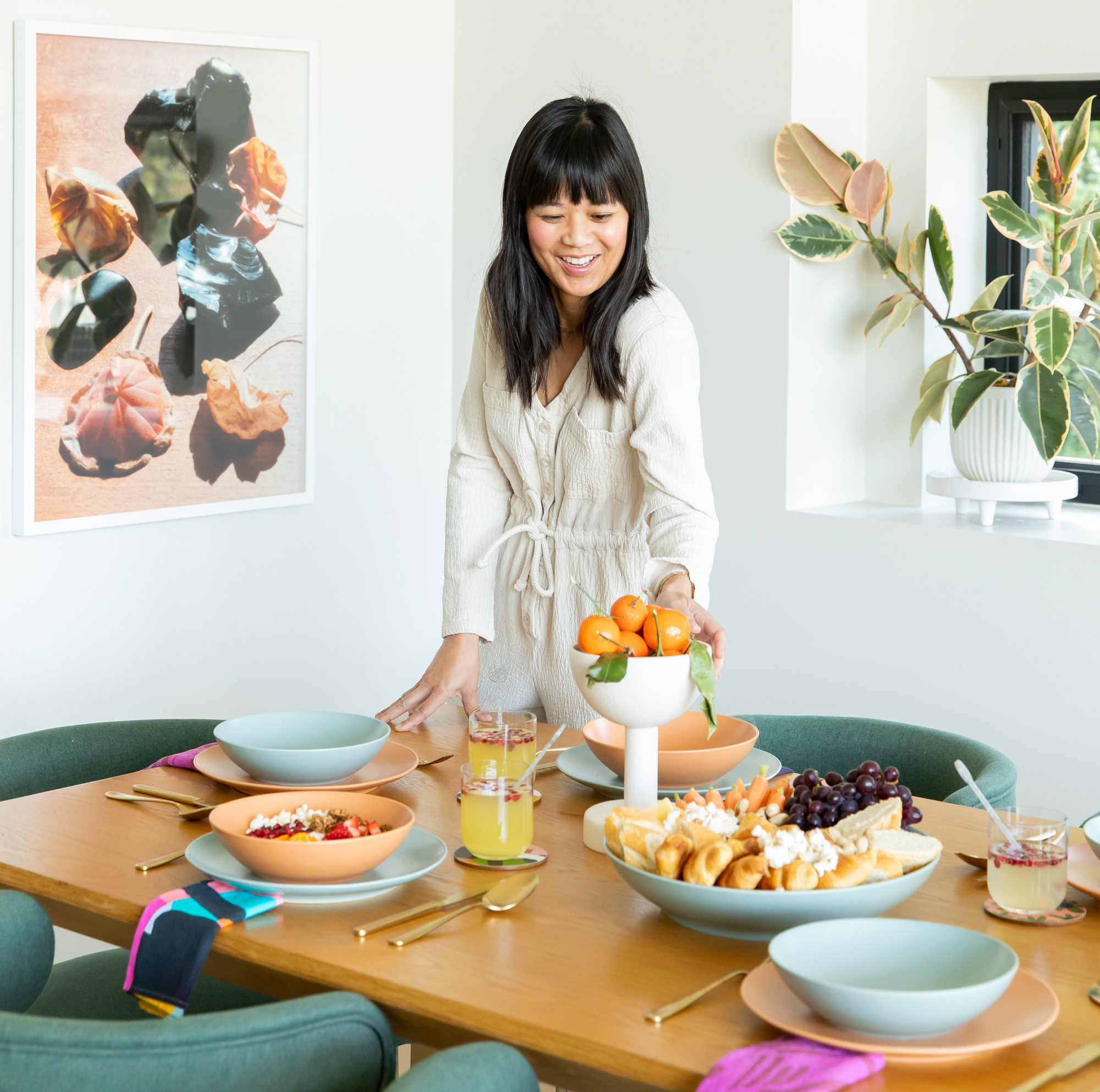 One of my tricks is the no-cook brunch! I love breakfast, and I love those leisurely weekend mornings when we don't have to rush out the door to school or work. This is a great go-to for a weekend brunch for your family, when you have either family/friends in town visiting, or you have kids' friends sleeping over. When you need to feed people who wake up in your home, this no-cook grazing style breakfast or brunch is a fave.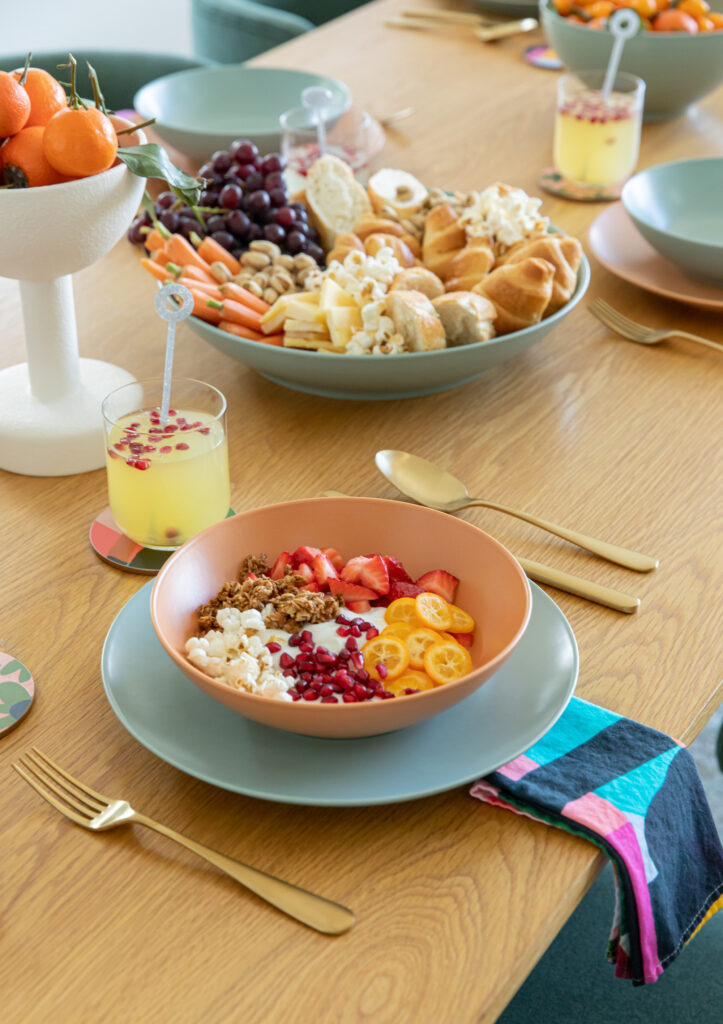 Make Your Own Parfait
One thing that works great is the individual parfait. You can prep these in advance, or leave all the fixings and have each guest pile on what they want. Something new I've tried that I love (even though it might sound weird) is popcorn on your parfait. It's a perfect salty crunch to add at the very end!
Fun Drinks!
If you know me, you know I don't drink a lot of alcohol. But I love having options for my guests to keep it fun whether or not they want to make it a mimosa. So I put together a fruity, sparkly mix and make sure to add fun garnishes like pomegranate seeds and glitter stir sticks.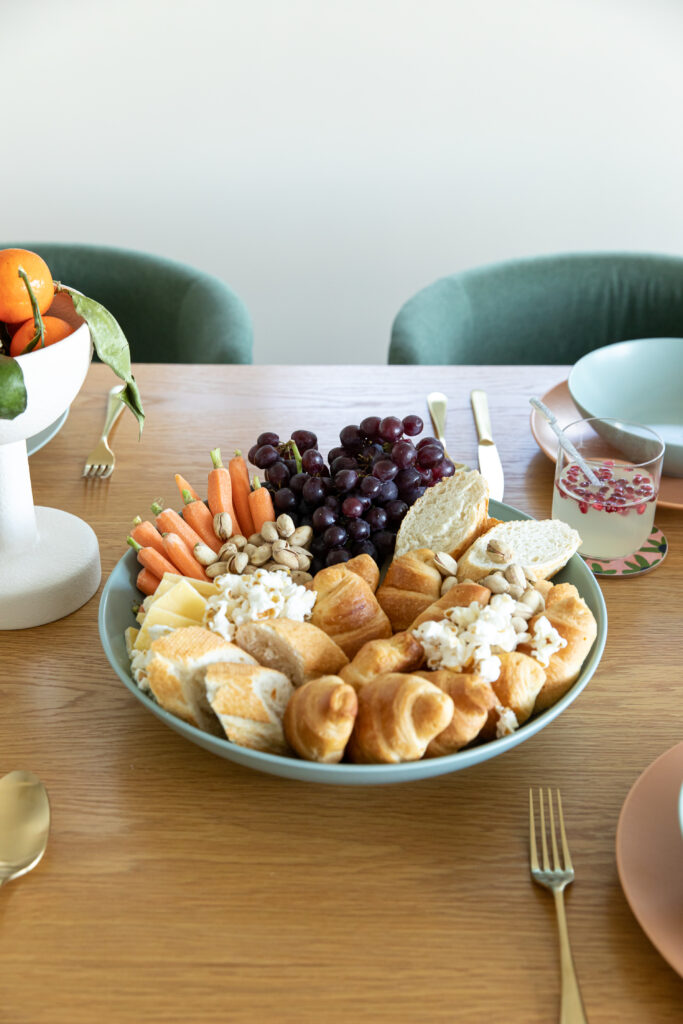 Breakfast Board
I'm all about charcuterie boards for a lunch or dinner, so why not make a breakfast version? I like this bowl option because it holds smaller items without worrying about them falling off a flat board. Plus I think a bowl is easier to pass around. Make sure and have lots of fun options like breads, fruits, nuts and cheeses. We went meatless for a vegetarian brunch, but you can add smoked or prepared meats if that's your preference. (See me put it together!)
Food as decor!
Yes, flowers are always fun and festive, and candles can create a serene mood. But bowls full of fun and delicious (and beautiful!) fruits make decor a breeze, and allow your guests to engage with (and eat) everything on the table!
We were gifted these amazing ceramics and gold tableware by our friends at Year & Day! Complimenting colors and alternating place-settings are so fun and bring a brightness to the table. We also included bright and colorful cloth napkins to bring even more color to the table. We wanted to keep brunch more casual and let people sit where they wanted, but a fun name tag on each plate could also be a fun idea to try.
This brunch was stress-free and easy, everything purchased and prepped before the day so that all that was needed was to set the table and pull out the food for hours of laughter and fun with friends and family. Have you tried a no-cook meal for guests?
Photos by Lily Glass