My girls previously shared a room in our last apartment, and they weren't ready to separate when we moved and had the option for their own bedroom (plus I think kids learn a lot when they have to share!). So we maximized each room for ultimate function based on their current and future needs. Today, I'm sharing the first of their rooms…the bedroom!
I shared a mood board with you all back in 2019 on the girls' rooms along with some general kids' room tips. Here's a look back at the progress along the way…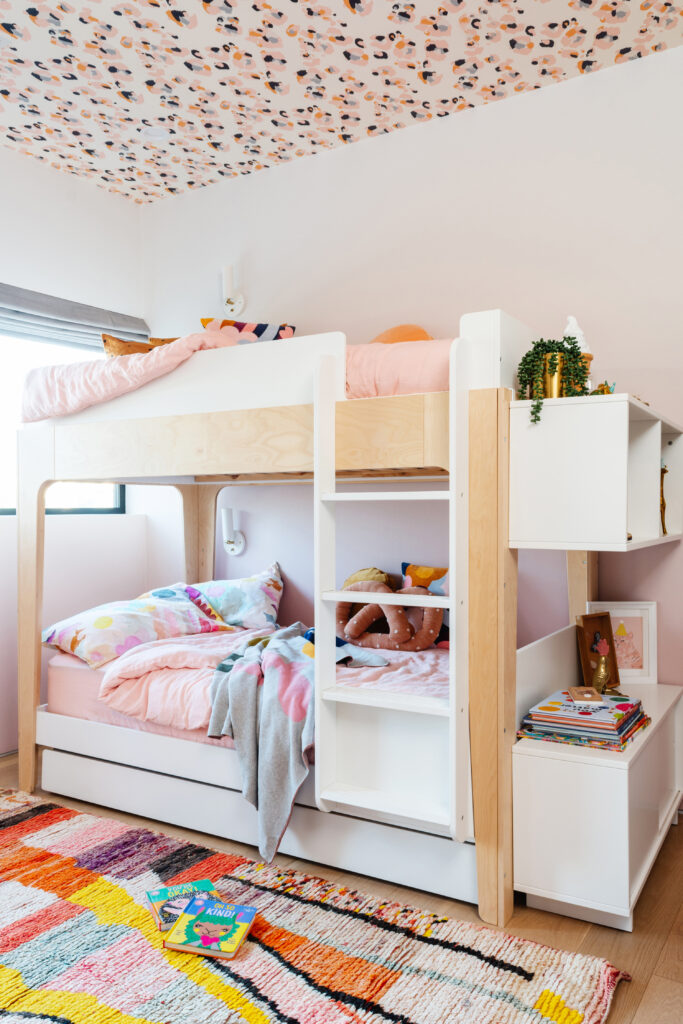 The Space…
This room is on the small side measuring around 10'x14′. So having bunk beds allow for more open space in the middle of the room which the kids use for reading, relaxing, and playing. I made sure to get beds that can be separated later when they are ready to have their own personal spaces. And, we chose this one with a trundle underneath so friends can sleepover (when playdates are possible again)!
Since we built the house, we were able to add in useful functional touches like the built-in sconces by each bed so they would each have their own reading light at night! Also, since the window by their bed brings in a lot of light, we had custom blackout shades made to help with bedtime (especially in the summer when they go to bed before the sun goes down).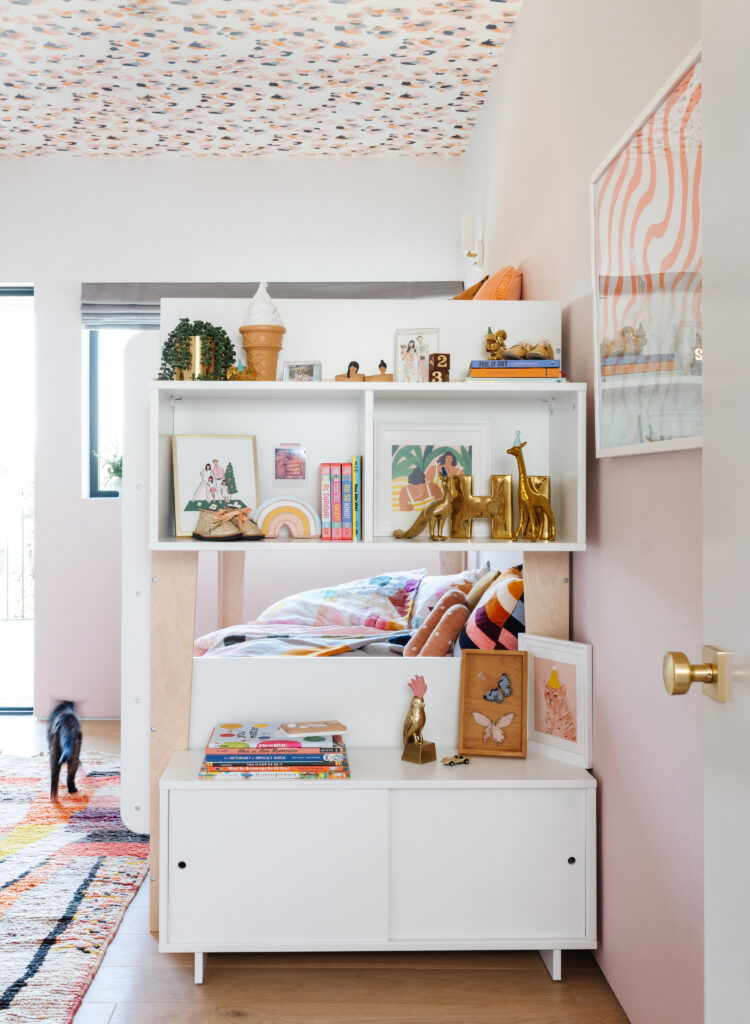 Storage…
Storage flanks the bed to maximize function and keep clutter minimal. By having the storage close to the beds, it blends in as one continuous piece and maximizes the space. I love that it's a mix of open and closed storage because sometimes you just need to quickly put things away and out of sight!
Wallpaper…
Since this room is small, we wanted to keep it feeling light and airy while still adding color and texture to the space. We didn't want to overwhelm the small space with a graphic wallpaper on all four sides, so we chose an ombre pink wallpaper to create a sense of movement and subtle color shift on all four walls. And then, we saved the graphic wallpaper for the ceiling to help draw the eye up and expand the space even more.
Rug…
To contrast all the modern pieces and add warmth and coziness, this vintage rug served as a perfect compliment. Rather than stick with the pastel shades already happening on the walls and ceiling, the room needed some pops of color and contrast which were brought in through some of the bedding and in the rug. I fell in love with this rug when we borrowed it for a past photoshoot and had to make it ours for this room.
Closet…
The girls have a standard size closet that needed to be maximized on storage and also to be able to grow with them. While they are sharing their bedroom, the closet is also shared with it split down the middle. They each get a hanging section and a set of drawers and share everything else. I love that the custom closet system allows them to see everything and helps keep things organized.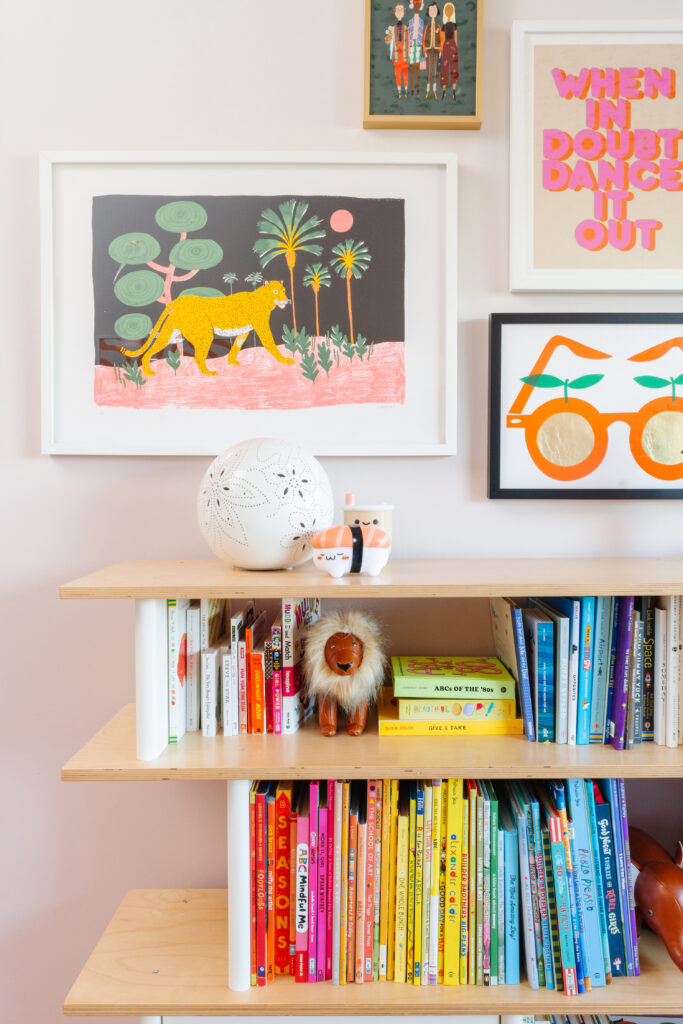 We've had this bookshelf for over 9 years (since Ruby was born), and I love that it's been a piece that could last and grow with my kids from baby to kid and into their teen years to come (see it here and here previously). This holds the majority of their books which we keep in rainbow order (of course!). Plus, I love that the bookshelf has a couple closed compartments where they each keep their special belongings and little treasures. I always like to mix books with special decorative objects—some vintage and some I've had forever.
After living here for over 8 months, we have made our house a home. And, it's been fun to see how the design decisions we made are working out in real life for our kids. Their rooms are pretty much the same now months later (minus the usual daily messes that come with a kids' room). And, it will be fun to see how the room evolves as they grow! If you have any questions about the space or the pieces we used, leave a comment below!
Sources:
Reveal photos: Bethany Nauert
Progress photos (shown in slideshow): Lily Glass
Closet Detail photos (shown in slideshow): Joy Cho
Design: Joy Cho with Cleo Murnane of Project M Plus
Styling: Joy Cho
Architecture: Project M Plus
Construction: Boswell Construction

All furniture and materials sources noted within captions below photos. *Indicates an item that was designer discounted or gifted to us in exchange for coverage on Oh Joy. All opinions are my own. Please leave a comment if we missed anything you would like to know the source of!