The kitchen is the heart of our home. As someone who loves to enjoy meals with my family, I've longed for a kitchen with more space (upgrade from our previous apartment kitchen of 10 years) to create meals for our family and friends. This is the room we go in and out of the most during the day. Plus, the corner floor-to-ceiling windows open up for access and flow to our yard. It's clean and crisp with warm accents of brass throughout and pops of soft pink. When designing this kitchen, here's what we considered…
The Materials
I wanted beautiful materials that spoke to my aesthetic, but they also needed to be durable, long-lasting, and not too trendy. Many might be surprised that I didn't choose a bright cabinet color, but I wanted the color to come from more subtle accents and feel like we could always add or subtract to the kitchen as the years passed. All of the built-in pieces are in white, woods, and brass with accents of texture throughout. Here's a look back at our design plans and the functional layout plans so you can see where we started!
The flow
Similar to the living room, the kitchen also has access to our yard for easy indoor/outdoor flow. This makes it easy to watch the kids while they are playing and provides convenient access to our outdoor deck where we have lots of meals when it's warm outside.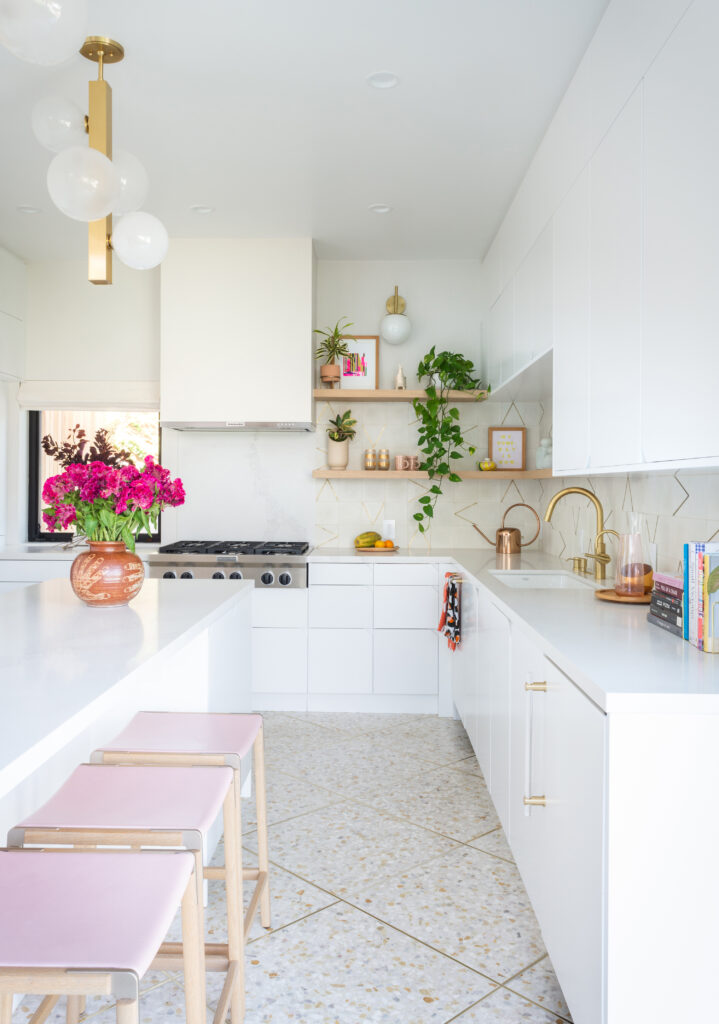 The kitchen is rectangular shaped with a long island in the middle. The island extends our counter space while also serving as a seating area for the four of us for our casual meals.
Open vs. Closed Shelving
While I love the look of open shelving, I didn't want only open shelving. We have way too many things for that to work, and I didn't want to feel like all of our dishes were out on display all the time. Open shelving works for certain kitchen environments but not for the functionality that we needed. However, the layout did allow for designing a smaller area of open shelving that not only serves as a decorative focal point but also helps to mix up the flow from all the floor to ceiling closed cabinets. I have been super happy with the mix of the two.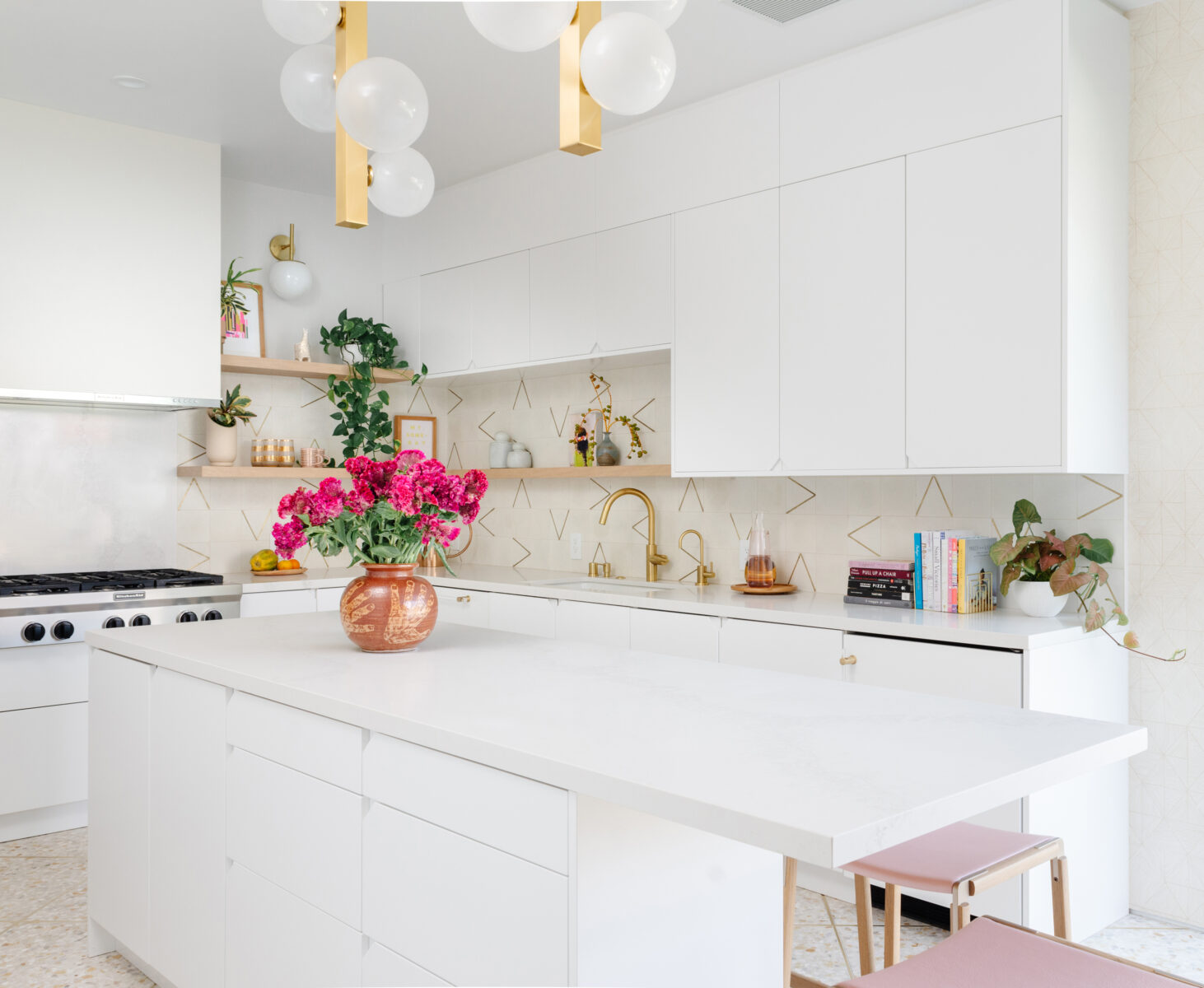 Storage and Cabinets
Storage was a huge part of the design process for the whole house, and the kitchen is a great example of that. We took advantage of every almost every wall to include closed cabinet storage. This allows us to store all the kitchen essentials (dishes, glasses, small appliance, bakeware, pantry foods, etc. and there are enough spots to designate a space for each category). We also included two slide-out trash bins which has been SO helpful as it feels like we're emptying the trash every day. We worked with Reform for all cabinet doors (which go on top of Ikea bases/boxes for a semi-custom option that looks custom! The angled corners serve as handles which I loved for a clean option that also reflects the angles in the brass tiles, too.
Backsplash
To add in pattern in a sophisticated way, we played with these concrete terrazzo tiles with brass inlay to create a pattern in the open shelving area of the kitchen. It serves as a fun focal point and ties into the flooring as well. Behind the stove, the backsplash is quartz to offer easier maintenance when cooking.
Artwork
When it comes to putting art in a kitchen, I didn't want to put anything too precious near areas that could get heat, steam, or spatters from cooking. So the open shelving serve as a great area to place a few smaller pieces that could be decorative but not get in the way of any cooking messes.
Wallpaper
Since most of the walls are covered by storage cabinets, we wanted to add texture and a large piece of art to the one wall that was open. The light gold wallpaper pattern gives texture and helps to tie in the brass from the rest of the space while also being the backdrop for this amazing piece from a Thai artist that I just love. This wall sits right by one of the doors to our yard so it's a fun nod to the girls running and playing and being free.
Here's a look at back at the flooring during install….
The floor
The terrazzo tile was designed to be placed as a large square grid (set at a diagonal) with brass schluter inlay between. The tiles are SO durable and easy to clean, and I am in love with the brass detail throughout. It makes the floors both chic and functional.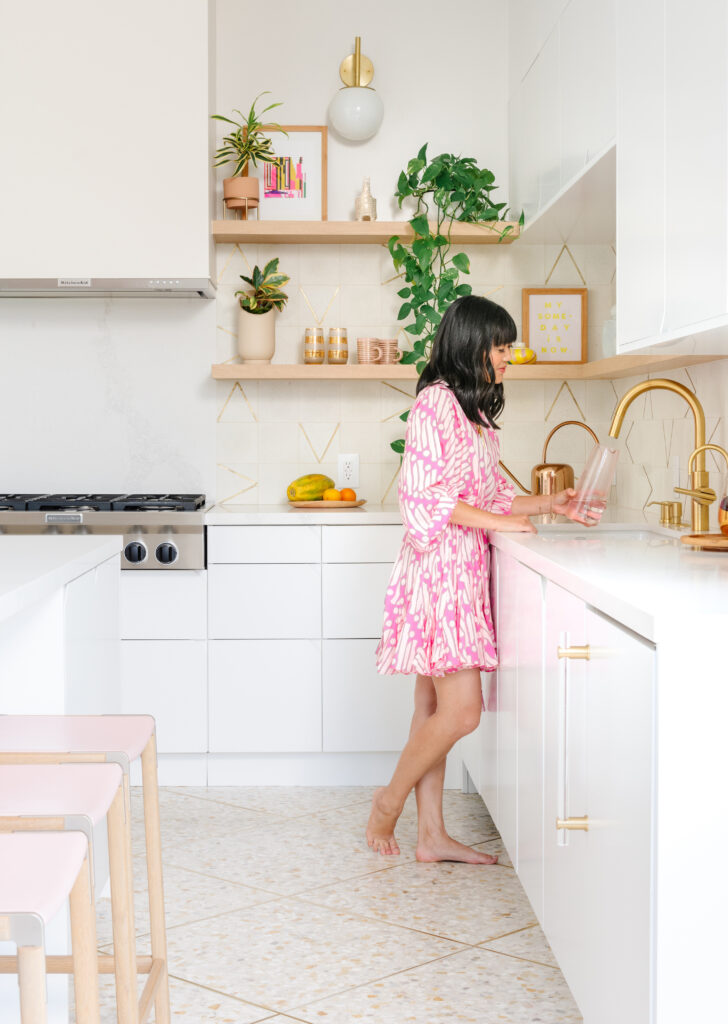 There you have it…one of the most-used rooms in our house! I'm sure you have questions, so feel free to leave any and all below in the comments!
P.S. See all house posts right here!
Credits:
Reveal photos: Bethany Nauert
Progress photos: Lily Glass
Design: Joy Cho with Cleo Murnane of Project M Plus
Styling: Cleo Murnane of Project M Plus
Architecture: Project M Plus
Construction: Boswell Construction
My Dress: Rhode (past season)
Hair and Makeup: Danielle Walch
All furniture and materials sources noted within captions below photos. *Indicates an item that was designer discounted or gifted to us in exchange for coverage on Oh Joy. All opinions are my own. Please leave a comment if we missed anything you would like to know the source of!