Our main bathroom sits off our main bedroom, and it's truly a welcome escape. I wanted it to feel like a mini getaway since it's the only time my kids can't bother me. 🙂 Here's a look at the process and the end result…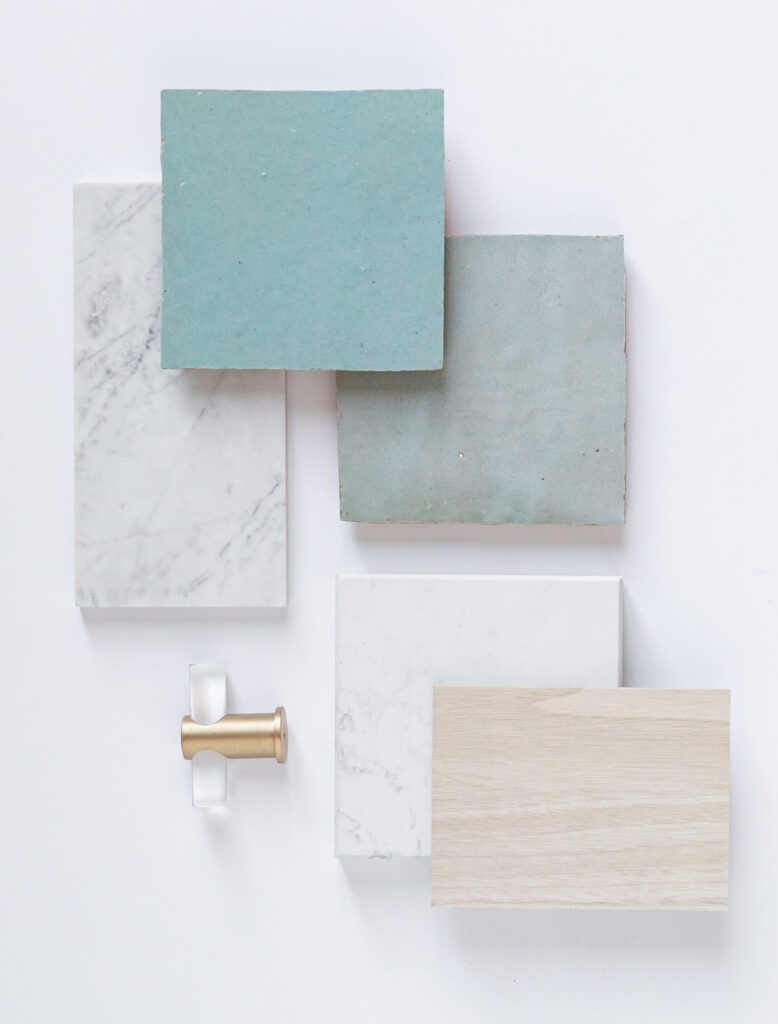 Colors and Materials
Since this room transitions from the bedroom, we wanted to continue some of the shades in there with blues and greens but in a different way than in the bedroom. How do you make a bathroom feel fresh and light but still give it some warmth and depth? Mixing classic marble tiles for the shower area with the perfectly imperfect Zellige tiles for the sink area and mixing in both light wood and brass helped to add dimension to a modern bath space.
The Process
This room was the only room to have major changes mid-way through the project. We took out what was supposed to be a shower and bathtub in lieu of a large shower and no bathtub. And, we changed the original grout color from white to medium grey (Laticrete / 78 Sterling Silver) after seeing how the original choice wasn't working out in reality. Check out the process and progress above in the slideshow!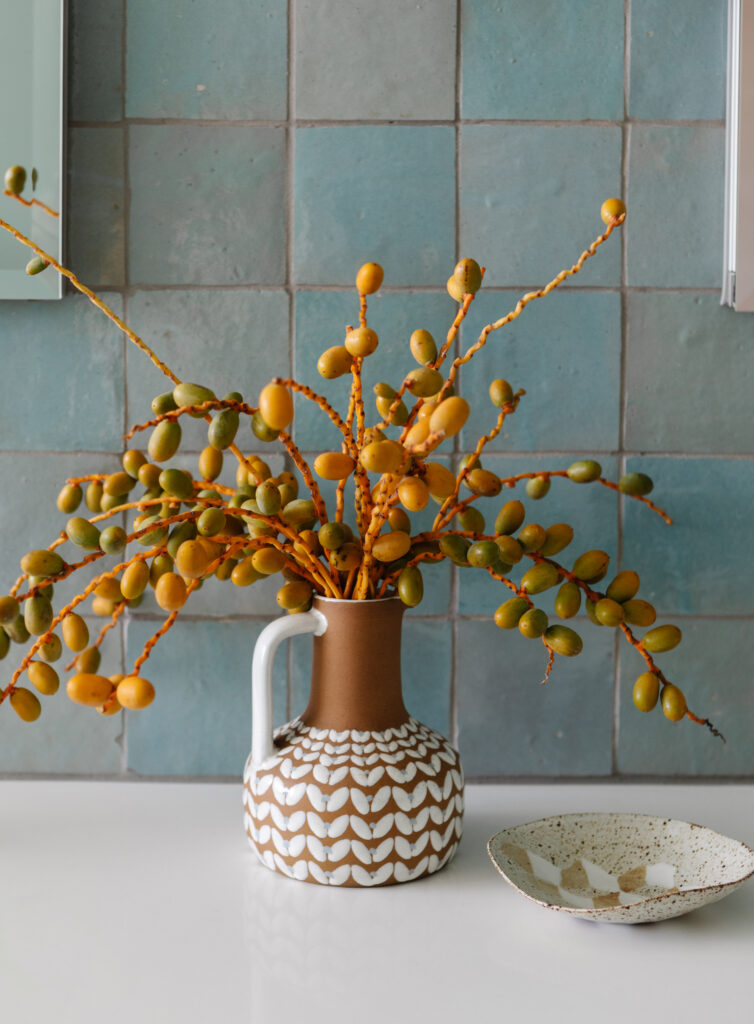 I am so happy we went with the medium grey grout instead as it blends in more seamlessly with the blue/green tiles and lets them shine. I love the variety of colors in this tile and how it feels reflective like water!
Double Sinks
Going into this project, my only requirement for our main bath was to have two sinks. I longed to never again have moments where our heads are butting over the sink while trying to wash faces and spit toothpaste on one another accidentally on an early Tuesday morning while getting ourselves and our kids ready for the day. It's such a luxury to have a double sink, and it's truly made our marriage better! 😛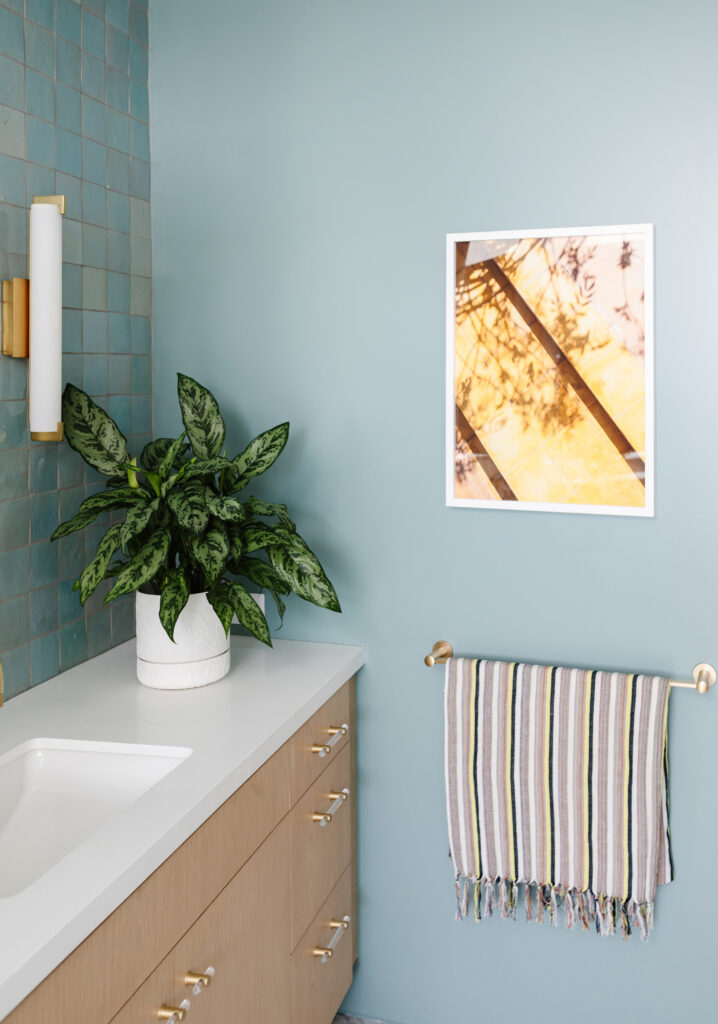 Storage
As with the rest of our house, I wanted to include as much storage as possible to limit countertop clutter. In addition to the custom vanities (which hold toiletries, extra bath items, and cleaning supplies), the two mirrors are medicine cabinets. They hold daily essentials like face products, deodorant, etc. I love how they are built into the wall and feels seamless!
The Shower
During construction, we opted to remove the bathtub (which was originally designed to be in front of the large window). While I had loved the idea of a beautiful, statement bathtub, we knew deep down that we wouldn't use it as much as a shower. So before it was too late, we changed this area to a double shower instead which was the best mid-way change! It now feels like a luxurious spa taking a shower in there. The large window provides a connection to outdoor (while half-frosted for privacy). The classic marble tile lays the framework for a soothing space and covers both walls and floors with the tile in a couple different sizes for added texture and interest.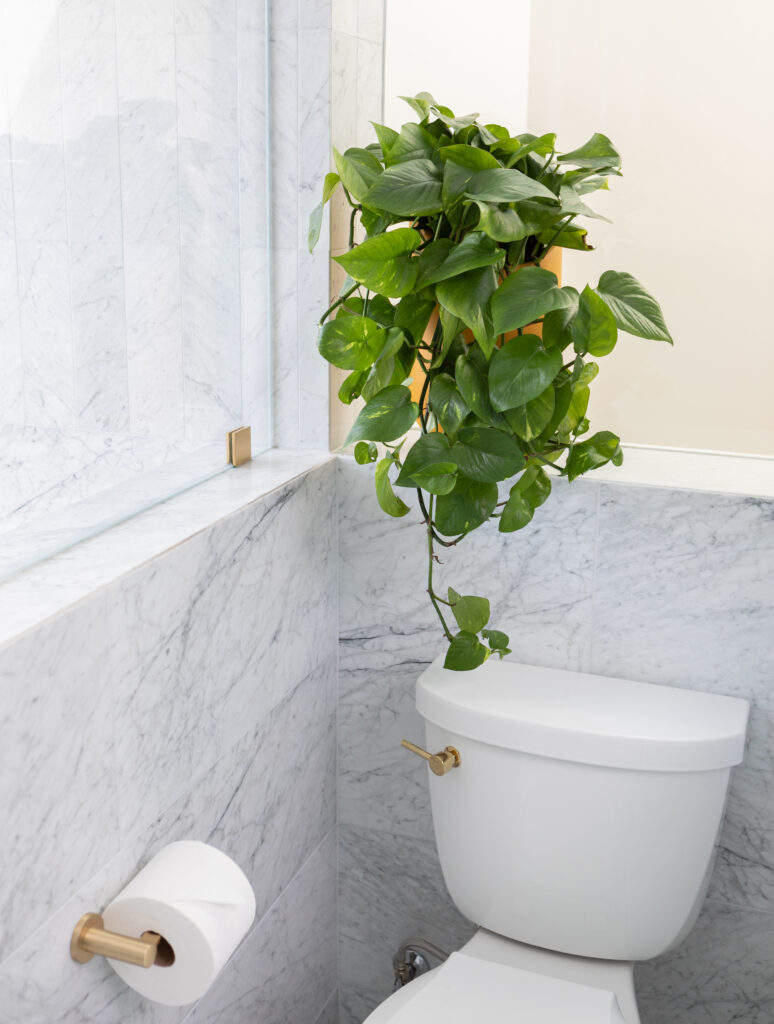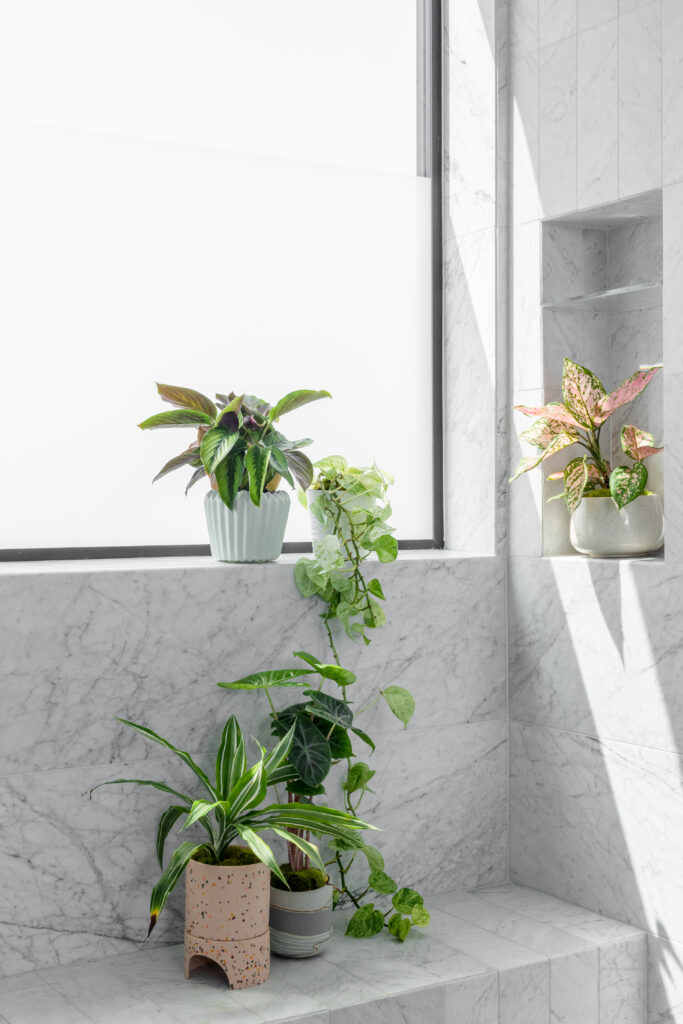 Plant Love
There is a built-in bench in the shower that was made for our future older selves should we need to sit and shower in our later years. But it also serves currently as a shelf to hold any extra bath products as well as another surface for my many plants. This window has given amazing light for plants, and I love the shapes they create against the light!
If you have any other questions about this room, please ask below and I'll get back to you in the comments!
P.S. See all house posts right here!
Credits:
Reveal photos: Bethany Nauert
Progress photos: Lily Glass
Design: Cleo Murnane of Project M Plus and Joy Cho
Styling: Cleo Murnane of Project M Plus
Architecture: Project M Plus
Construction: Boswell Construction
All furniture and materials sources noted within captions below photos. *Indicates an item that was designer discounted or gifted to us in exchange for coverage on Oh Joy. All opinions are my own. Please leave a comment if we missed anything you would like to know the source of!