The Oh Joy! studio has a downstairs area that doubles as guest quarters for out-of-town family and friends to stay. So each of the two guest rooms were designed with lots of details in mind to optimize comfort, provide a fun spot to land while visiting LA, and beautiful rooms where we can photograph content for Oh Joy! Come take a look at the first one, a pink modern and femme guest room…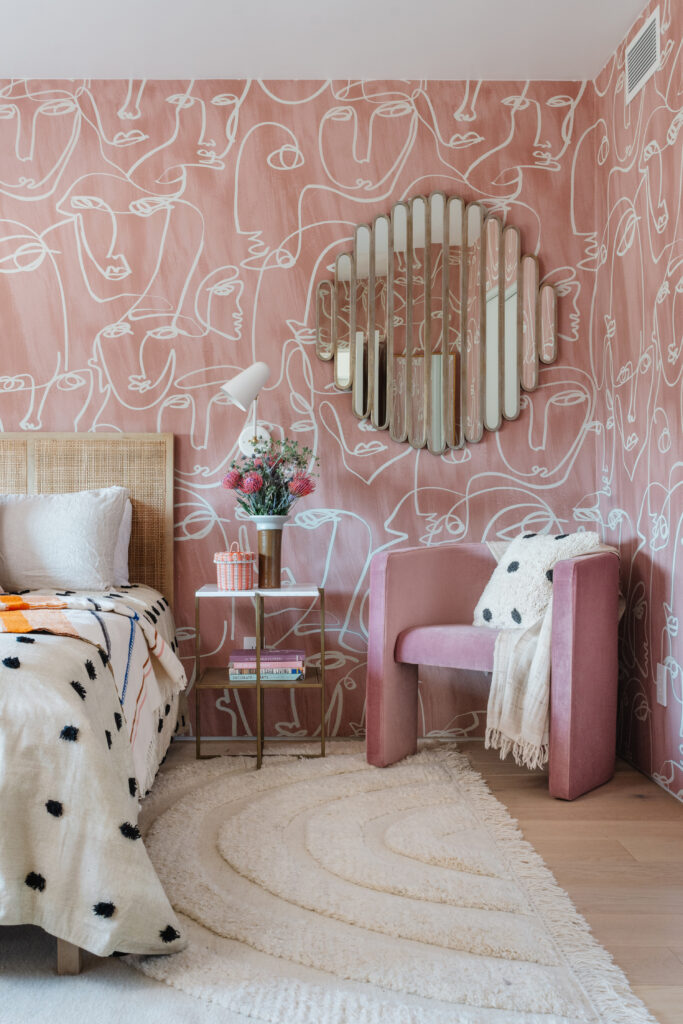 The Wallpaper
In collaboration with Cleo of Project M Plus, we really wanted this bedroom (the larger of the two) to feel like its own special space. I love wallpaper so much as you know, so this room felt like the room to let a bold, graphic print shine. We were both all about full coverage wallpaper on every single wall, and this abstract face mural from Drop it Modern was just right in this dusky pink shade. Because I also love figural art, this was an easy choice and laid the groundwork for designing the rest of the room.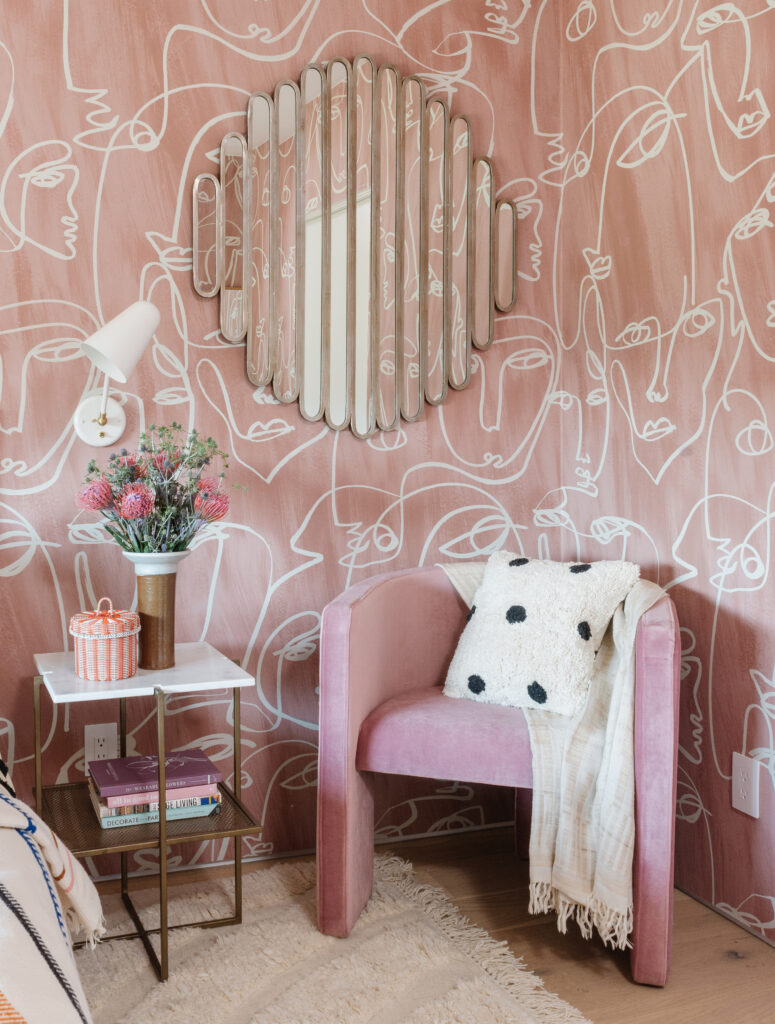 The Decor
Because the wallpaper does most of the talking here, we didn't need much else for wall decor. A fun vintage-inspired mirror adds texture and depth while serving as an art piece. All of the furniture (minus the mauve velvet chair) stayed neutral in colors but still came with lots of textures and shine to add to the warmth of the space.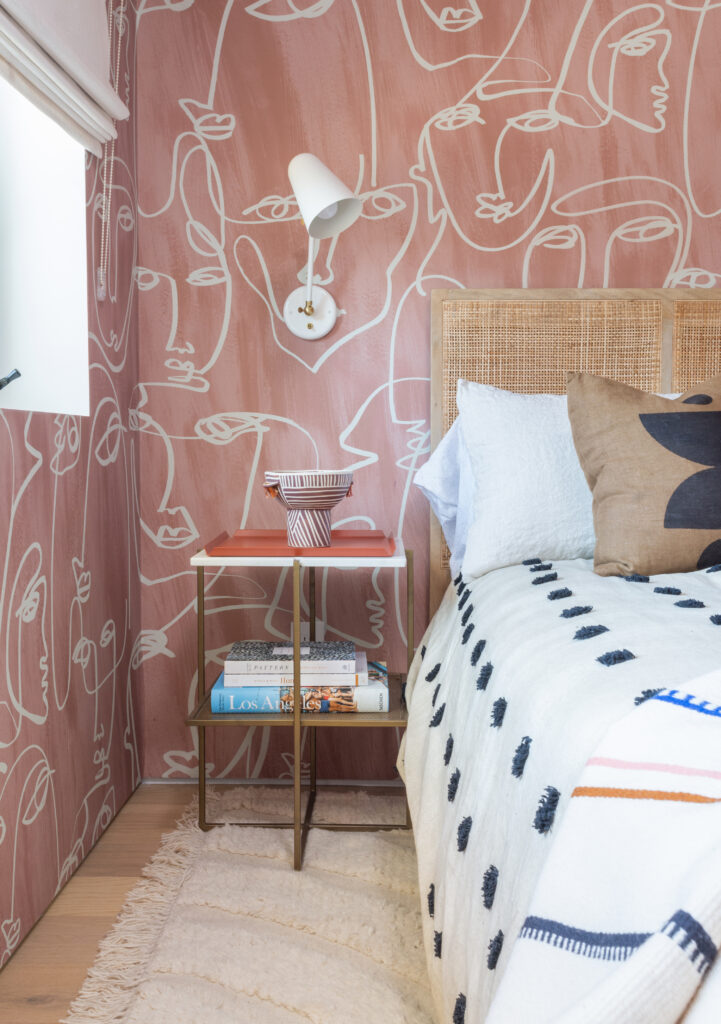 Night Stands
Night stands in a guest room are a must for guests to keep their night time items (phones, tissues, etc.). But it also doesn't need to be too large or storage-heavy like you might choose for your own bedroom. The brass leg night stands offer two surfaces to hold useful items and can also be styled with decorative objects to add depth to the room and give guests some fun reading material.
Window Coverings
There is one large window in this room which gets very bright light. So when installing window coverings, we added black out paneling to the back of the shades to provide optional black out for guests at night as well as to control the light coming in during the day as needed.
A Useful Closet
The room has a decent-sized closet which we previously equipped with all the function and some fun amenities that guests can use while staying with us. I know that any of my friends and family who have stayed here already have appreciated and loved those thoughtful details so much! Offering drawer and closet space—as well as useful items they may need while in town—adds an extra thoughtful touch for guests.
Pattern Play
When the wallpaper is such a focal point, you might think that no other patterns could go into this space! Well, if you know me, then you know pattern play is my favorite place to be :). Dots are often a neutral to me, so it felt just right to mix in with the large scale mural. Because the dotty duvet and pillow are neutral and smaller in scale than the mural, they work well with the abstract background. The striped throw blanket adds an additional pop of color (again in a classic pattern to let the wallpaper pattern shine).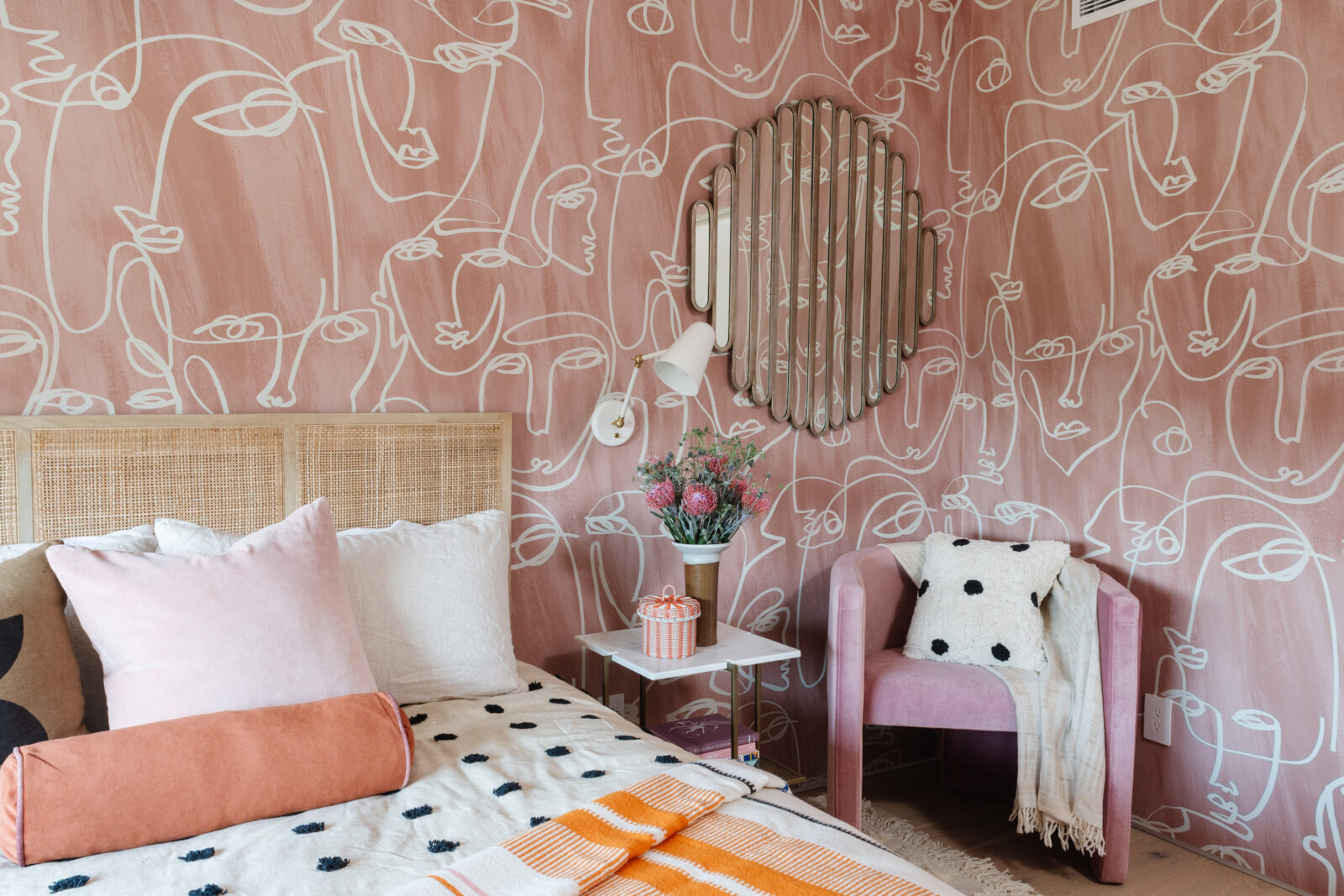 Room Corners
If you find yourself with a bit of extra space in the corner of a guest room, a chair makes a great piece to add (especially when the room isn't big enough for a desk or other large functional piece). Not only does it offer an additional surface to sit, but it also serves as a spot to place belongings which are often all over the room when traveling.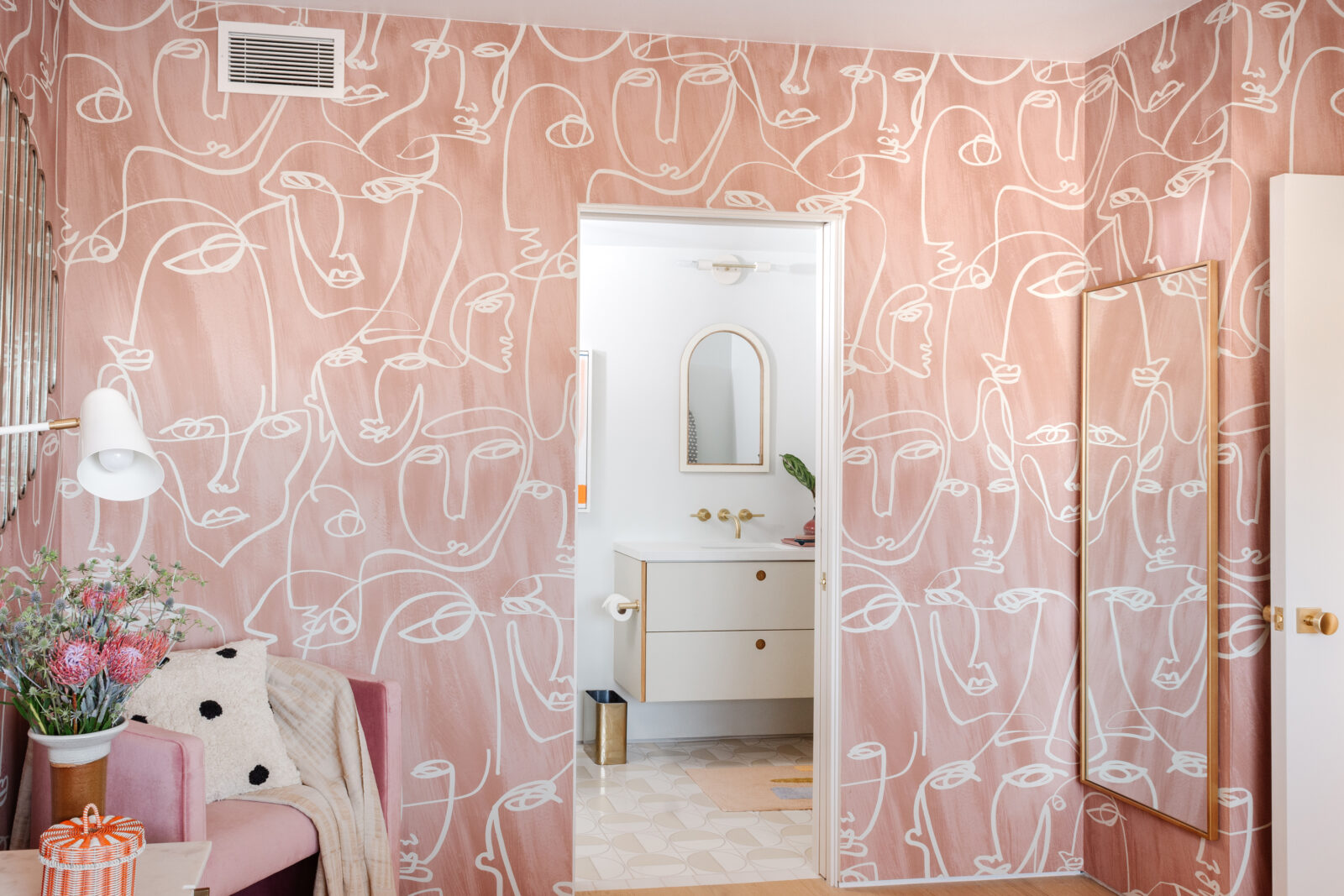 En Suite Bathroom
Because these rooms were originally designed for our parents to come stay for extended periods of time, we wanted each bedroom to feel like their own self-sufficient spaces so this room has its own full bath, too.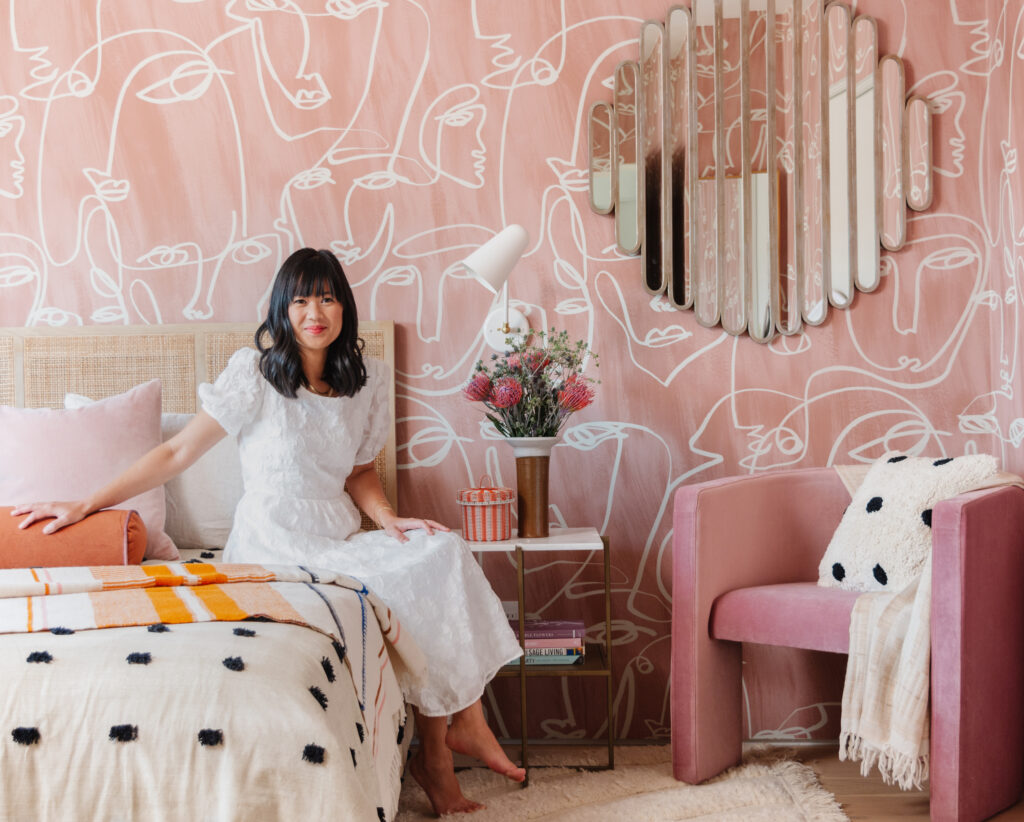 It was so fun to create this space because it's one of the two spaces we've designed for others to mainly enjoy and use. We put a lot of thought and details behind it, and I hope it shows! If you have any questions, please ask in the comments below!
P.S. See all house and studio posts right here!
Credits:
Reveal photos: Bethany Nauert
Design: Cleo Murnane of Project M Plus and Joy Cho
Styling: Cleo Murnane of Project M Plus and Jonas Bergkvist
Architecture: Project M Plus
Construction: Boswell Construction
My Outfit: Sister Jane dress (past season)
Hair and Makeup: Danielle Walch
All furniture and materials sources noted within captions below photos. *Indicates an item that was designer discounted or gifted to us in exchange for coverage on Oh Joy. All opinions are my own. Please leave a comment if we missed anything you would like to know the source of!