In prep for this week's reveal (where the room is ALL ABOUT a statement wallpaper) I wanted to talk about all things wallpaper and answer some often-asked questions…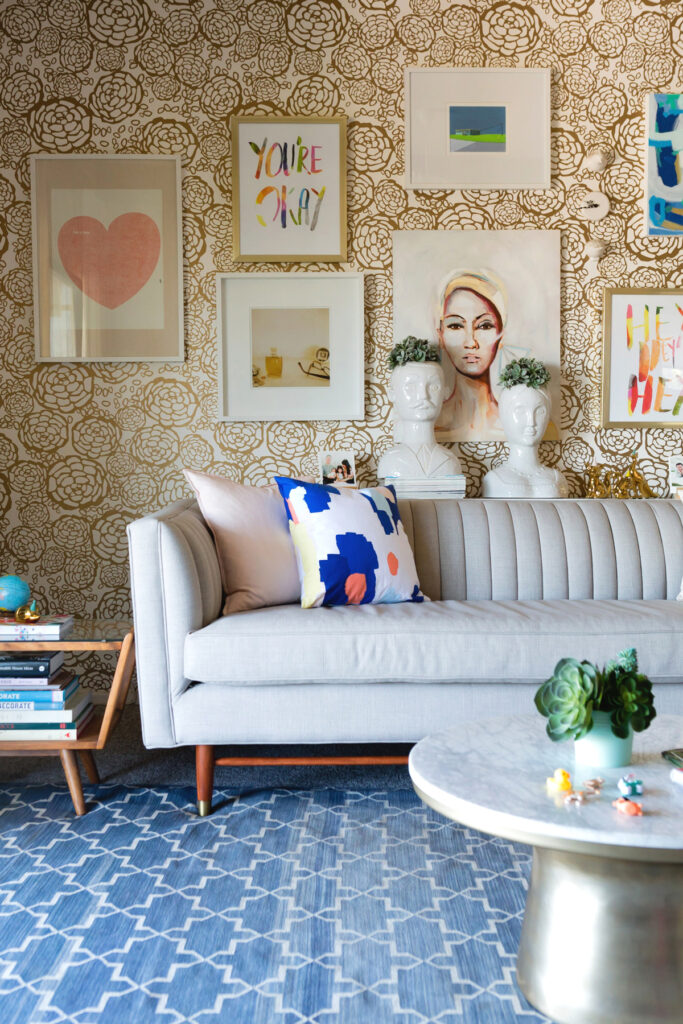 Oh Joy! and Wallpaper
I've loved wallpaper for a long time. In fact, one of our first collaborations is still available, and it's our Petal Pusher wallpaper collection with Hygge and West. If you've followed us here for any length of time, you know that we also love to style with wallpaper. I had my old studio office (and bathroom) covered in gold metallic wallpaper, we've used wallpaper for many room scenes, and even did a DIY for wallpaper in rented spaces. Now to some of the considerations you should take into account if you're thinking of adding it to your own space…
Permanent vs. Temporary
I love the incredible amount of removable wallpaper options that have become available that comes ready to hang (like contact paper that already has adhesive and you remove the back paper and stick on the wall). We have used temporary wallpaper LOTS in our old studio to design and inspire fun rooms. I even used temporary paper in my new dining room because I couldn't commit there like I could in other rooms. Temporary paper is great if you "like" a design or you love it "for now" and might not want it for a decade. Temporary options give you the flexibility to change your mind without the hassle of removing permanent paper (if you know you know). Plus, it's the perfect (and sometimes only) option for renters if your landlord won't allow permanent paper. Permanent wallpaper works great when you KNOW you love the print and the room is not going to change for a while. We kept wallpaper in our last apartment for a decade so it's a commitment but worth it if you can love it long term. Both options work great, and you can have both in your home – I do!
DIY vs. Professional Install
Should you install wallpaper yourself or should you hire an expert? The first thing to consider is your budget. First, do you have the budget for the professional fees of an installer? But also to consider…can you afford to mess up the wallpaper you purchased if your DIY efforts have a few "false starts"? Wallpaper can be pricey, and you want to make sure it goes on right the first time! I have known some people that can install wallpaper perfectly – are great at cutting edges, matching up repeats, mixing the glue, and doing it while not making a mess. While I am pretty crafty, I have always left the installing to those who did it for a living. It's professional install all the way (particularly for permanent installs). Wallpaper installers (at least in LA) typically charge $750-1200 for one room. That install could take a few hours or the whole day depending on how much is being covered. If you're using temporary wallpaper (which can be pulled up and replaced as needed), then that's much more user friendly to try yourself!
Large Scale vs. Small Scale
I'm sure you've seen the wallpaper that is really a mural that creates a beautiful scene or texture (like in my main bedroom or girls' room), or wallpaper that has huge scale drawings or graphics (like my dining room). And, you've seen some that have tiny repeated patterns all over it or more subtle design elements (like this image above in my kids' craft room. This is absolutely a personal choice that only you can decide for yourself and might change from room to room. I lean toward the large scale, more bold wallpaper prints to make big statements. I love single line drawings, the bold waves in my dining room and the bananas in my studio breakfast nook! But I also have small splatters in the kids' craft room and a subtle pink ombre in their bedroom. There's no one way to do it, and there are enough options in the world to make every wallpaper lover happy.
Focal Wall vs. Complimentary Wall
Are you planning to do one wall or the entire room? Are you basing the entire room decor on your choice of wallpaper or do you have everything in the room picked out and want wallpaper that compliments what's already there? Knowing what you want your wallpaper to do in the room helps you pick the right type. Think through your ideal style before browsing, and that will help you narrow your search considerably. Pin images from other rooms you love and see what those wallpapered rooms have in common. If I already have lots of neutral furniture, I know I want some color in my wallpaper. If I know a room is going to be used for sleeping or relaxing, I want something that feels soothing. If I have no idea where to start, I always look for bold and fun options to see if they inspire something (which is a fun way to start in my opinion).
I'll be revealing our fun line-drawing wallpaper in our "pink bedroom" later this week. You'll see what we chose for the space and how it all came together with all four walls covered in a large-scale wallpaper!
P.S. Here are all the links to the amazing wallpapers in my house and studio:
Main Bedroom – Cirrus by Calico (in vapor)
Kitchen – Mica by Makelike* (in gold on off-white)
Dining Room – Azteca by Drop It Modern* (in soapstone)
Breakfast Nook – La Palma by Catherine Martin at James Dunlop Textiles* (in Gilver)
Guest Bedroom – Femme Mural by Drop it Modern (in Terracotta)
Girls Bedroom Wall – Aurora by Calico* (in Petal)
Girls Bedroom Ceiling – Leopard by Eleanor Bowmer
Girls Craft Room – Speckle Sand by Studio Cope
Green Powder Room – Marble by Rebecca Atwood* (in Soft Jade)
Celestial Powder Room – Inverted Spaces in Orion by Calico