I love sharing ways to maximize a small space or area of a room. A breakfast nook can be a great option for a dining area like the one we've created in the Oh Joy! Studio. Here's a look…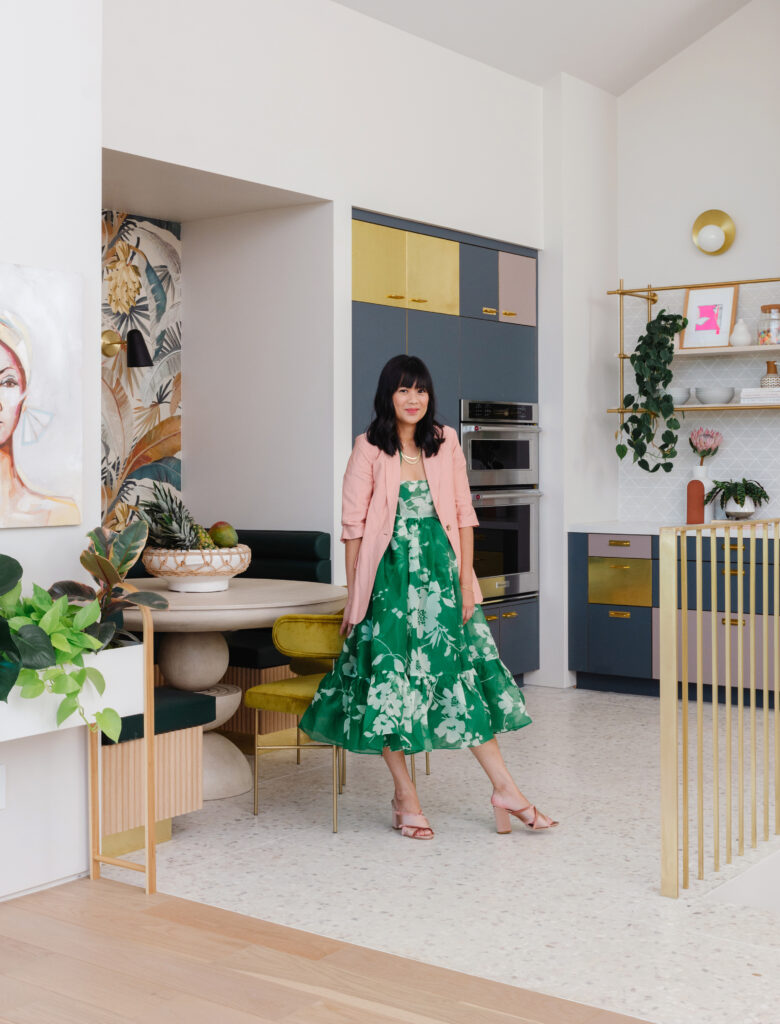 Here's a look back at the process along the way (above) and the final (below)…
Why a Nook?
As a mixed-use work space this nook serves a couple functions: a place for us to take lunch breaks (since the main dining table doubles as a shared desk) and as additional seating for gatherings or guests who may be staying downstairs. It seats up to 5-6 people and could fit a small group as well when we have friends and family visiting.
It's All in the Details
To the left of the nook, sits this narrow wall that's perfect for adding plants and art (I've had this painting for almost 10 years!). I can find any excuse to add a plant to a space, and this served as a nice complement to the tropical backdrop created by our Mokum wallpaper in the nook.
Wallpaper and Colors
Because this nook is a focal area, it serves as a perfect place to add a bold, large-scale wallpaper. We loved this tropical design that pulls in colors from the rest of the room. It's bold, chic, and fun! And I love the mix of greens, gold, yellow, wood, and black. The sconce lights add a warm glow in the evenings that make this small space even cozier.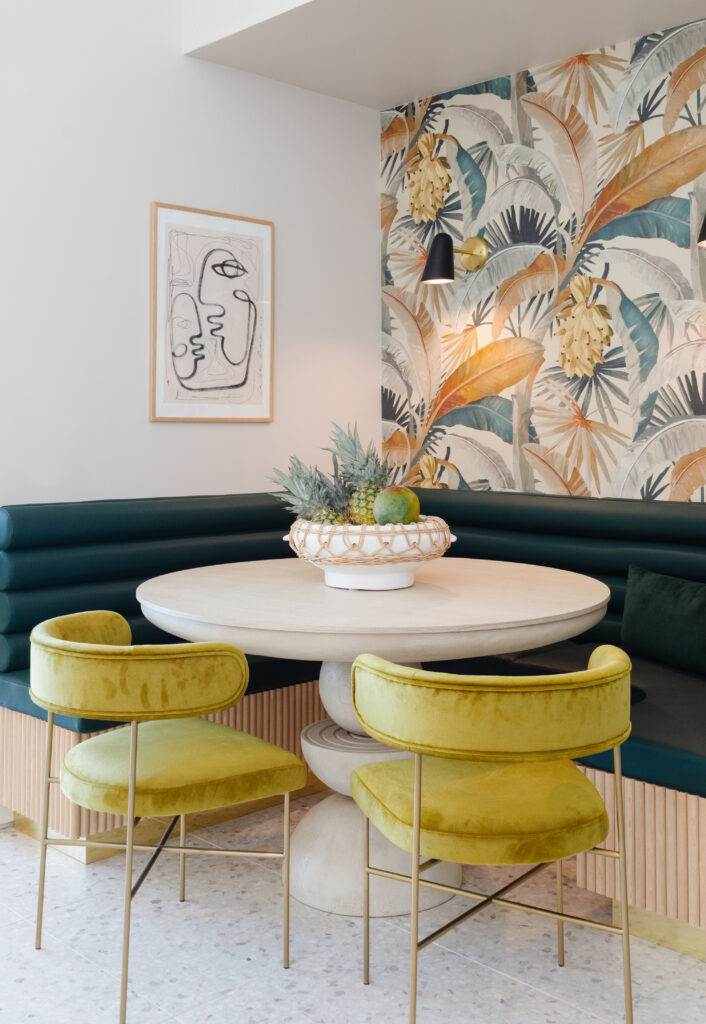 Table and Chairs
A statement table was a must! We found this table a few years ago and have been saving it since! It works really nicely with the light wood in the rest of the space and adds a sculptural quality and shape with its whimsical base. The chairs are the same style as the ones in our dining room but in a citrine velvet to play off the golds in the wallpaper. I love the flexibility of being able to move those chairs away if needed for a larger gathering where the table might serve as a buffet or for additional counter space.
The Built-In
To maximize the small space, we went for a built-in banquet on the inside walls. The tambour paneling at the base mixed with brass at the very bottom feels very fancy but was an easy and inexpensive detail to add. Also, round tables in a nook allow everyone to be able to see each other and allow for more intimate conversation than longer tables, which I love.
Although this is in my studio, the same design principles and function can apply for any home and for your future projects. I hope this helps you think outside the box for your own dining area, too!
P.S. See all house posts right here!
Credits:
Reveal photos: Bethany Nauert
Progress photos: Lily Glass
Design: Cleo Murnane of Project M Plus and Joy Cho
Styling: Cleo Murnane of Project M Plus and Jonas Bergkvist
Architecture: Project M Plus
Construction: Boswell Construction
My Outfit: Selkie dress, dRA blazer (both are past season)
Hair and Makeup: Danielle Walch
All furniture and materials sources noted within captions below photos. *Indicates an item that was designer discounted or gifted to us in exchange for coverage on Oh Joy. All opinions are my own. Please leave a comment if we missed anything you would like to know the source of!
Check out my interview with Domino's podcast Design Time – out now!