Our pink femme guest bedroom is one of my favorite rooms, and the pastel bathroom attached to it is the icing on top of the cake! Here's a look at how it all came together…
The process of creating the tile combinations in this bathroom was so fun! Cleo and I worked together to come up with the best combo of colors and patterns to create both a playful and chic space that guests would love. The install was super fun to watch as it progressed since it transformed the space instantly.
Tile Installation
The mix of pastel glass tiles and the graphic floor tile are a complete dream! In order to get the perfectly imperfect look on the walls, we drew up a paint-by-numbers style reference for each wall so the tile installers had a guide for placement. Even if something looks random, the placement still needed to be intentional. Because once it's in, it can be costly and more difficult to change later. So make your decisions in the planning phase, and don't be afraid to be very specific on how you want your tile arranged!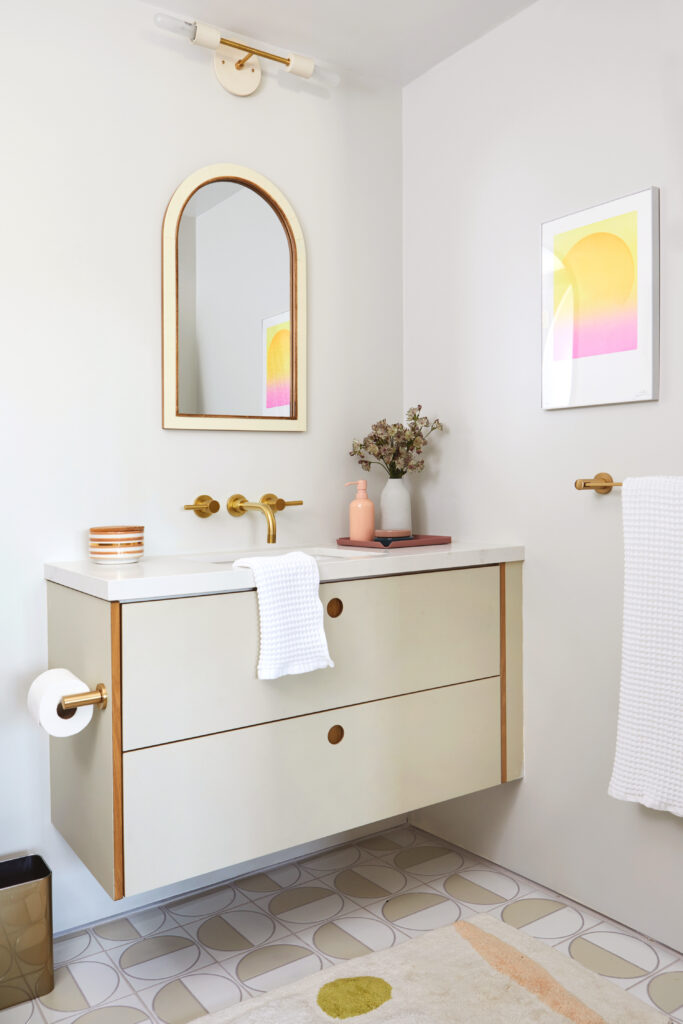 The Vanity
While a guest bathroom doesn't need a super long vanity, when space allows, I think it's important to make sure there is enough of a surface on which guests can keep their toiletries. Since they are not living there, guests often have their toiletries out on counters for their stay, and it can be hard when the counters have little or no space. Allowing 12-24″ to the sides of the sink allows for two guests to be able to keep their bath time belongings easily accessible. This vanity is semi-custom using Ikea bases with Reform doors which made it a more affordable option while still being design-focused.
Get Playful with Tile
This bathroom tile is truly one of my favorites in all the rooms we worked for this project! Fireclay had just released this line of glass tiles a few years ago when we were starting to design these spaces, so it was a perfect chance to try a new material and really play with it! I wanted something colorful that would still feel adult-appropriate. It's perfectly imperfect, and inspired by confetti being tossed into the air.
If you have any questions about this bathroom, please ask in the comments below!
P.S. See all house and studio posts right here!
Credits:
Reveal photos: Bethany Nauert
Progress photos: Lily Glass
Design: Cleo Murnane of Project M Plus and Joy Cho
Styling: Cleo Murnane of Project M Plus, Jonas Bergkvist, and Scott Horne
Architecture: Project M Plus
Construction: Boswell Construction
All furniture and materials sources noted within captions below photos. *Indicates an item that was designer discounted or gifted to us in exchange for coverage on Oh Joy. All opinions are my own. Please leave a comment if we missed anything you would like to know the source of!