Jumpsuits…you either LOVE them or HATE them. I've heard lots of people say they won't touch them, and some say they can't live without their faves. Here's how I've come to love jumpsuits and make the most of what styles function and look the best…
1 – How do you get in (and more importantly get out in a bathroom emergency)?
The ease of getting OUT of a jumpsuit is key. NEVER ever ever…get a jumpsuit where you have to zip or button yourself in from the back. What?! Why anyone ever designs a jumpsuit like that is beyond me. It's good and fine when you're getting dressed in the morning, but after you've had your morning latte and waited a bit too long to use the restroom, the last thing you want to do is have to test your arm flexibility in unzipping yourself quickly while having to pee. Plus, you NEVER want to have to ask for help to get out of your jumpsuit.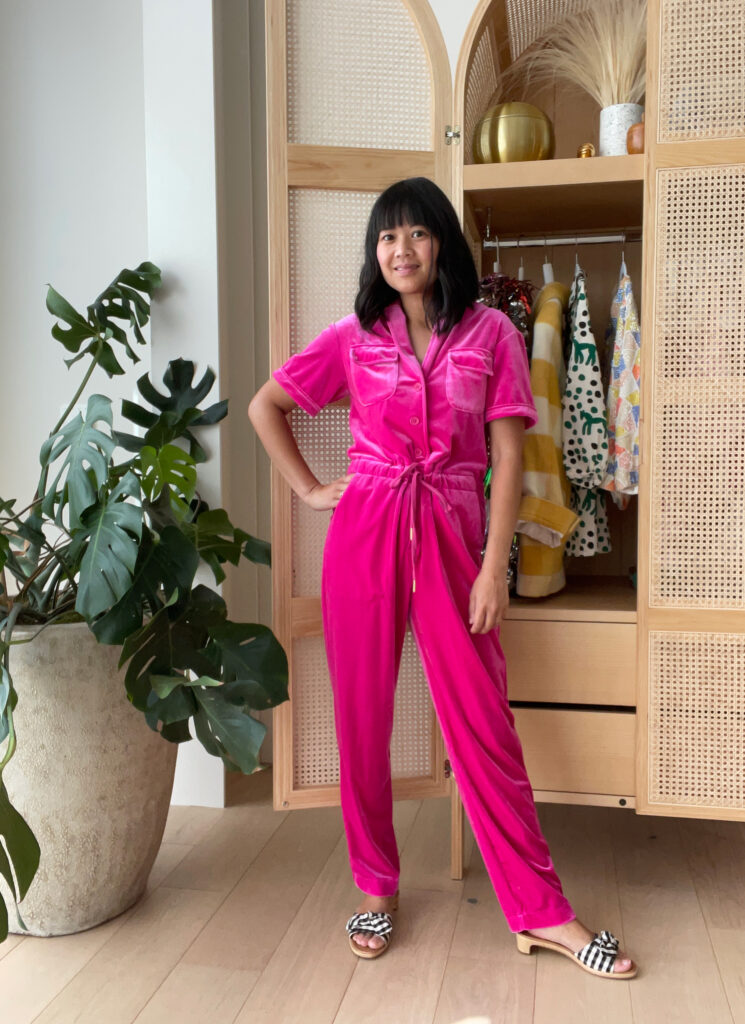 2 – Does it flatter your body?
Some jumpsuits are super boxy, loose, and often shapeless. While others (often the ones with zippers in back) can be more form-fitting. I think somewhere in the middle typically suits most people best. You want to be able to get in and out easily (with the help of front buttons or zippers), but also make sure the cut and the material flatters your body. Belts or ties at the waist (like the pink velvet above) work really well to help give shape to a softer, boxier style. Or, a gathering in the waist (like the denim one above) helps with thicker fabrics.
3 – Is it easy to move in?
If you've followed the two tips above, next comes if you can move in it comfortably. This doesn't mean it needs to feel like PJ's, but when you sit, bend down, or do everyday motions, you shouldn't feel limited by what you can and can't do in a jumpsuit.
4 – Modifying for your individual style.
Whether solid, patterned, or sequined…a jumpsuit is fun all-in-one outfit when you know what works best for you. Remember, you don't have to wear it exactly as it comes off the hanger. Add your own fun belt to highlight the waist, Rroll up sleeves or pants legs to play with the length, or add a shirt underneath a sleeveless jumpsuit if you want more coverage. Since it's an all-in-one piece, you don't need too much. Even some great shoes and fun accessories can top it off, and you'll be feeling confident and fun in no time. Oh, and one more thing…
5 – Yes, you will sit naked on the toilet.
It just is what it is. I love the look, feel, and fun of jumpsuits so a few mins of being a little chilly while in the restroom is no big deal to me! 😛
Jumpsuits from: Mauby in Spice, Madewell in Denim, Rachel Antonoff in Velvet Pink, Sabina in Green Stripe