In preparation for this week's reveal (a guest room where the paint color takes the lead), let's talk about some common questions and concerns when thinking about painting any room…
So many kinds of white!
Have you ever gone to the paint store or looked through a swatch book to see ALLLL the shades of white and then left feeling overwhelmed with no decisions made? That is all of us! My biggest suggestion when it comes to any color (but especially white where there are a million options) is to get either a large swatch to put on your wall in the exact area you'll paint OR get small cans of paint and actually paint a large swatch (at least 1 foot) on the wall. You'll want to see it in the right room with the type of light it will usually get. That will help you gauge if you want the paint warmer or cooler (or with a tint of color in that "white").
We chose Classic by Clare paint for our white which is used in many of the rooms and hallways in our home and studio. It has a warm, grey tone to it that helps the spaces feel not too bright but still fresh and serves as a great canvas for all the other color going on in the spaces.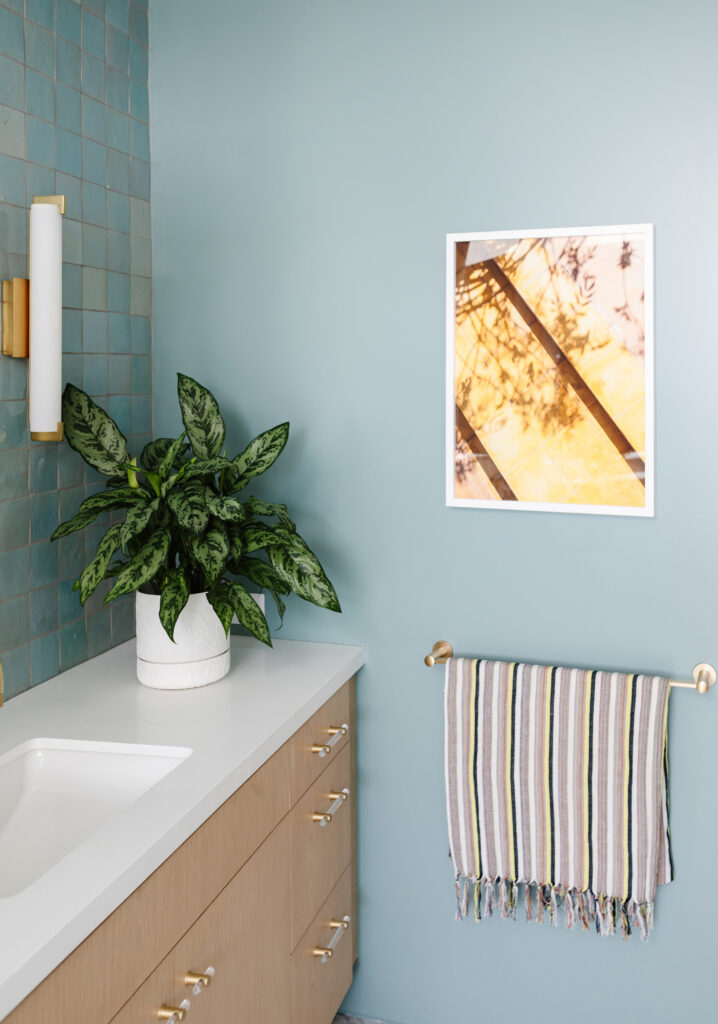 What type of finish?
Most walls do just fine with a standard, flat finish. But in bathrooms where the walls may get splashed with some water, an eggshell finish allows for a more wipeable surface. Depending on the paint brand, their standard finish may already be eggshell and easily wipeable as well. Also, consider VOC-free paints which more and more paint brands are starting to offer.
Things to consider when choosing a colorful color
When choosing a non-neutral color, many tend to get overwhelmed or worried they won't like the color long enough to make it worth it. My feeling is…if you have seen another space in a similar color, and it made you happy…go for it! Paint is one of the easier bigger changes you can make to a space because repainting a wall in 3-5 years won't take up a ton of time or money. Let colors influence your mood and your home, and enjoy them! However, I would say if you go for a color…do the whole room in that color. A focal wall is what some people often do to justify their desire to go bright with timidness for color. But then it's sort of like the party is only going on in one area of the room. Just commit, and go for it!
Speciality Paints
Beyond your thousands of color options, you can also find paint in shimmers, glitters, and pearls that add a glow or texture to your space. While you may not want a whole room in a metallic color, those can be a nice option to highlight a certain area (like this bump out in our main bedroom) or the ceiling in a guest bathroom.
Professional Painter or DIY?
Unlike wallpaper installation, painting is something that more people can do without needing any special skills or training. I have painted many rooms myself, and I have hired people to paint instead. To me, it depends on budget (do you have the budget to hire a professional?), your desired level of involvement (some people just want to be part of the process and some don't care), and what kind of paint you have (speciality paints require a little more attention and detail). Just don't cut corners if you do it yourself. Lay out large drop cloths to cover the floor and furniture, use Painter's Tape to cover edges you don't want painted, and make sure you're getting new paint with clean brushes and rollers.
Painting Large-Scale Patterns or Murals
We love painting stripes, color blocks, or patterns on the wall, as you can see from numerous past blog posts. Paint is versatile and is only limited by the skill of the wielder of the paintbrush. You can get great results with paint using painters tape, a leveler and your imagination. And it can give you options that you might not find in wallpaper.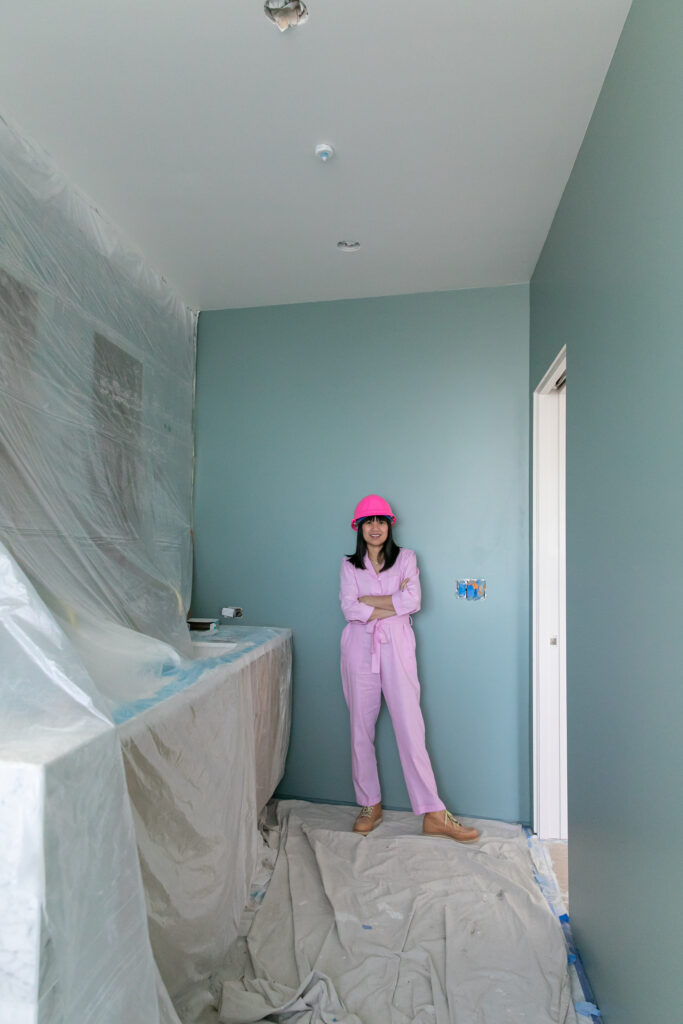 Some Practical Tips When Painting Yourself
—Keep the remaining can of paint after you finish the room for touchups. But remember, touch-ups often show when done at different times. If you have a major stain you need to fix, it may look better to paint the whole wall instead.
—If you're renting and your landlord allows you to paint, take a small chip of the current paint color to make sure you can paint it back to the right color (if required when you move out).
—We've found much better success with crisper edges on painters tape with green tape rather than blue.
—Keep the space you are painting well-ventilated.
—Let the paint dry between coats. Yes, it takes a little bit more time, but it's worth it.
—Remove the electrical plates (plugs and switches) to have as clean of a job as possible.
—Paint in the daylight or with all the lights on. Seeing the space in the best light helps you to avoid missing spots or accidental streaks.
Photos by Bethany Nauert (unless noted)