Our final guest bedroom reveal is here, and it's blue and moody in the best possible way. Here's a look…
I don't have a lot of photos of this room in process because it was used as an office for our contractor (hence the desk!). But anytime a room gets a dramatic paint color, it feels like a transformation!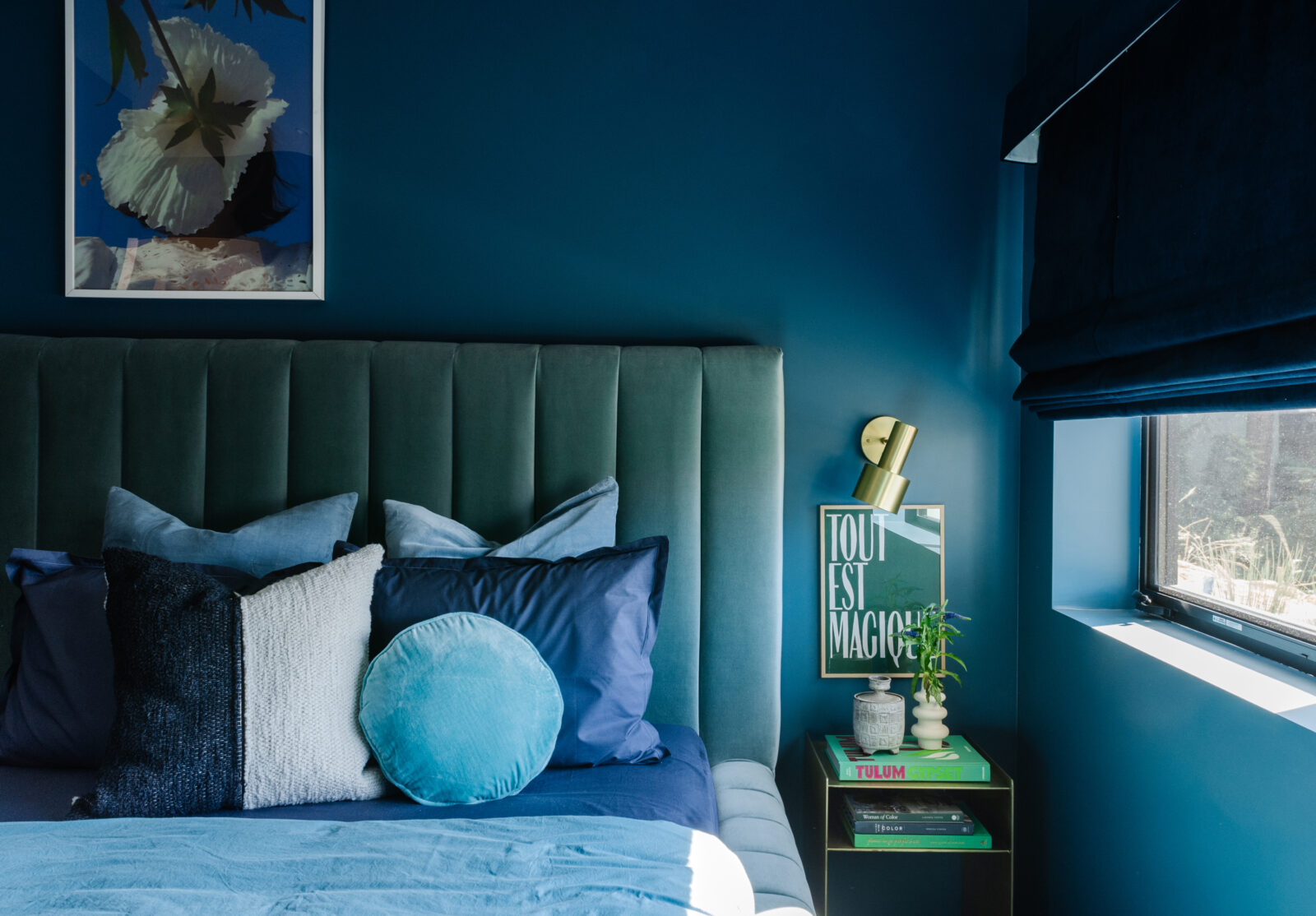 Small but packs a punch
Of the two bedrooms, this is the smaller one. It's basically big enough for just a Queen-sized bed, small night stands, and space to walk around. While I worried it would be too small, it feels cozy and totally lovely for a guest to stay. The dark blue is so dreamy, moody, and sophisticated.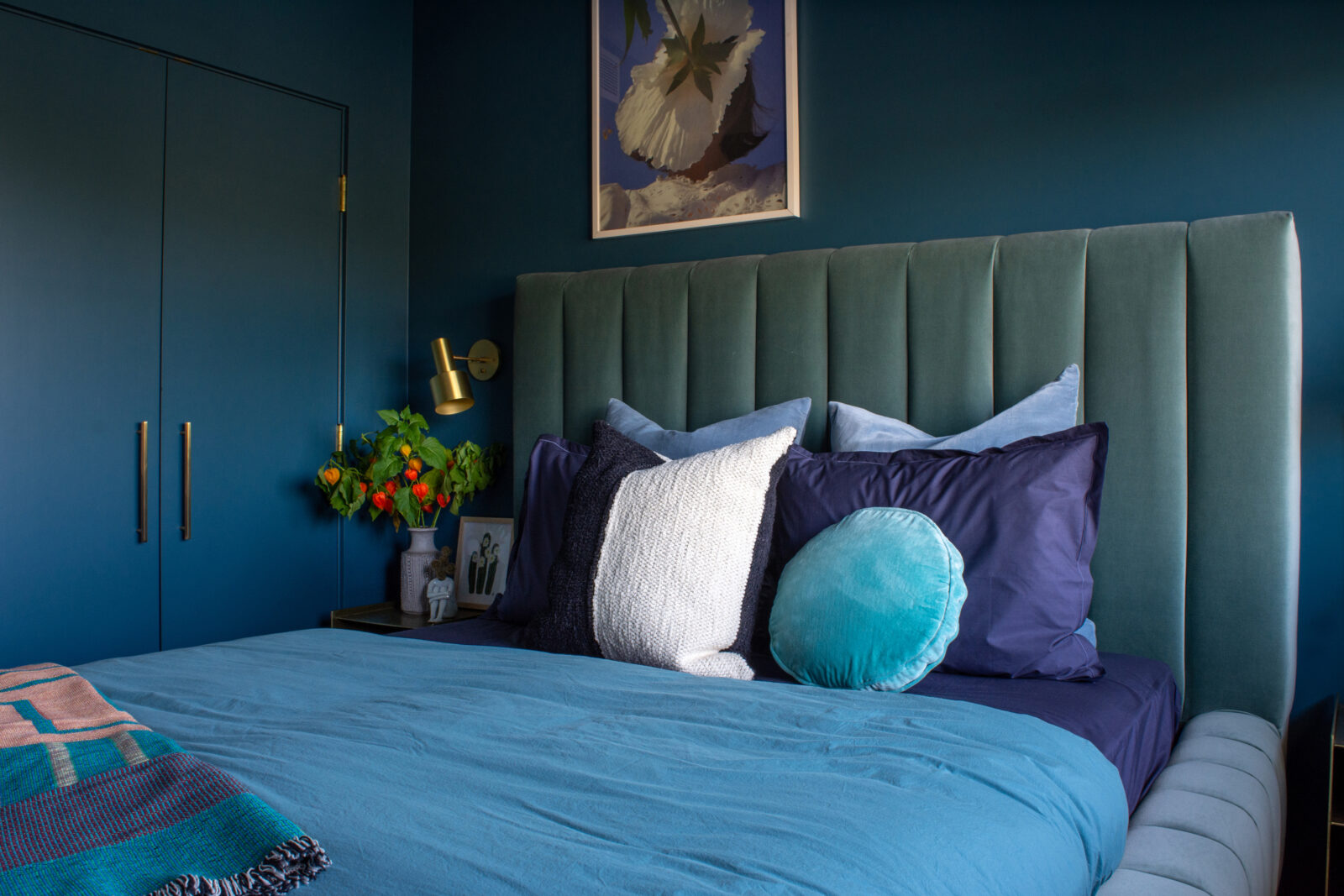 Inspiration
This room really started with the paint color. Since the other guest bedroom focused on a dramatic wallpaper, we wanted to go solid here but still use a statement color that would make it's mark. After the wall color was decided, we stuck to more tones of blues to layer them all together in various textures from the headboard to bedding to wall.
Art
I purchased a few prints from my friend, Jesse, and her husband Jimmy (through their company The Marbles) back in 2019 when we were sourcing everything for the house. You'll see them in my kids' bedroom and our main bedroom. This print (which happens to be of Jesse) felt so perfectly fitting in this space. I loved having the print off-center to offset the straight-edge of the headboard. After taking these photos, we did add another organic wooden piece of art by Katie Gong over the bed which you can see here in the photos taken by Domino.
Sadly, Jesse passed of cancer in June. I will always treasure this piece and her presence in the room. While we were only acquaintances, I knew her enough to know what an amazing and talented person she was. She left behind family and friends who carry on her spirit and strength forever.
En Suite
Just like the other guest bedroom, this one has it's own full bathroom (more details on that next week) and a closet filled with extra sheets, towels, and other things guests might need. Since these rooms were designed for our parents to be able to live or stay long-term, each room needed to have it's own necessities.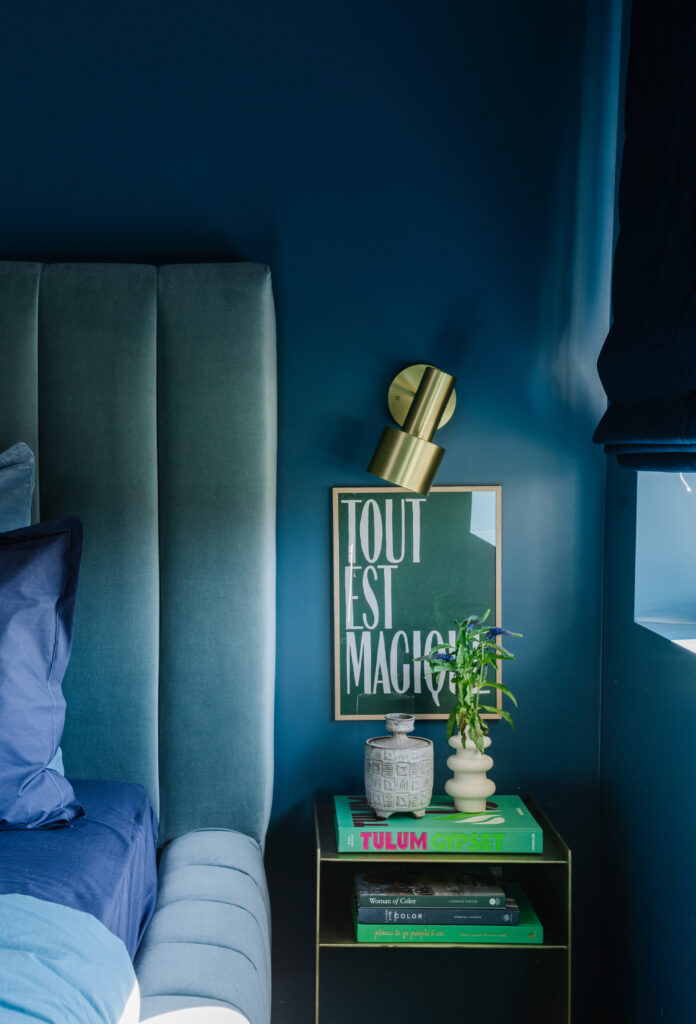 Nightstands
When you have a smaller bedroom, scale the accessories accordingly. We placed more narrow and airy nightstands so that there was still a place for personal belongings but also made sure they didn't take up too much space or visual weight in the room. I love how these brass nightstands offer structure but are still visually light. Also, there is something really precious about placing art in the nook or general area of a nightstand. It's an extra fun detail for guests to discover.
P.S. See all house and studio posts right here!
Credits:
Reveal photos: Bethany Nauert
Progress photos: Lily Glass
Design: Cleo Murnane of Project M Plus and Joy Cho
Styling: Cleo Murnane of Project M Plus and Jonas Bergkvist
Architecture: Project M Plus
Construction: Boswell Construction
All furniture and materials sources noted within captions below photos. *Indicates an item that was designer discounted or gifted to us in exchange for coverage on Oh Joy. All opinions are my own. Please leave a comment if we missed anything you would like to know the source of!