May is Asian American Pacific Islander Heritage Month! And, while it's my mission to always celebrate and highlight AAPI talent year-round, I wanted to do some special shout-outs this month especially if you're looking to support other AAPI creatives and small businesses in some way. Here's a look at some of my favorite cookbooks by Asian Americans…
1. First Generation: Recipes from My Taiwanese-American Home by Frankie Gaw
I only discovered Frankie's Instagram account recently and immediately bought his book because of his style of cooking which feels modern and fresh yet honors his family's home cooking. With dishes passed down from generations of family, Frankie introduces a deeply personal and essential collection of recipes inspired by his multicultural experience, melding the flavors of suburban America with the ingredients and techniques his parents grew up with.
2. Mooncakes and Milk Bread by Kristina Cho
Kristina's recipe videos are visually stunning and soothing at the same time. Inspired by her love of Chinese bakeries and memories of visiting them often as a kid, this book is full of sweet and savory baked buns, steamed buns, Chinese breads, unique cookies, whimsical cakes, juicy dumplings, Chinese breakfast dishes, and drinks. I cannot wait to dive into it more!
3. Boba by Stacey Kwong and Beyah Del Mundo
The owners of a Los Angeles-based boba shop created a book that takes my obsession to a new level. No matter if you call it boba or bubble tea, this addictive drink that originated in Taiwan in the 1980s has taken the world by storm, with shops popping up on every corner and lines out all their doors. Boba covers all the basics, from brewing tea and making your own tapioca balls (aka boba) to handcrafting sweeteners, syrups, toppings, and more with all-natural ingredients and no corn syrup. 
4. Rachel Khoo's Kitchen Notebook by Rachel Khoo
I not only love this book for it's incredible illustrations and journalistic layout, but also because it offers doable and delicious recipes with Rachel's inspirations from around the globe. This book has been a staple on my shelf for years!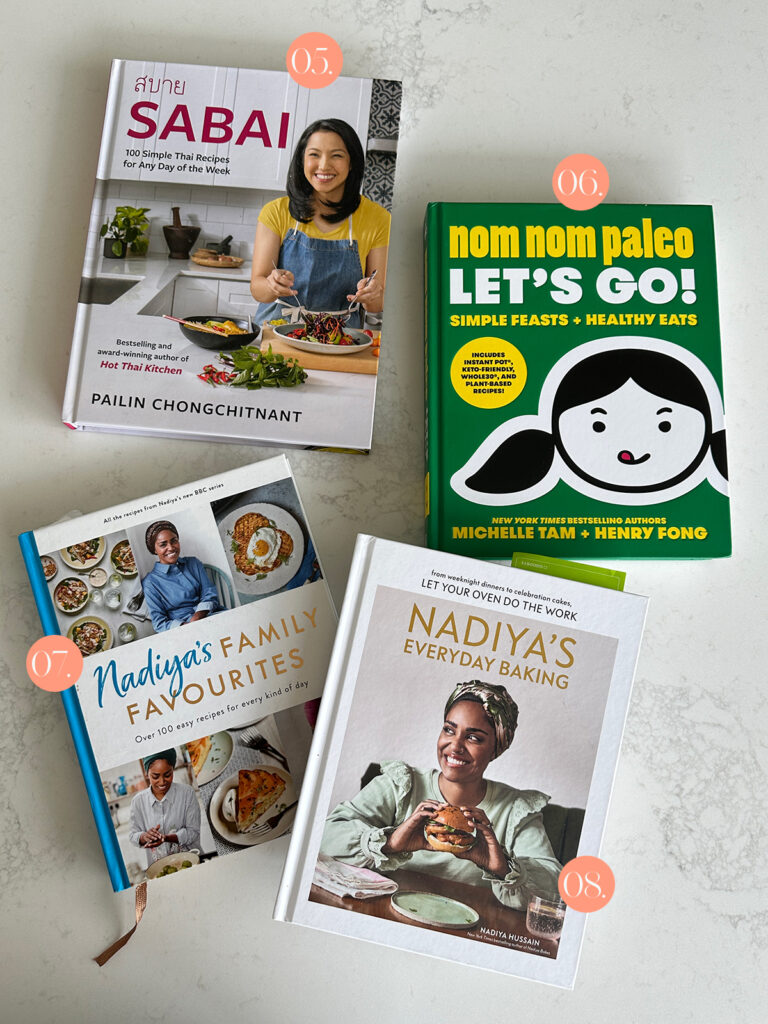 5. Sabai: 100 Simple Thai Recipes by Palin Chongchitnant
As someone who grew up in a Thai restaurant, I know how hard it is for a home cook to replicate Thai food as the ingredients are so specific and intentional. But I love this version with 100 easy Thai recipes to help you cook all week long from YouTube superstar and best-selling author Pailin Chongchitnant.
6. Nom Nom Paleo Let's Go by Michelle Tam and Henry Fong
For those with paleo restrictions, this book has internationally-inspired, umami-packed dishes—including a host of keto-friendly, Whole30-compatible, and plant-based recipes. The step-by-step photos make it so helpful to follow along with!
7. Nadiya's Family Favorites by Nadiya Hussain
I'm a huge fan of Nadiya's cooking show (on Netflix) and how she shares the food she loves to cook and eat with her family and friends, offering fast, easy and delicious new recipes for every kind of day. This cookbook shows you how to create the perfect dishes to complement the moments we all love, from days out with friends to big get-togethers and lazy weekends at home, as well as simple and satisfying solutions for busy weeknights and speedy showstoppers for impromptu guests.
8. Nadiya's Everyday Baking by Nadiya Hussain
Nadiya is known for using her oven as much as she can to make cooking easier to manage. In this book, she shares nearly 100 simple and achievable recipes for breakfast, dinner, dessert, and everything in between.