When I shared my girls' shared bedroom a couple weeks ago, I mentioned that the second bedroom (until they decide to split later) was made into a playroom. While a playroom isn't a new concept for kids, I wanted to reimagine what a playroom meant for my kids. The biggest lesson I have learned in the process of building this house is how to make spaces that are for you and your family—not a future family that may one day live there after you do!
Since my kids love creating and crafting, it made most sense for their playroom to truly become…a kids' craft room!
Here's a look back at what it looked like during construction…
The space…
This room is a bit more square then their bedroom and measures around 12×12 feet…not huge but plenty of space for their needs! It has a small closet in it (currently used for their off-season clothes) and connects to their shared bathroom.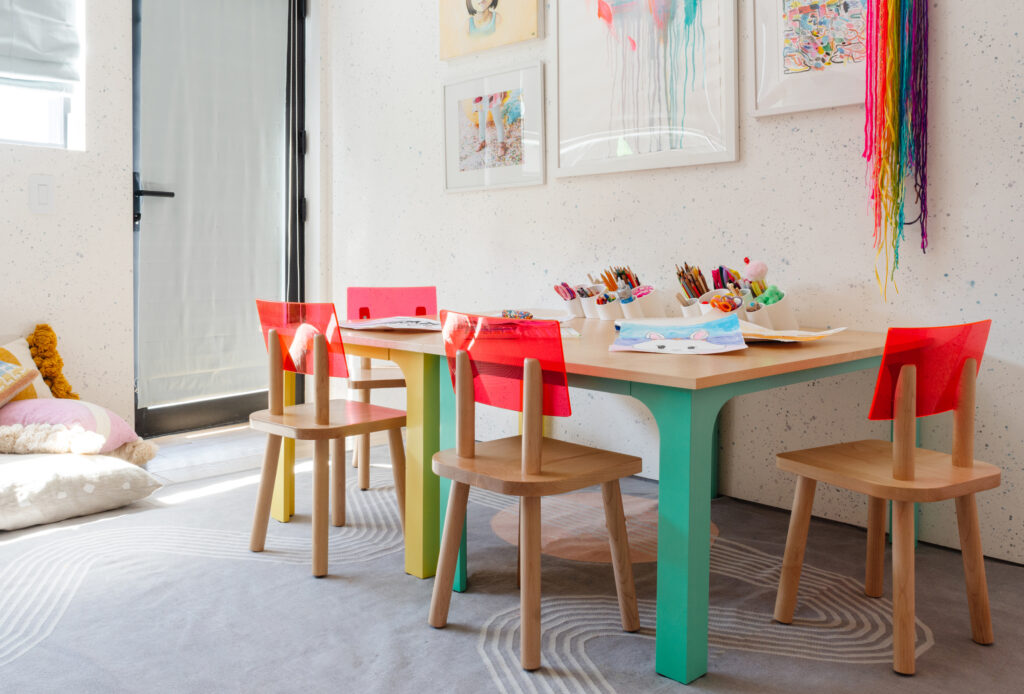 The layout…
One side of the room is set up with two tables joined together to make one large work surface. Each kid has their own designated table, but I like how this allows them to face each when working together. There are a couple extra chairs on the side intended for playdates and crafting with friends (when we can have friends over again!). There's also a small lounge spot by the window where they can play with stuffed animals, puzzles, or other floor games.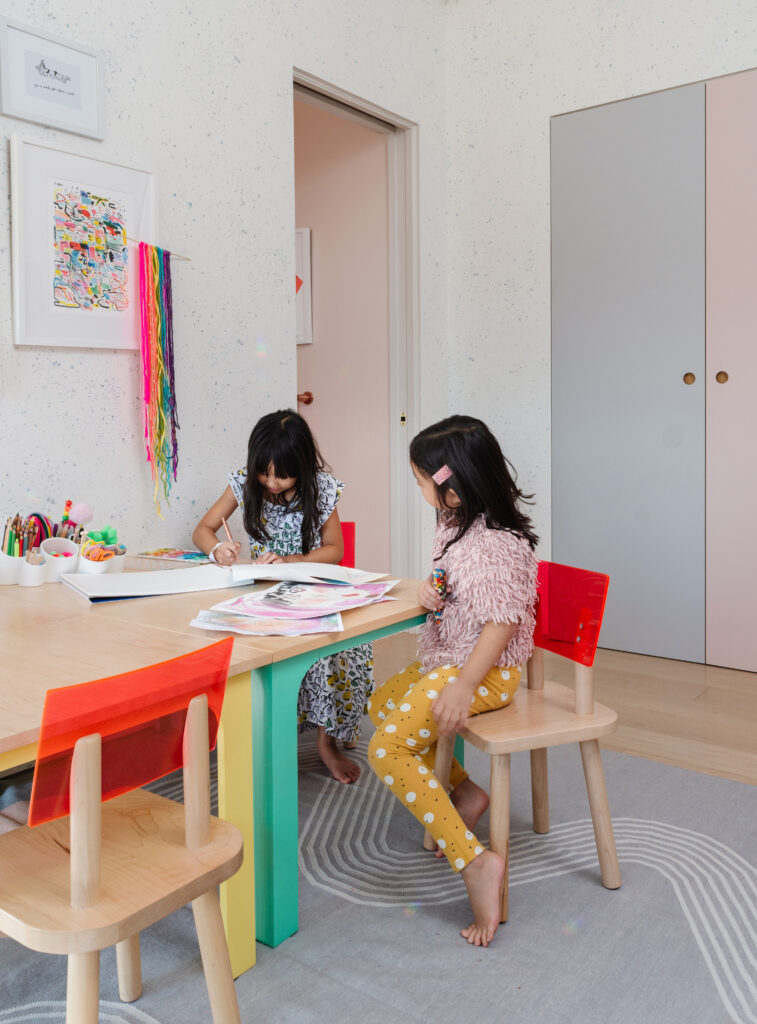 They often wake up and come here in the mornings and entertain themselves while they are waiting for us to make breakfast. This space has allowed them to create so much more because they each have their own work space, and I've set it up so they can easily find and store all their materials.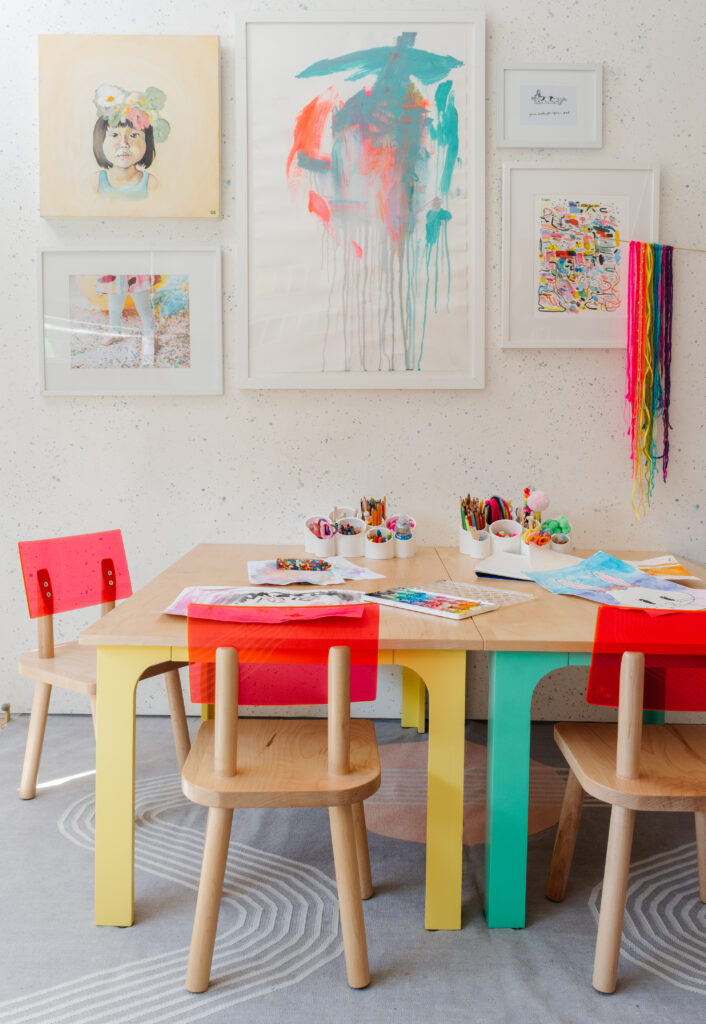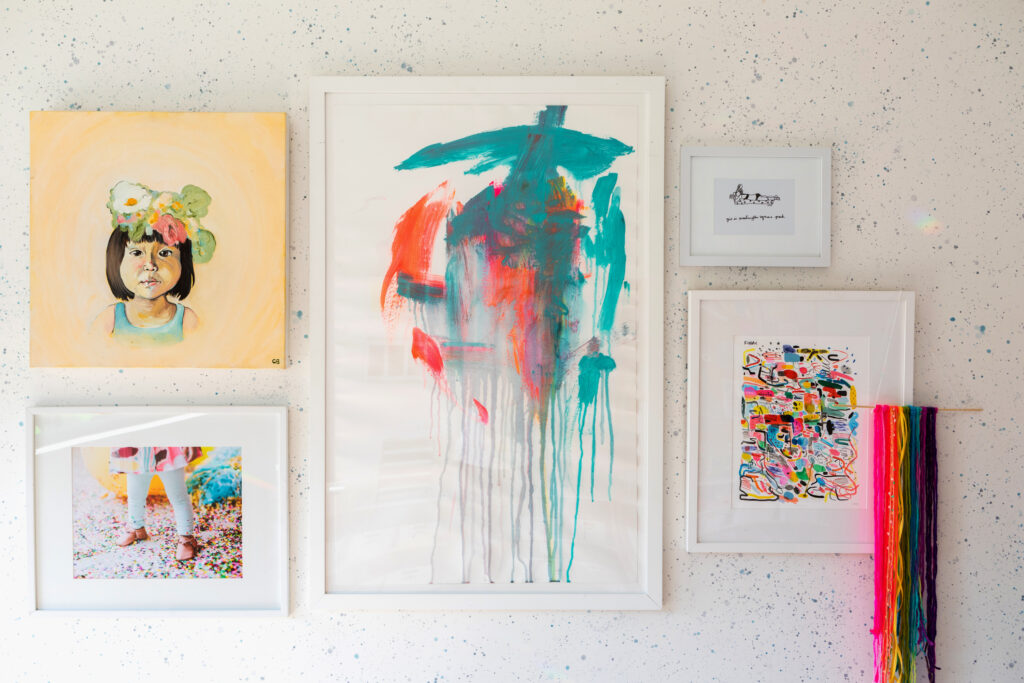 The Decor…
This gallery wall is made of of a mix of artists we know and love. The center painting was made by Ruby when she was two and a half, and I love turning some of my kids' artwork into permanent pieces of our collection. We also chose a fun splatter paint wallpaper to go in this room. It feels fun and nods at the craft room while adding texture to the walls. I also love that it allows it to not be too precious! If paint from a project gets on the wall, it feels like it's meant to be there.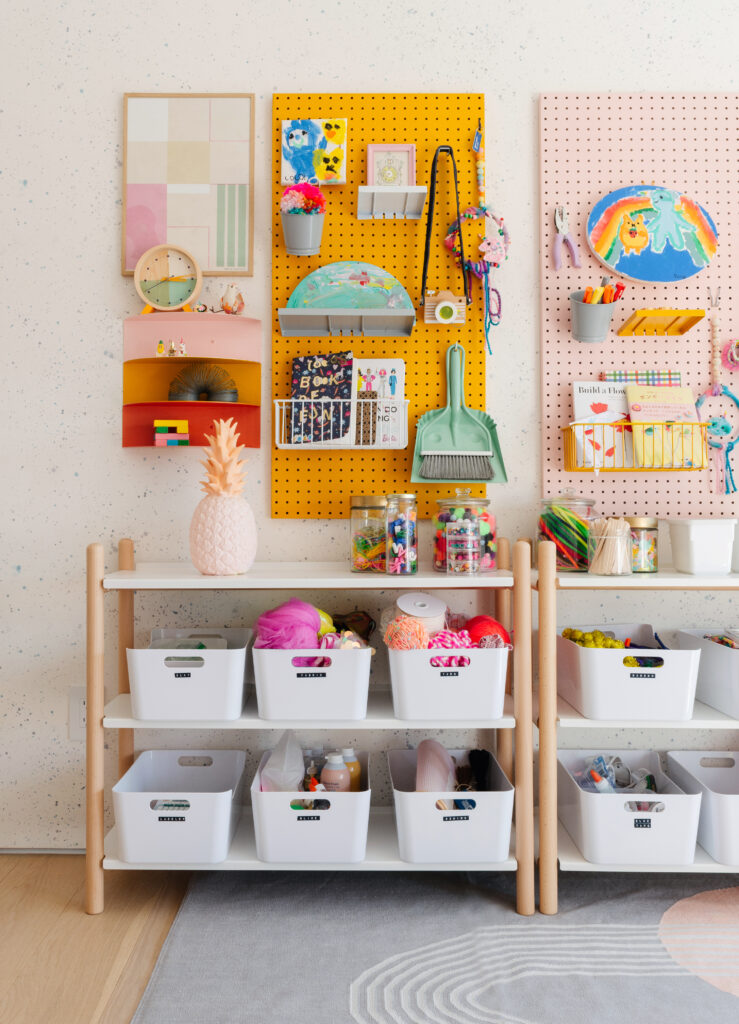 Storage…
This side of the room has a wall of low shelves to store and hold all of their art and craft supplies. Inspired by the craft room we had at the Oh Joy! office, I made a kid-friendly version for them at home where everything is accessible at child height.
Everything is labeled, and there are bins to also keep work in progress and completed work! Having everything labeled and organized makes your life so much easier because your kids are more likely to know where to put things back when they clean up! We have a rule that a project needs to be put away or stored before a new one can start, and they've been pretty good about sticking to it.
Also, empty large jars work great to hold smaller craft supplies like beads, sequins, and pom-poms. I try to make sure all those items are in jars with lids to keep the mess contained if it got accidentally knocked over!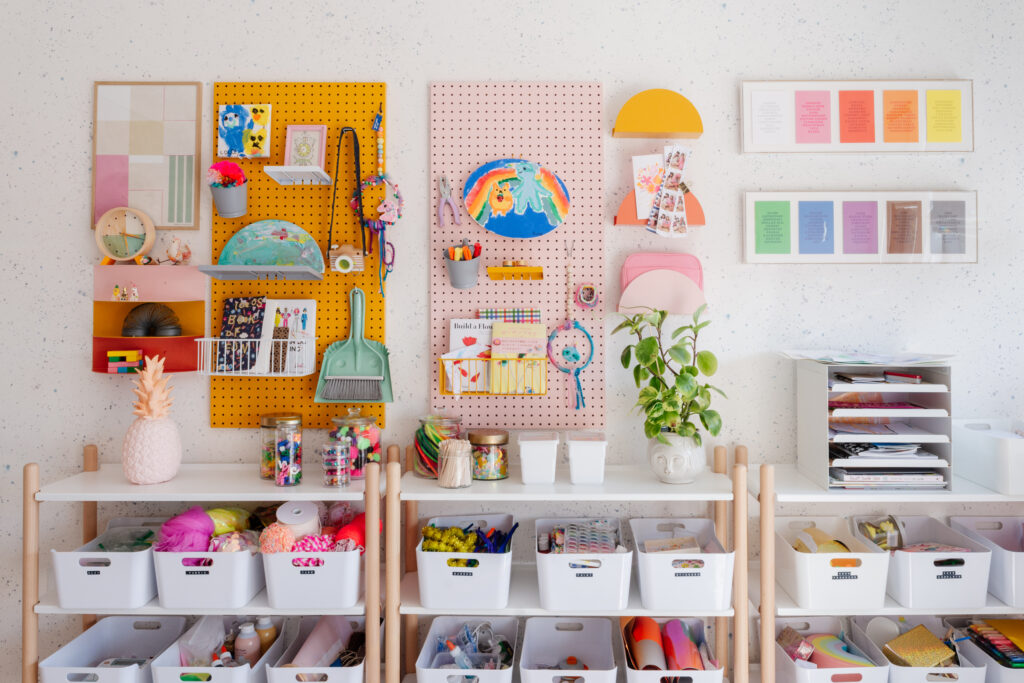 I got these pegboards as a way to both store other odds and ends and display some of their finished work.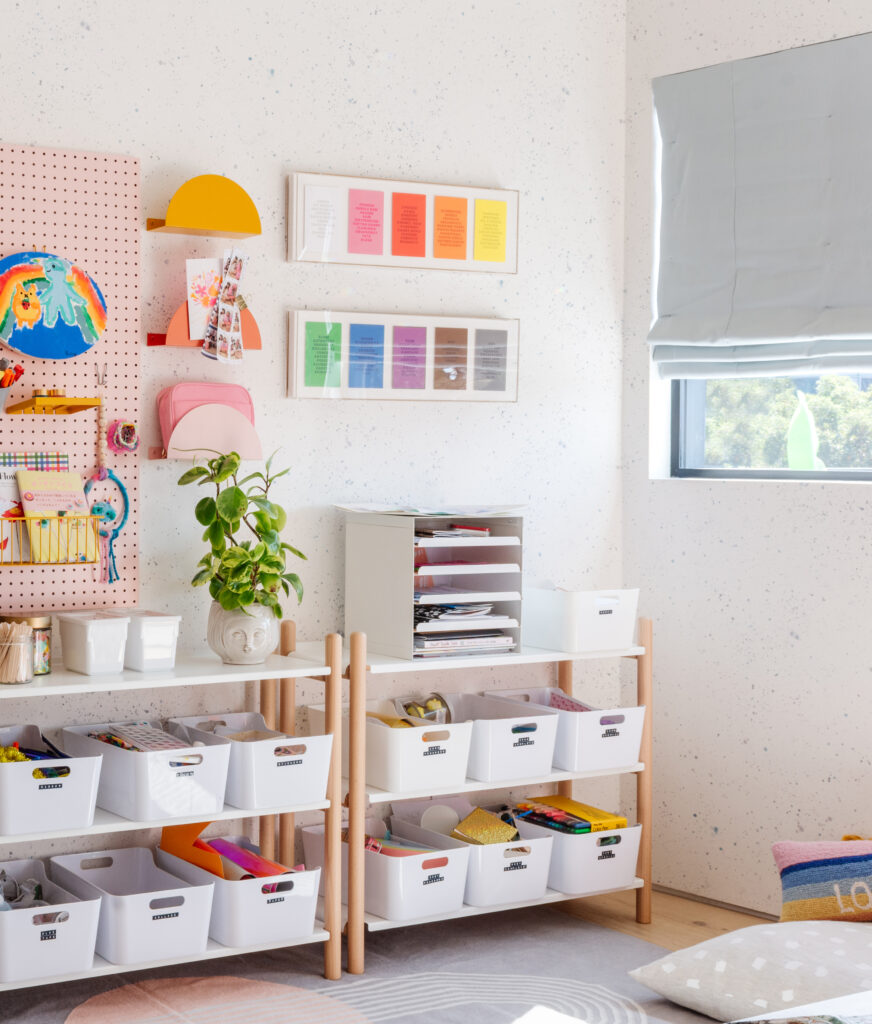 This space has turned into my kids' favorite room in the house. My little one actually does her distance learning here which we didn't plan for but has worked well for the school pivot. Outside of school, they still spend a lot of time here as a retreat and a space to create.
Sources:
Reveal photos: Bethany Nauert
Design and Styling: Joy Cho
Architecture: Project M Plus
Construction: Boswell Construction
All furniture and materials sources noted within captions below photos. *Indicates an item that was designer discounted or gifted to us in exchange for coverage on Oh Joy. All opinions are my own. Please leave a comment if we missed anything you would like to know the source of!