You've probably seen our kitchen reveal by now, but I wanted to show you more about the function and how our kitchen appliances make everything blend together seamlessly. We wanted our kitchen to be a bright, clean space where we could create culinary masterpieces (or not-somasterful peanut butter sandwiches :P). To do that, we partnered with KitchenAid for their beautiful panel-ready appliances that collectively helped to create a cohesive, beautiful design throughout the room. We've worked with KitchenAid on previous projects and love the quality appliances they offer (and tech advances they are making – hello, SmartOven+!), so I'm thrilled to be working with them again and their panel ready options. Come take a look…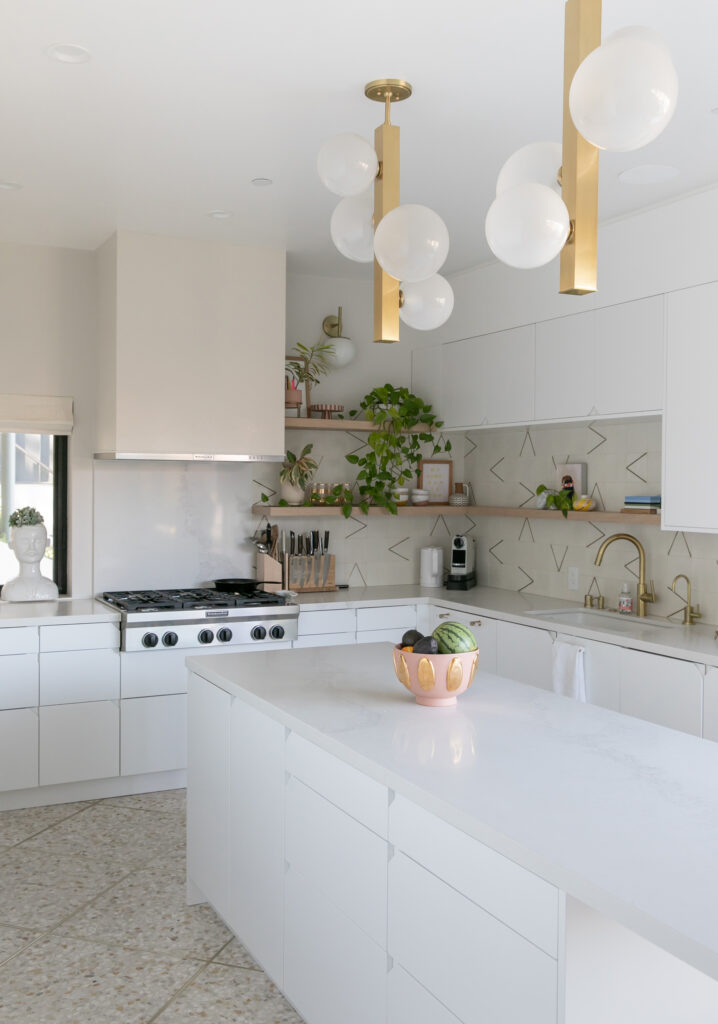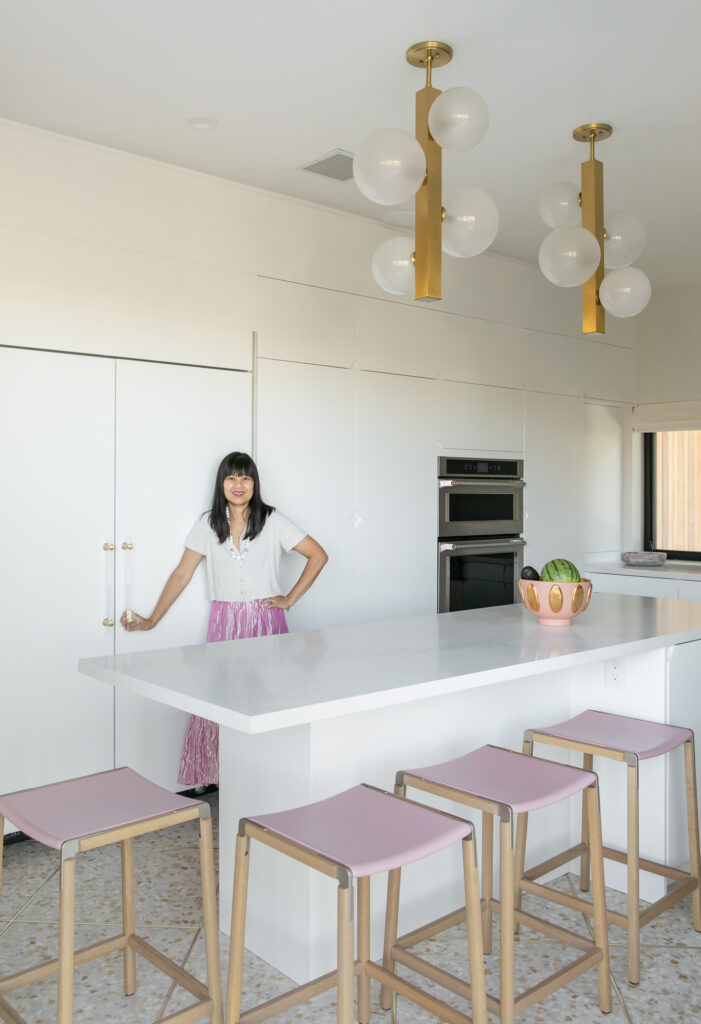 First up, our Built-In Side by Side Refrigerator Panel Ready by KitchenAid (it's 30.0 cu. ft and a 48-inch width). We wanted the fridge to be flush with the cabinets when closed so that it blended in with the other cabinets. We paired the panels with brass and lucite handles. We wanted to go big on the fridge and freezer space because we are feeding four people daily and hoping to host lots in the coming days! With the panel option, you're not seeing a big wall of refrigerator which I love.
The latest appliance from KitchenAid that we incorporated is the SmartOven+ Combination Oven and Microwave which allows us to use the KitchenAid mobile app to  preheat and set cooking times from our phones! The oven has three fun attachments (grill, steamer, and baking stone*) to go crazy with all your new cooking techniques you've learned while being at home all year. In the most practical terms, I love the SmartOven+ because it puts the oven and microwave at a good height for easy loading (and unloading hot pans and dishes!), giving me more space underneath the range for storing pots and pans.
*Baking Stone and Steamer attachments ship separately. Visit kitchenaid.com/redeem for full details.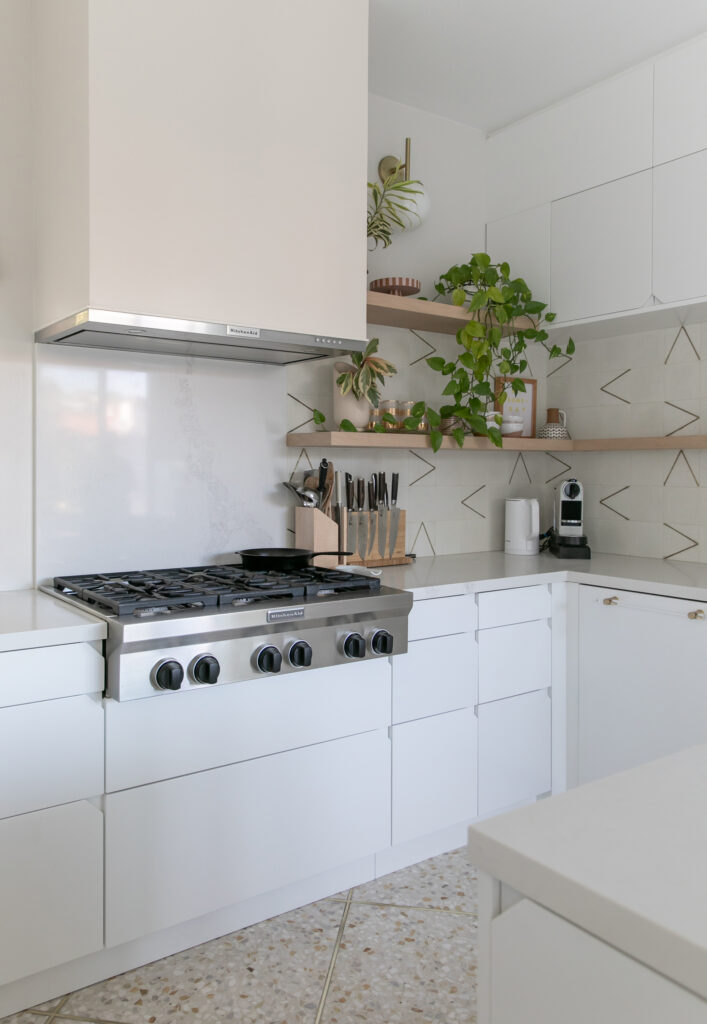 We created a simple panel around our hood, as well, to keep the cohesive look of the kitchen (36" Wall-Mount 3-Speed Canopy Hood by KitchenAid ). The panels on the hood make it blend in so well with the rest of the room that you almost miss it, but it's there doing its job! For the range, we went with the 6-Burner Commercial-Style Gas Rangetop by KitchenAid. I love cooking on gas cooktops and being able to control the heat temperature so well. Some of you have asked about mixing the stainless steel with the brass accents in the kitchen. I think the two can work really well together as long as you coordinate so that there are a couple areas throughout the space that feature each metal.
Here's our lifesaver for the year…our Dishwasher with Panel-Ready Design by KitchenAid. I was so happy to have this dishwasher this past year. With everyone home, I was doing one or two loads of dishes every day and this made it so much easier. From a design standpoint, I love that the white panel and brass handle make it seem like it's part of the built-in cabinets, so when it's closed you don't even know it's there!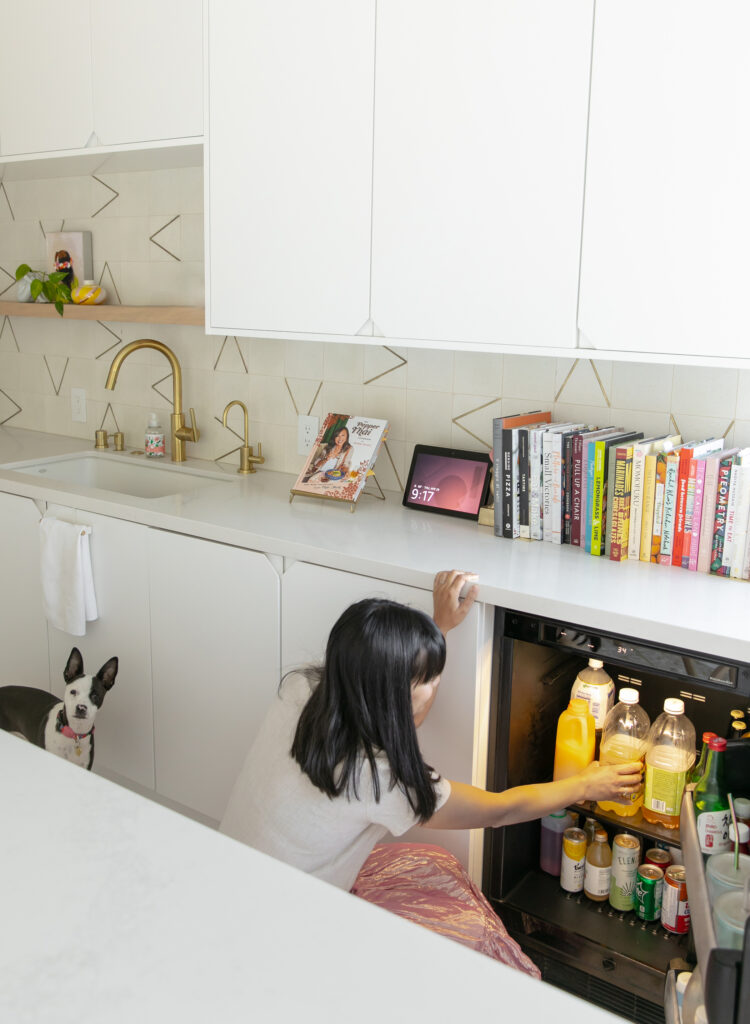 Finally, our Panel Ready Undercounter Refrigerator by KitchenAid is a small beverage center that works perfectly for my family. I love that it's low to the ground for the girls to easily access on their way to play outside and again when they come back in. We keep all of our drinks in here which helps to free up space in the fridge. The beverage fridge allows for the same paneling for a truly cohesive design! And Sticky loves it, too 🙂
If you have any other questions about the kitchen's function and design, ask me below!
*This post is in partnership with KitchenAid. All words are my own. Thanks for supporting these posts that support my small business!
Photos by Lily Glass