In preparation for this week's reveal (a magical powder room), let's talk about some common questions and concerns when designing and renovating bathrooms…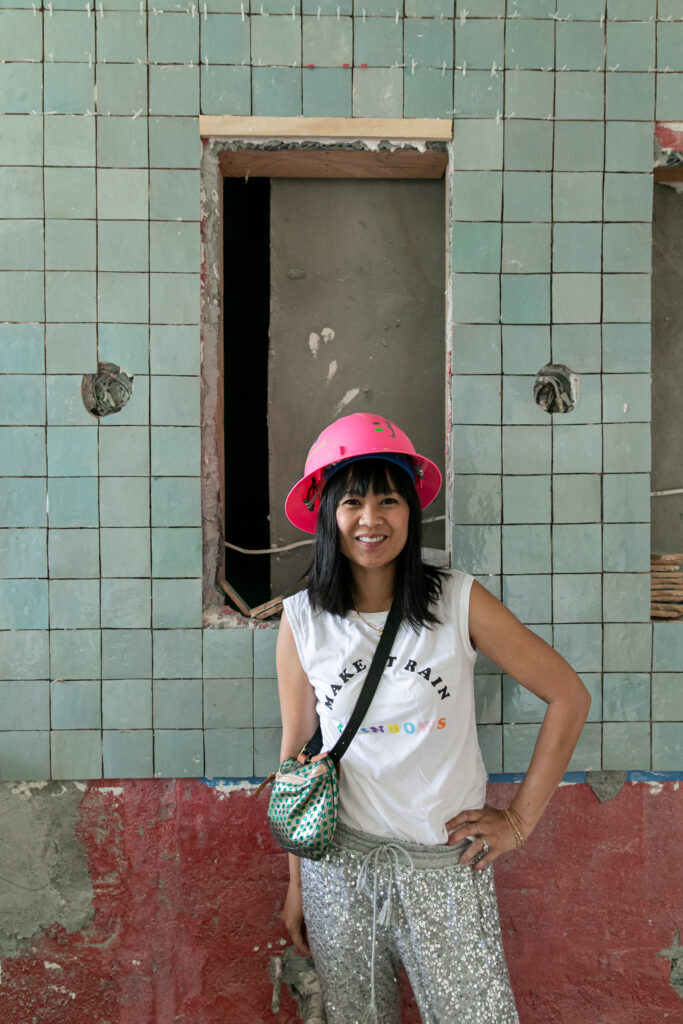 I'm a bathroom expert!
Why should I talk to you about bathrooms? After finishing this 6.5 year project, I would have worked on 7 bathrooms with the teams at Project M+ and Boswell. That's A LOT of bathrooms – all with different functions, needs, and styles. So I pretty much feel like a bathroom expert :P.
What kind of tile?
You know that tile has been a major part of these house projects, and I've learned a lot about what works well for which spaces. When it comes to bathrooms where water is constantly in contact with the tiles (on walls and floors) it's important to make these considerations:
-Smooth, but not slippery. Most tiles are meant to be walked on safely with bare feet. But always check if you're concerned with the finish when it gets wet. Some tiles can be coated with a finish that makes them safer for wet surfaces if they aren't already treated that way.
-Uniform in texture. This is a personal choice but tiles that are a bit more uniform seem less likely to collect mildew and are easier to clean for areas that get wet often.
-Matte vs. glazed. Both textures work in wet rooms, but matte/ceramic tiles will change color when they get wet (which sometimes freaks people out) whereas glazed tiles will not. I tend to prefer glazed tiles for showers and stick to matte for walls that don't come in contact with as much water (like laundry rooms, kitchens, etc.)
-Grout color. Think about how much you can realistically clean your bathroom and if the grout were to get dirty, how quickly would it show?
Wallpaper or Paint?
Most people avoid wallpaper in bathrooms because they are afraid the moisture will cause it to peel. That has definitely been a concern for me, too. You don't want to spend time and money on wallpaper and install only for it to get water damage. I stick to wallpaper in bathrooms that do not have baths or showers OR where the shower is far from the area that's getting wallpapered. Rooms like a powder room, guest bath, or half bath could still work well for wallpaper! In rooms that do have lots of moisture, stick with paint that has an eggshell finish which can be easily wiped down if needed and does ok with some moisture.
Where to spend and where to save?
Bathrooms are one of the most often used rooms in a house per day, but you're also not spending massive amounts of time in there at once. So where should you spend, and where should you save? Here's my go-to…
Save on toilets, toilet seats, and sinks. These are basic items where you could certainly upgrade to fancy versions if it's important to you. Some people love heated toilets or want to important special ceramic sinks. But these are items that we chose to go very basic with normal-priced brands because they were meant to fade in the background and not be a focus of the design of the space (for us). They serve their function, but didn't need to blow the budget.
Spend on tiles, floors, and counters in a bathroom. Basically anything that needs to be permanently installed and will serve as a durable, functional, AND decorative surface for the bathroom. Floors, tiles, and counters get walked on, spilled on, wiped down, and must endure lots of moisture in a bathroom. So it's worth it to me to find great quality material that will last and that you love.
Little details that make a difference.
There are small details that are easy and inexpensive to add to a bathroom that make a beautiful final touch of function as well as some fun detail. For example, you can easily swap out a basic toilet seat lever for a brass one (like above). Add hooks on the back of a door or the wall to have a spot (or two) to hang clothes/towels. And make sure you have at least one towel bar and/or hand towel ring in each bathroom!
Functional things to consider
There are things I saw in drawings that seemed fine but once in use now, I see how they could have been done differently. For example: How does the door open in relation to the towel bar holders? We have a couple instances where the towel bar is on a wall behind an open door. This is fine when the door is closed and you are inside, but not ideal when you're running in real quick to just wash your hands. This was the type of situation we didn't think about. Consider where the towel bars and toilet paper roll holders in relation to the sink/shower/toilet. Also, choose slow close toilet seats especially if you have kids otherwise you'll constantly hear the sound of toilet lids slamming down.
See my other house renovation guides here: Tile and Wallpaper. And, see all house and studio posts right here!
Photos by Bethany Nauert