In preparation for this week's reveal (where the bathroom has some AMAZING tile work) I wanted to talk about all things tile, and answer some common tile questions…
Oh Joy! and Tile
You guessed it, we LOVE tile at Oh Joy! And we have an amazing collection of cement tiles with Clé Tile that we launched in 2017 and are still available now! We've used our own tiles in our last studio (in the kitchen and in my executive office) and have seen so many other people use our collection (check out the bathroom at this pilates studio here, this home bathroom here and the reception desk here). Tile is such a fun way to add pattern to a space, and depending on the style of the tile, you can be in control of how standard or tossed the pattern looks (I usually land somewhere in the middle).
Tile can go in ANY room (but especially rooms with water)
When you think of tile, you usually think "bathroom". And you're not wrong! Every bathroom in my house and studio has at least one kind of tile—and usually two or more! There's pink glass tiles in my girls' bathroom, large marble tiles in my main bathroom, and deep rich green tiles in my guest bathroom to match the wallpaper. You might also typically think of tile for a kitchen as well. Backsplashes are often tiled to protect from food and sink sprays, and kitchen floors are often tiled, too, for the same reason (We love our terrazzo tiles from Concrete Collaborative in both the main house and studio spaces kitchen floors).
But tile can really go ANYWHERE! If you love it like I do, be open to non-traditional spaces. I love the Mediterranean look of having tiles frame or emphasize certain things (like around doorframes or in stair treads). Laundry rooms are perfect for tile (we went wild in our laundry room and mixed two different color ways). For me, I need all the "fun" I can get in there, because laundry is literally my least favorite thing to do :P.
High Traffic vs. Low Traffic Areas
There are different kinds of tile available and different "uses" for each. Of course, they all cover surfaces and are meant to be water repellant, easily wipeable, etc. But some tiles are more porous than others, and some have design elements that require a little more care. For instance, the beautiful gold accents in our Tabarka tile in our kitchen backsplash look amazing and wipe really well, but we wouldn't have that particular tile on a floor that gets high foot traffic. Whereas the marble tile in our main bathroom and the terrazzo in our kitchens work great, even with constant traffic because they can be easily wiped down and have a smooth texture. Be sure you understand the properties of your tile (talk to the experts – at the stores or customer service from the brand) and find out where a specific tile works best and how to care for it before you buy anything.
Large vs. Small Pieces
Tile pieces are cut and shaped to create different looks and styles, and you can choose what works best in your space and for your aesthetic. For instance, we used large tiles to cover our main bathroom, and they created the look of almost a single piece of marble, which turned out so nicely and was more affordable then a large slab of marble. For our kitchen, we used large tiles of terrazzo which means less grout or schulter to clean and larger surfaces for walking ease. For the studio kitchen, we used small scale triangle pieces on the backsplash which creates such a fun pattern and texture while still staying neutral for the rest of the colors there to shine through.
What Surfaces Can Have Tile?
Here's my honest confession: I am not a fan of tiles on countertops, particularly in a kitchen. I know it can look so good but it is SO HARD to clean and food can really age the grout fast. Uneven surfaces makes it hard to chop or slice or even sometimes balance bowls/plates. This was a detail that often dates back to older homes, but it's worth mentioning in case you're considering it! Except for that one spot, I can't think of single place tile can't go. Floors? Check. Walls? Check. Stairs? Check. Doors? Check. Swimming Pools? Check. Furniture? Why not? Ceilings? Go crazy! I even have tile pieces that act as coasters.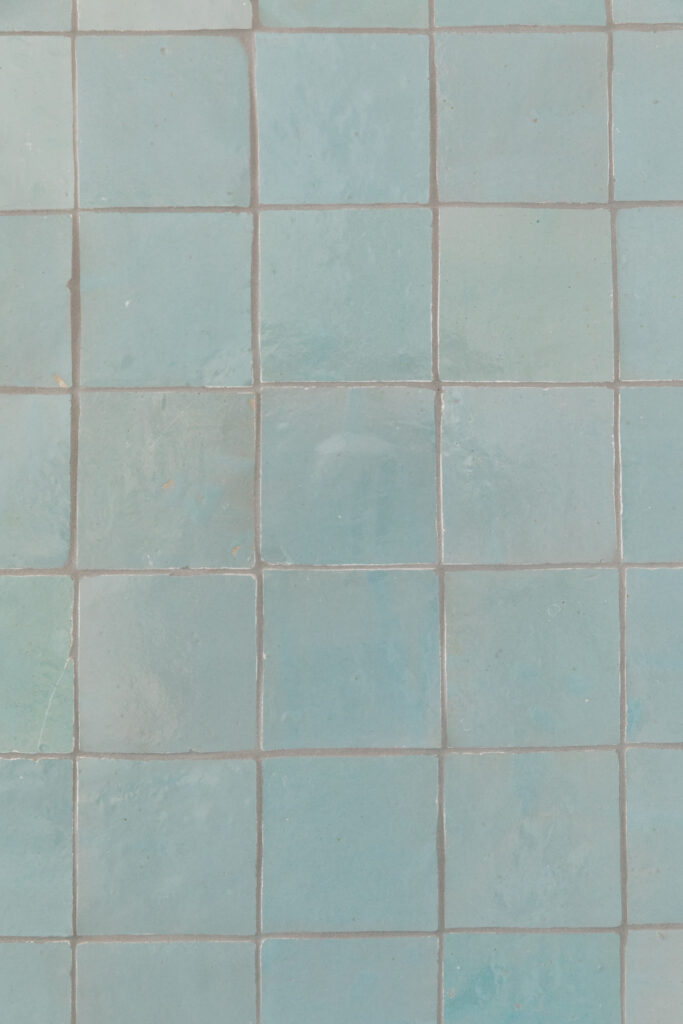 Grout Color (and Cleaning Tile)
People that grew up with tile in older homes are sometimes surprised to learn that white (which turns dingy gray decades later) is not the only color for tile grout! White grout works great when you want to highlight each individual piece of tile, when you have actual white tile, and/or in low traffic areas that aren't seeing dirty shoes and feet or food/drink spills. But there are other colors of grout to be considered! Sometimes a different color allows for the tile to more cohesively work together and looks like a continuation of the pattern. For example, a darker tile color could look better with a medium or dark grey so that you can still see the color of the tile in contrast but it's not defined by white lines of traditional grout coloring. There's no right or wrong answer, and often, you need to see it in person. We changed our main bathroom from white to gray after we started grouting in white because the contrast was too much. Take the grout sample swatches into the actual room where the tile will go next to a tile sample when you're trying to choose.
Tile is durable, strong, beautiful and full of design possibilities. It can transform any room you choose. Once you've thought through functionality, placement, and budget and really start looking for your perfect match—you'll be blown away by how many tile companies are out there and how unique and amazing your room can be.
Feel free to share some of your favorite tile brands or install tips below!
Photos by Bethany Nauert (unless otherwise noted).