I love love love this bathroom. Connecting to this dreamy blue bedroom, this striped blue bathroom is graphic, modern, and fun! It's certainly meant to be the sibling to our pastel dream bathroom. They use similar materials but have a look and feel all their own. Come see…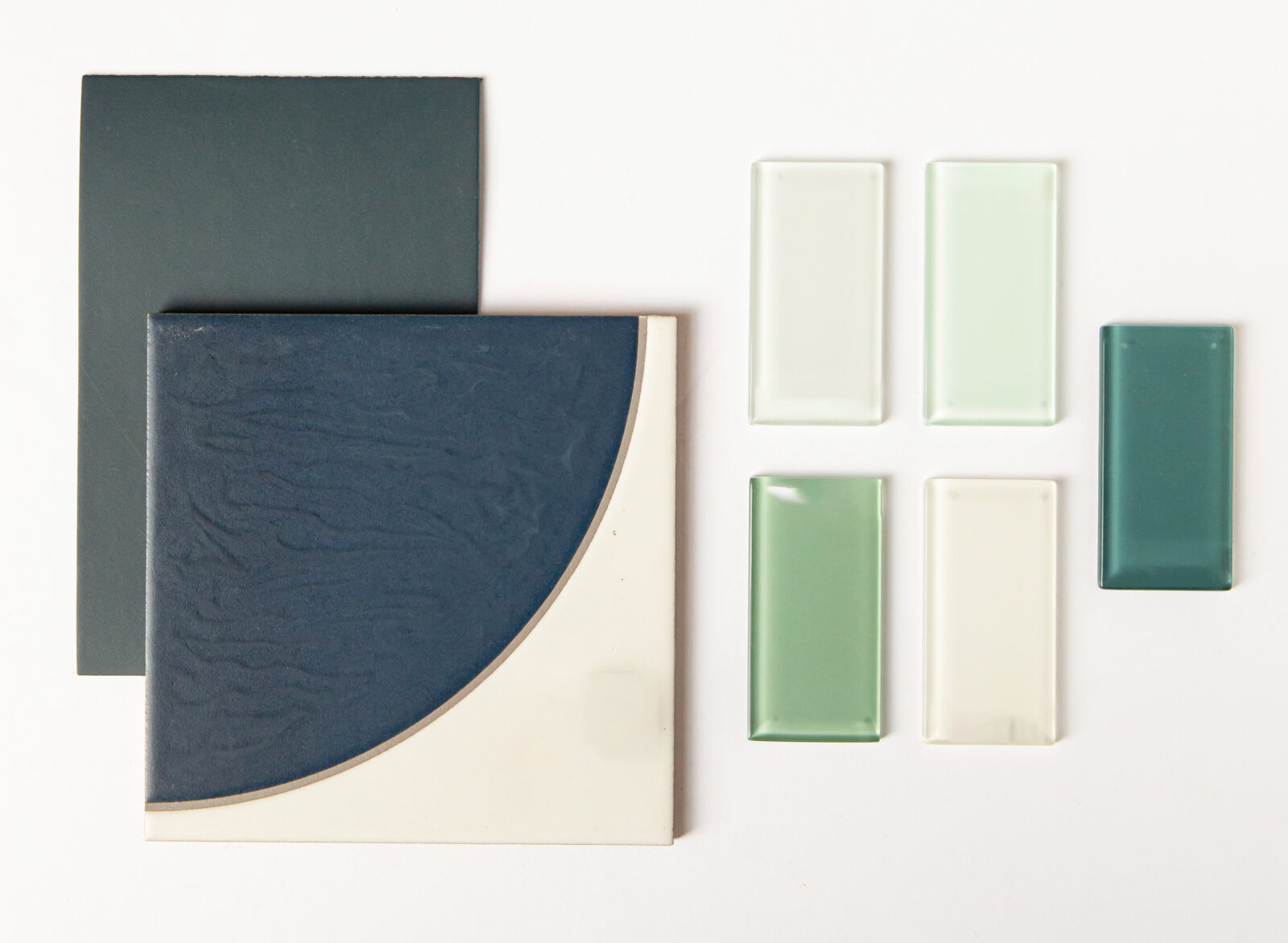 Materials
We used glass tiles for the shower throughout the walls and the same semi-circle matte tiles for the floor. It's such a fun exercise in how the same tiles can look so different based on the colors used.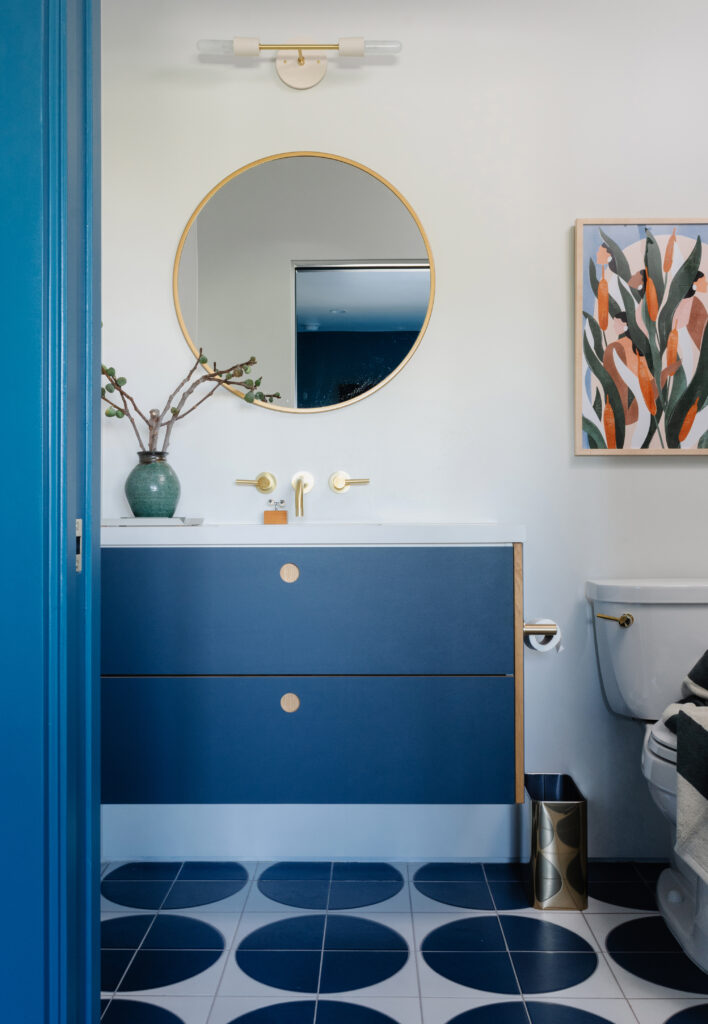 A full bathroom for guests!
This bathroom has a full shower and perfectly suits a guest staying for one night or for a few weeks! I always think that a little bit of counter space is important since guests tend to live out of their toiletry bag when traveling. If you can give at least one foot on each side of the sink, that gives enough space for two people (if sharing the guest room) to keep their toiletries nearby. This vanity is an Ikea box with Reform panels (all sources above) that give a designed look for less. The cabinet drawers underneath provide the perfect spot to hold extra toiletries and other bathroom refill essentials.
Inspiration
The tile designs were inspired by the work of Josepf Albers, an artist known for his iconic color square paintings and use of color. Cleo (my co-designer) created this abstract striped and color-blocked pattern that turned the whole shower into a piece of art!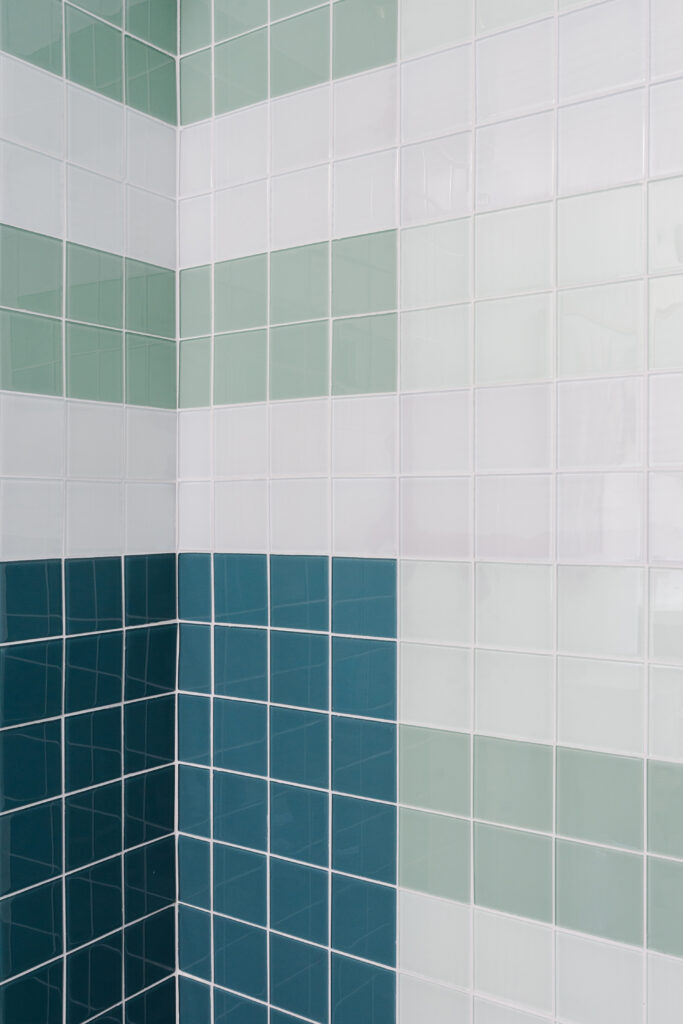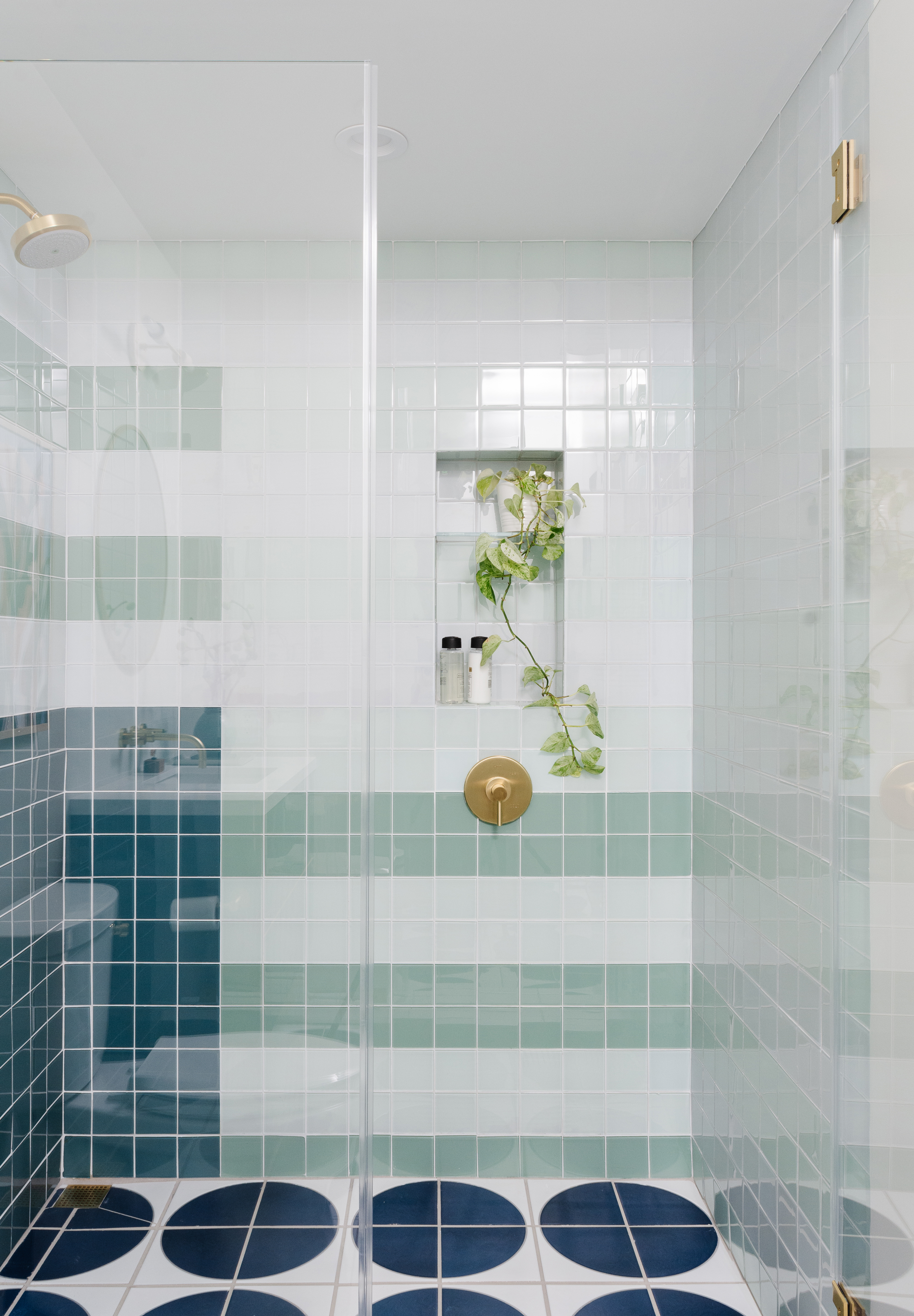 Colors
Playing off the blues in the bedroom, this one adds in more shades of blues plus greens to continue the cool story in a bold and graphic way. I also love the vertical shower nook with shelves which allows us to hold basics (shampoo and body wash) for guests to use plus enough space add their own toiletries as needed.
At the end of the day, don't be afraid to get playful with a bathroom! It's such a highly used and functional space that truly does bring joy to everyday when it's a fun space to be in. Let me know if you have any other questions about this one in the comments below…
P.S. See all house and studio posts right here and some other details at Domino!
Credits:
Reveal photos: Bethany Nauert
Progress photos: Lily Glass
Design: Cleo Murnane of Project M Plus and Joy Cho
Styling: Cleo Murnane of Project M Plus, Jonas Bergkvist, and Scott Horne
Architecture: Project M Plus
Construction: Boswell Construction
All furniture and materials sources noted within captions below photos. *Indicates an item that was designer discounted or gifted to us in exchange for coverage on Oh Joy. All opinions are my own. Please leave a comment if we missed anything you would like to know the source of!