Vintage clothing has become a true love of mine gradually over the last 25 years. I first got into vintage in early high school days shopping at thrift stores for old tees and corduroy bell bottoms. I remember thinking I was so cool and kept digging through my mom's closet to see if she had kept anything from the 70's (which sadly she had not).
In my early 20's, I dabbled with vintage but never really figured out how to make it work for me until I came into my personal style more confidently in my mid-30's. By that time, I had been in Los Angeles for some time, my style had evolved more closely to what you see today, and I was able to play more with vintage because I knew what looked best on me and could more easily identify those details when shopping in person or online.
I was once one of those who wished they knew how to shop vintage and really had no idea. It was not instant or natural for me at first. I know a lot of you might feel like that, too.
So, today starts the first of a 6-part series about vintage clothing that I'm excited to dive into and share my tips, resources, and suggestions with you.

We'll dive into:
How to Style Vintage Clothes
Vintage Clothing and Sustainability
Where to Buy Vintage
What to Look for When Shopping Vintage
Inclusive Sizing in Vintage
Incorporating Vintage Clothing into Your Wardrobe
A few things I must tell you before we start:
I am not a vintage seller or a historian of vintage or someone who knows deep details on vintage clothing or their value. I am simply a lover of vintage for the one-of-a-kind nature of vintage clothing and love the sustainability of it in my wardrobe.
I am going to share my tips from my perspective and experience. There are lots of people out there who do vintage for a living who may have other thoughts and opinions. These are just mine and specific to my taste and my style.
I am aware that I am a certain size and therefore shop based on my body type and my particular size. The goal with all of my tips is to suggest things that will work for you regardless of your specific build. But when there are size-specific tips I can give, I will!
Let's start!
One of the questions I've been getting from you regarding vintage clothing (and the topic of this post) is how to make vintage look modern. Before getting a grasp of vintage clothing, often people see vintage as a great option if you want a cool Halloween costume (ie. flapper girl, flower child, 90's vibe, etc.). They think that if you wear vintage, you'll look like you stepped out of another decade of time.
Now, some do love that look. I know some who completely dress and decorate their homes with a 60's or 70's vibe, and that's what they love and live which we can all love for others (but maybe not for ourselves). Adopting a whole lifestyle with a different decade might not be for you…which is okay, too! Vintage CAN look modern, and I want to show you examples of some of my outfits and explain how I made them modern. I hope this will serve as fun inspiration as we dive into more topics next!
Tip: Save Inspirational Outfits You Love
If you don't already do this, use Pinterest or your Instagram saved collections to save outfits you see that inspire you…especially vintage outfits! This can be a great way to have an easy place to be inspired when you're in a rut or to reference some outfits you love if you're trying to decide on a vintage purchase.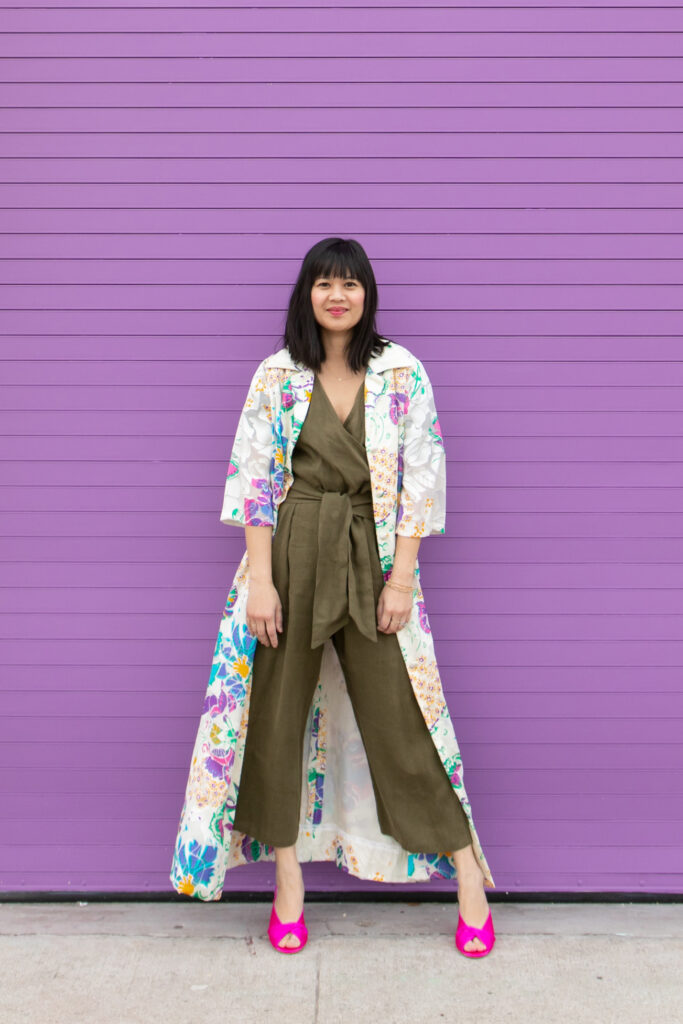 Example 1: Vintage as a Jacket or Layering Statement Piece
Jackets and coats are always a fun way to make a statement. They often feel like pieces that we can go bold with because they can be layered over another more versatile outfit. You may know I love dusters, and they are pieces you can often find in vintage. I also love that dusters can be fairly size inclusive and fit a range of body types. You can see a few examples of thinner vs. thicker material options above depending on the time of year and the weather. In all cases, I am wearing modern pieces underneath so the jacket can be the statement piece.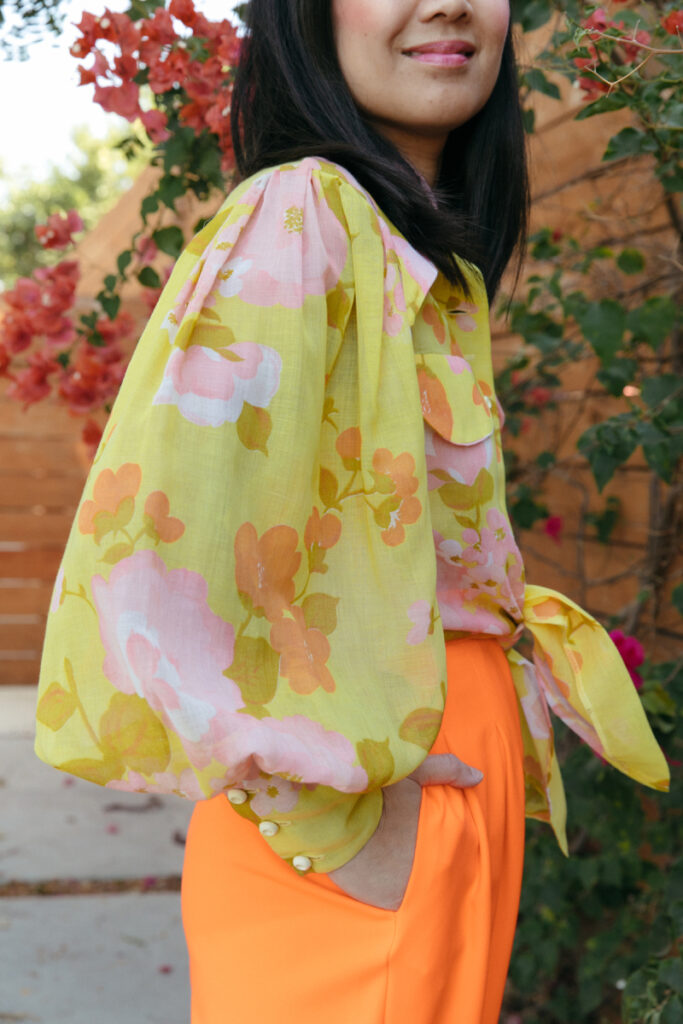 Example 2: Vintage Tops Mixed With Modern Pieces
Here are two examples of floral tops whose patterns do have a vintage vibe to them. We're not trying to take away the unique prints and colors that make them feel unique and special to the era when they were made, but we're trying to offset them with other pieces to make the whole look feel fresh and fun. Vintage tops are great for mixing with your modern pieces…whether pants, skirts, or shorts, and even layering sweaters, jackets, or coats on top.
Example 3: Vintage Bottoms Mixed with Modern Pieces
Vintage pants and skirts are one of my favorites to score because of the amazing prints and colors I'll find. In these cases, the bottoms are the star of the show to be combined with solid or simpler pieces up top. Again, layer away and pair with modern shoes and accessories!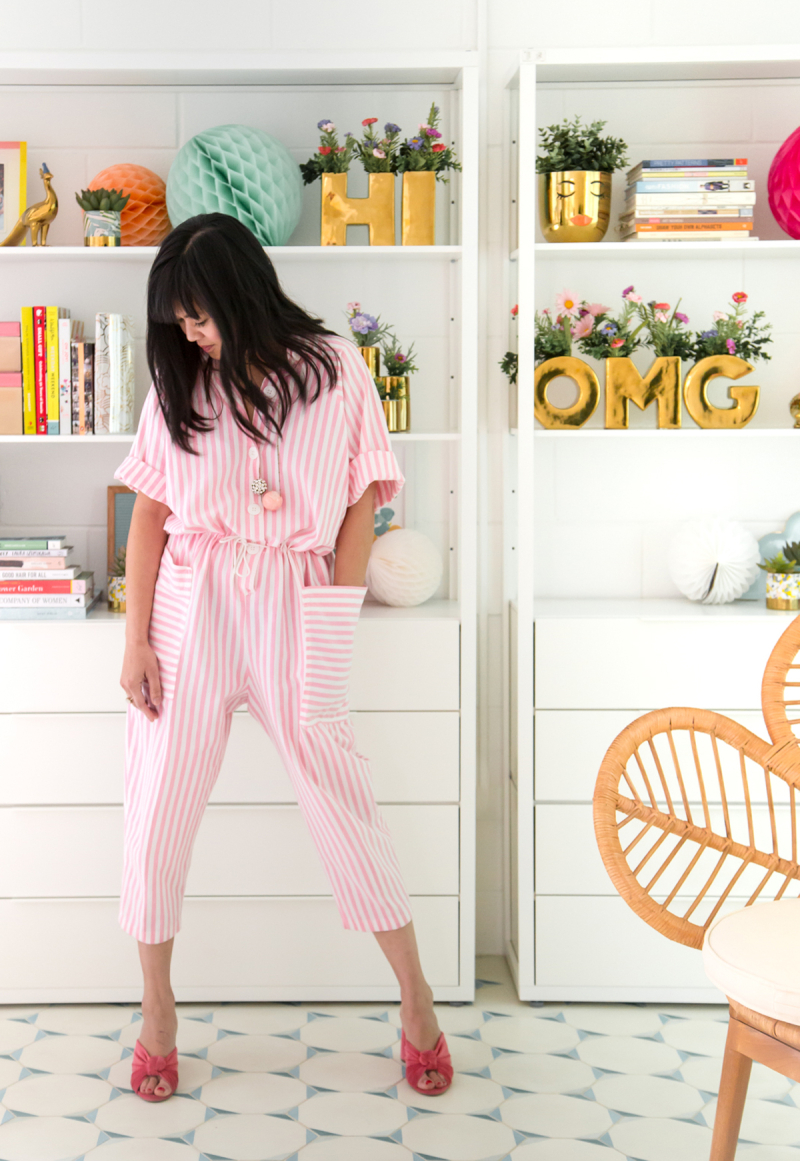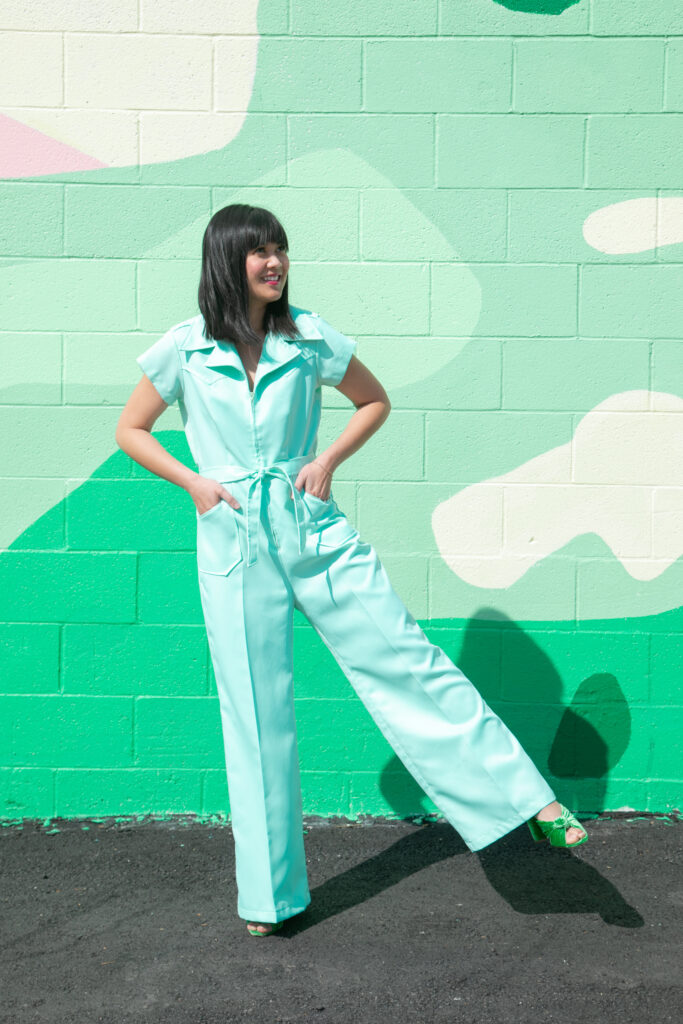 Example 4: Vintage Jumpsuits That Can Feel Modern
This one is gonna feel like an advanced stage vintage purchase for those just getting started because jumpsuits are always trickier. But, the key with vintage jumpsuits is choosing a piece where you feel confident about the style. Vintage jumpsuits will feel closer to the era in which they were made (more so than separates) so make sure you love the style and choose what works for your body (as you would modern jumpsuits). Jumpsuits could be patterned but you'll often find cool ones that are solids and more toned down in color which make them easy to modernize.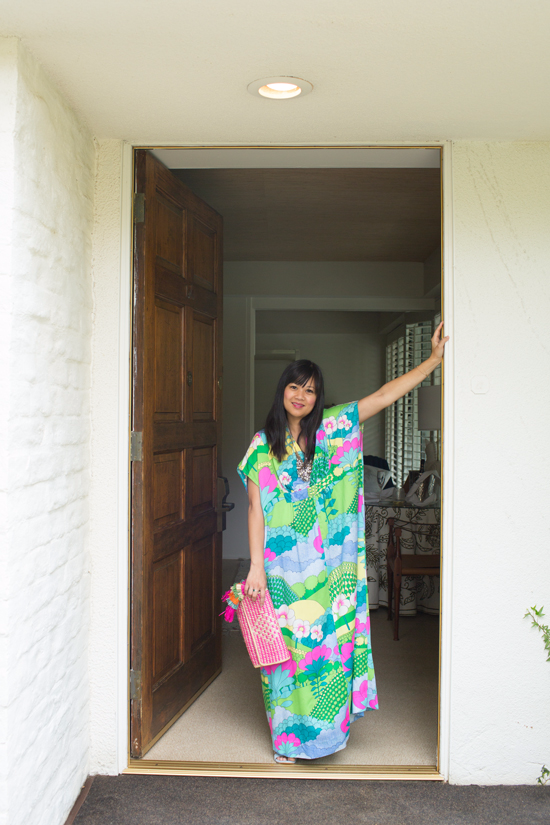 Example 5: Vintage Caftans as a Dress or Cover Up
Caftans (even more so than jumpsuits) are often a place where you can go very vintage intentionally. Whether wearing it as a dress or a cover up, you can go 70's bold if you want to (which I personally love). Or, you can find one that's more subtle and sheer for a more minimal vintage vibe. Mixing these with modern accessories always brings you to the present. And, I love that caftans are another option that might be easier to fit a wider range of body types because they are meant to be flowy and oversized. Often, the caftans I find are marked in a wide size range and will just depend if you like how it falls on your body if it's the one for you!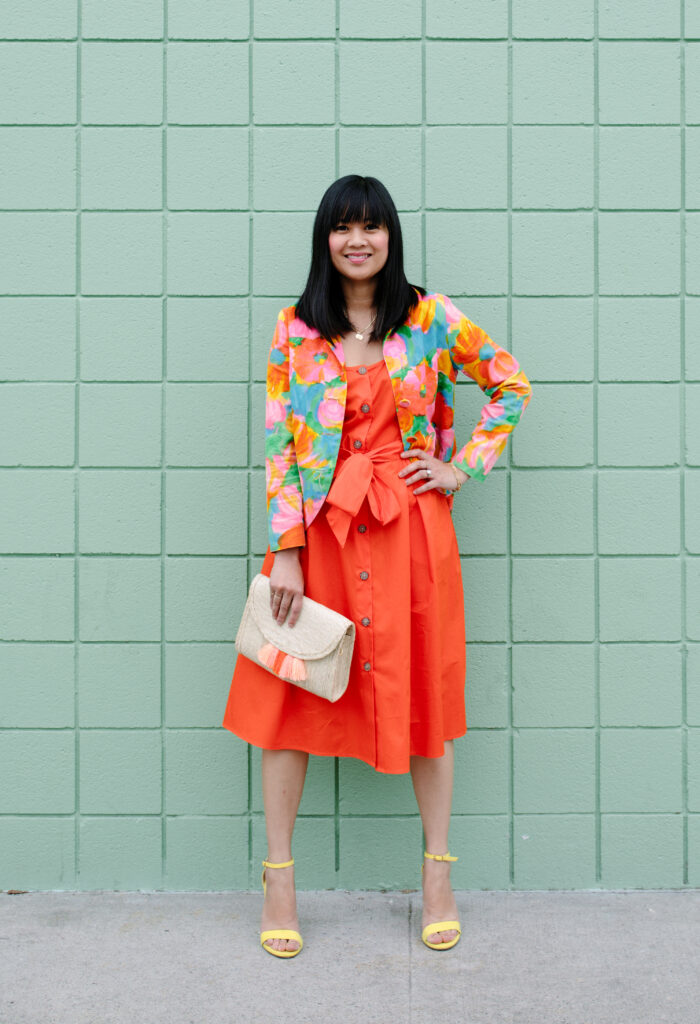 Final Thoughts: Mixing Modern and Vintage is Key
The goal is not to make vintage clothing look like you bought it from a current store. You still want the specialness that comes with a unique piece. The goal is to feel like it mixes well with your current wardrobe. There are some rare times that I'll go head-to-toe in vintage, but mostly I'm always combining the vintage piece with modern pieces.
Using these tips, you can start to create outfit combinations that run the gamut from casual to fancy, for work or for fun! Most of my clothes are very colorful, but all of the same tips apply for neutral vintage as well.
P.S. Find some of my favorite currently available vintage finds right here.