I've dreamt of a walk-in closet forever (especially after only having had extra small closets) and opted for a smaller bedroom so that we could have this space. Here's a look at all the details…
The Plans
Take a look back at the planning of the closet and some progress photos above! Our closet designer, Nicole Caswell, was incredible in making sure she designed it based on how we live and what made the most sense for each section. When we first started, she had me take inventory of roughly what kinds of clothes and shoes I had and how many pieces of each (long skirts, tops, short dresses vs. long dresses, heels vs. boots, etc.) so that she could plan for each section to fit our needs appropriately. My husband did the same thing for his section so we could ration out the space as best as possible.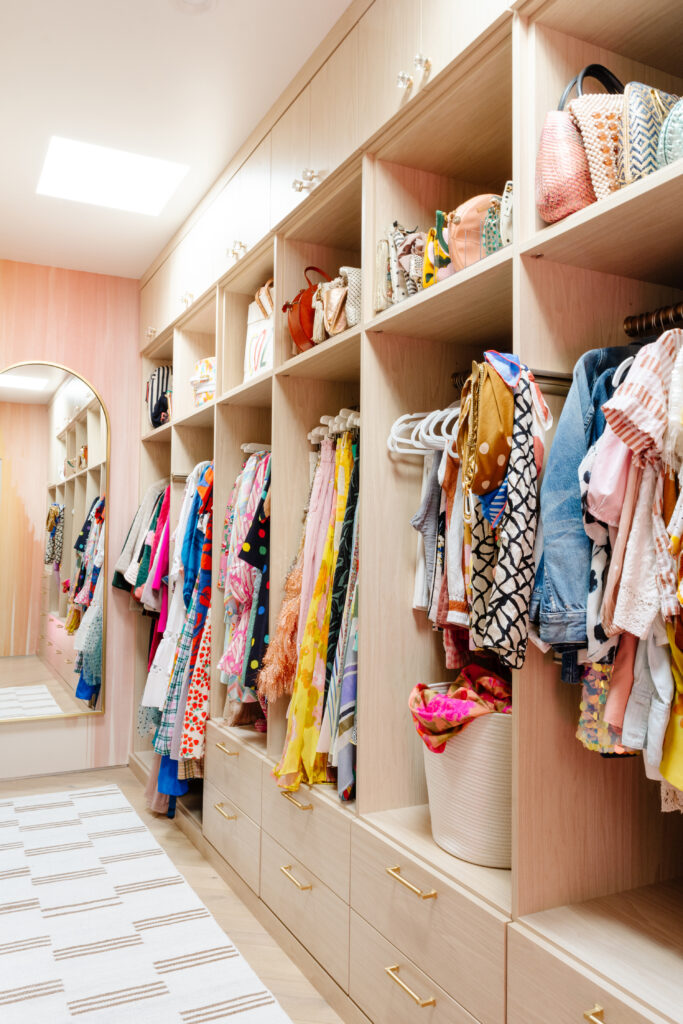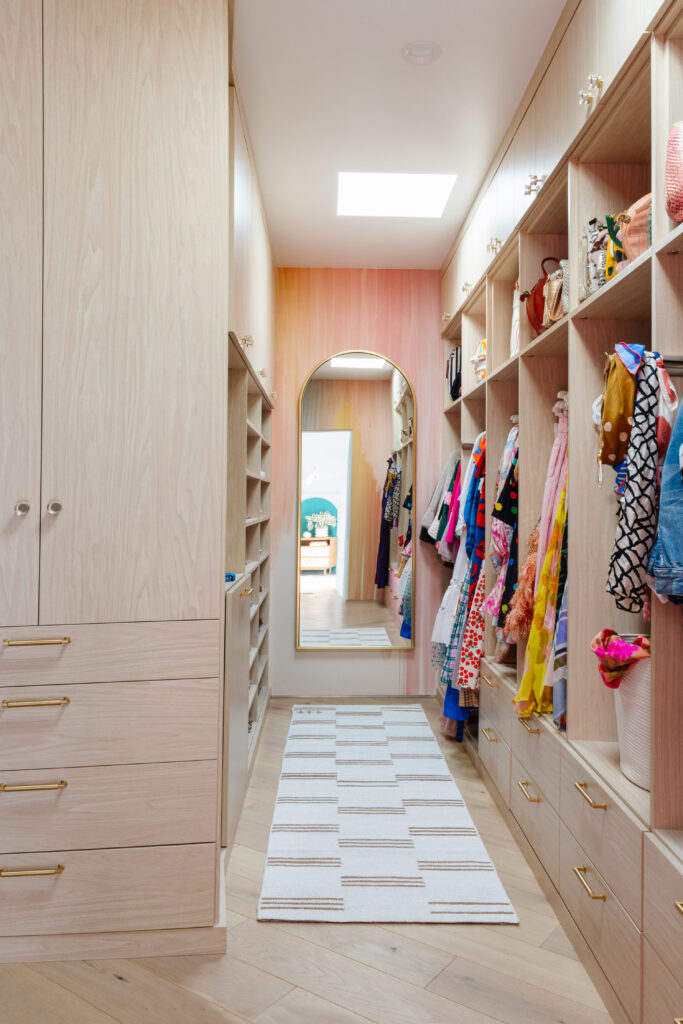 The Layout
The closet is shaped like a backwards L with my section being on the long part of the L and Bob's section being on the short part of the L. All of my hanging clothes are on the right side and shoes are on the left with plenty of closed storage above and below.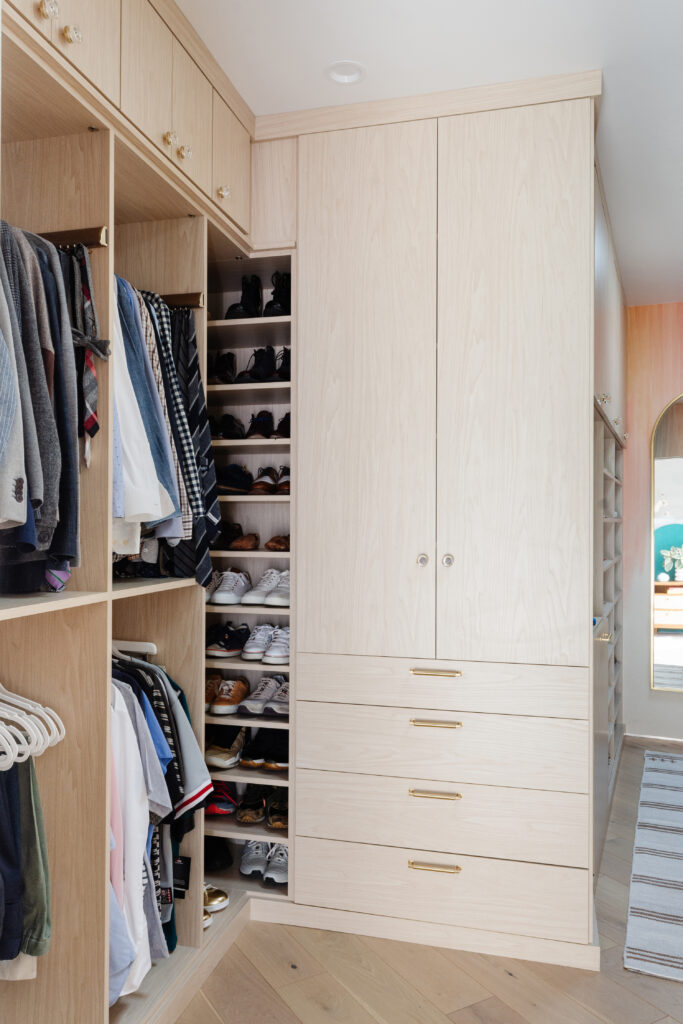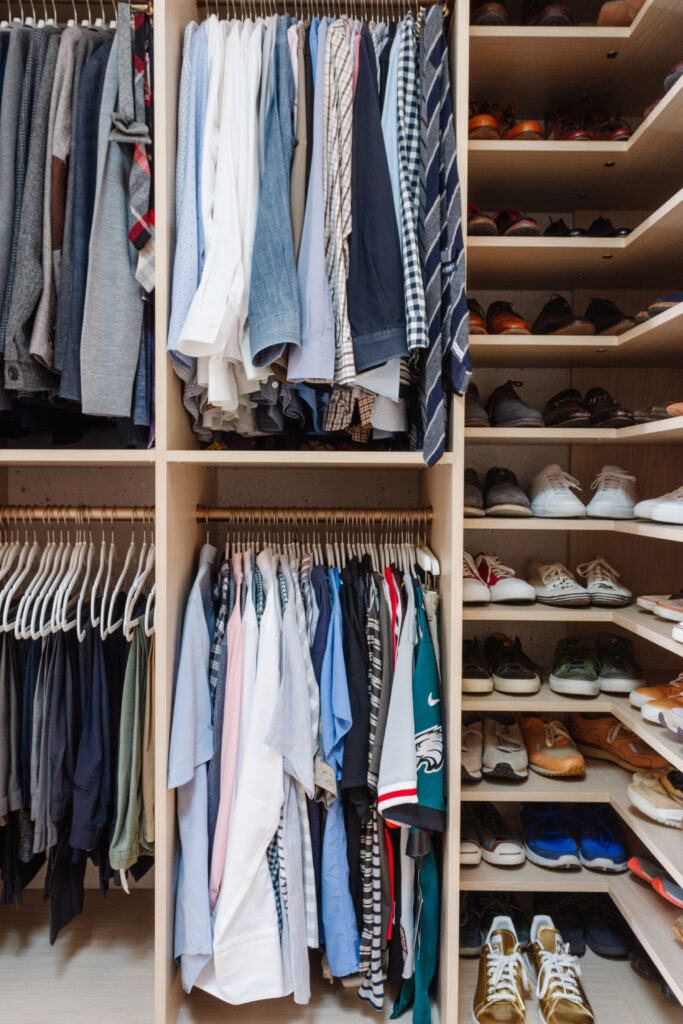 What about Bob?
Don't worry…Bob's got plenty of space in there, too! I didn't want to ASSUME that my section should be bigger than my husband's :P, so I made sure to have him assess early on how much space he needed and for what types of clothing. He has a mix of hanging dress clothes for work and lots of closed drawers for his more casual folded clothes. The odd corner became a great spot for open storage of his shoes.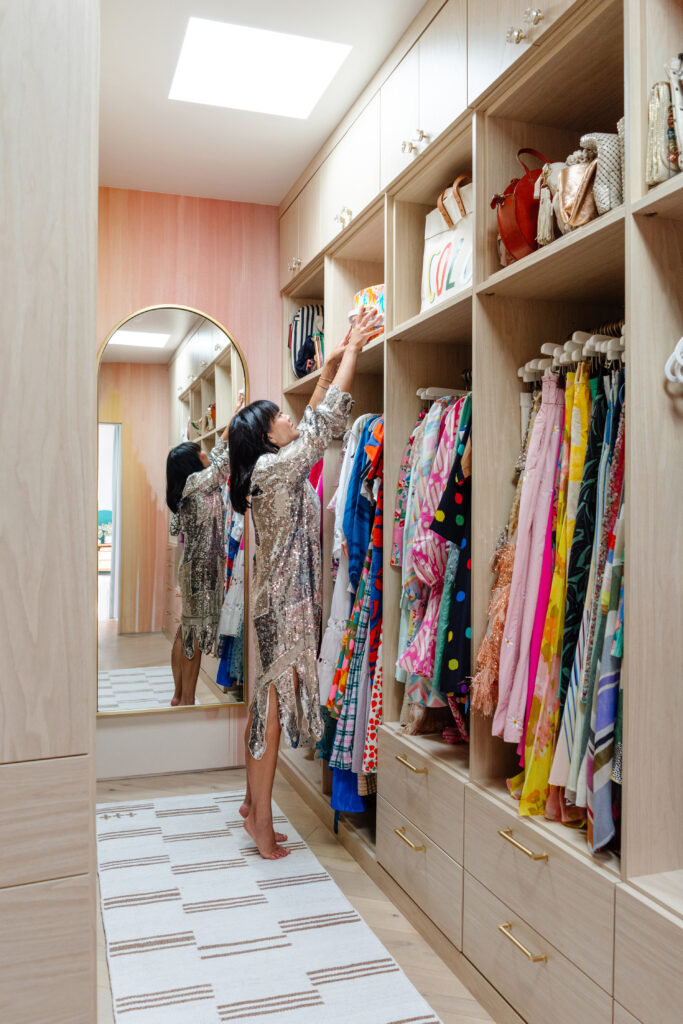 Storage
I know I have mentioned storage in almost every home reveal post, but I LOVE STORAGE! Above and below the open hanging storage, we have a mix of open shelves for accessories. I loved the idea of being able to see my bags and purses because when you can't see them, you forget they exist! Once I start leaving my house again and have a real need for a purse, it will be so nice to be able to see the pieces as I pull out my clothes for the day.
Because the ceiling has good height, it allowed us to maximize storage all the way to the top! Those top cabinets store off-season or future-sized clothing for my kids as well as any other items (like Halloween costumes) that we don't need regular access to.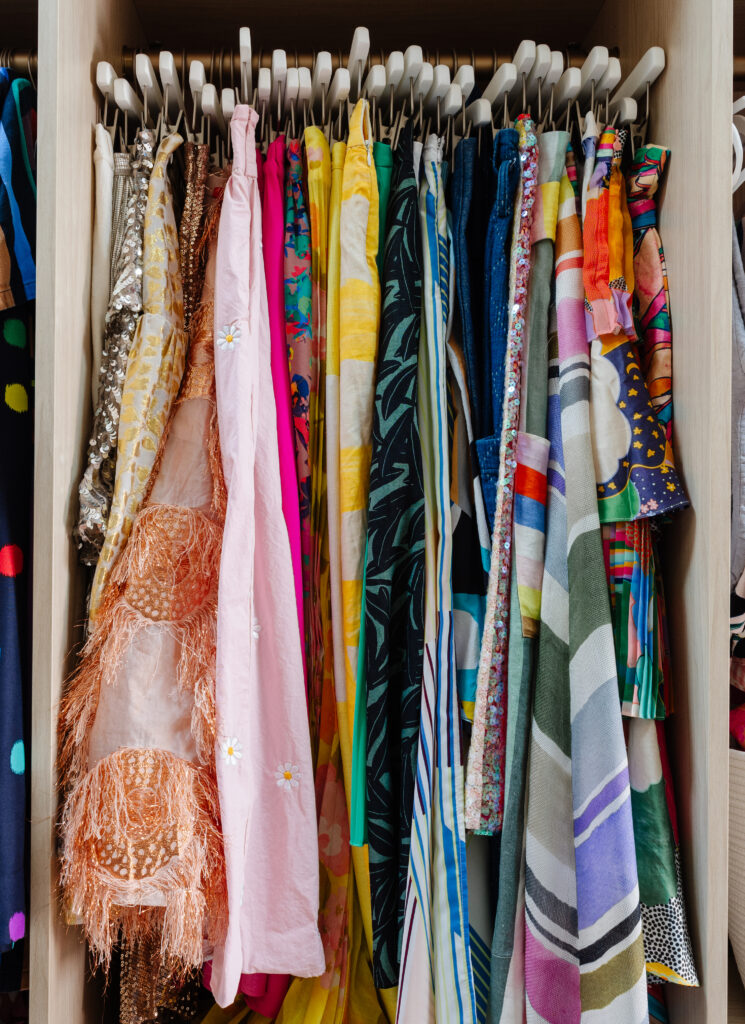 Organizing
Each section of the closet is designating for a certain type of clothing—short dresses, long dresses, pants, tops, coats, etc. I've tried to put everything in rainbow order as that makes it easier to find, and it looks pretty dreamy that way, too!
Closet Colors and Materials
Birch wood was the focal material for all the cabinets to coordinate with the rest of the house. We added this rainbow watercolor wallpaper on every wall which you can see behind each section of clothes and shoes as well. The wallpaper adds texture and color to the space and feels like a luxurious escape. I love being able to see all of my hanging clothes which makes getting dressed easier and way more fun!
Other Functional Details
There were two sections that we used built-in smaller mirrors and areas that could serve as a top-of-dresser surface where you put rings, watches, receipts from your pocket, etc. We each have one section to serve as a landing spot for all those random things. Partway through the architectural design process, we realized this closet sits next to our laundry room so we were able to have a built-in hamper where the clothes dump to the other side of the wall right into the laundry room! It's a small detail that functions so nicely.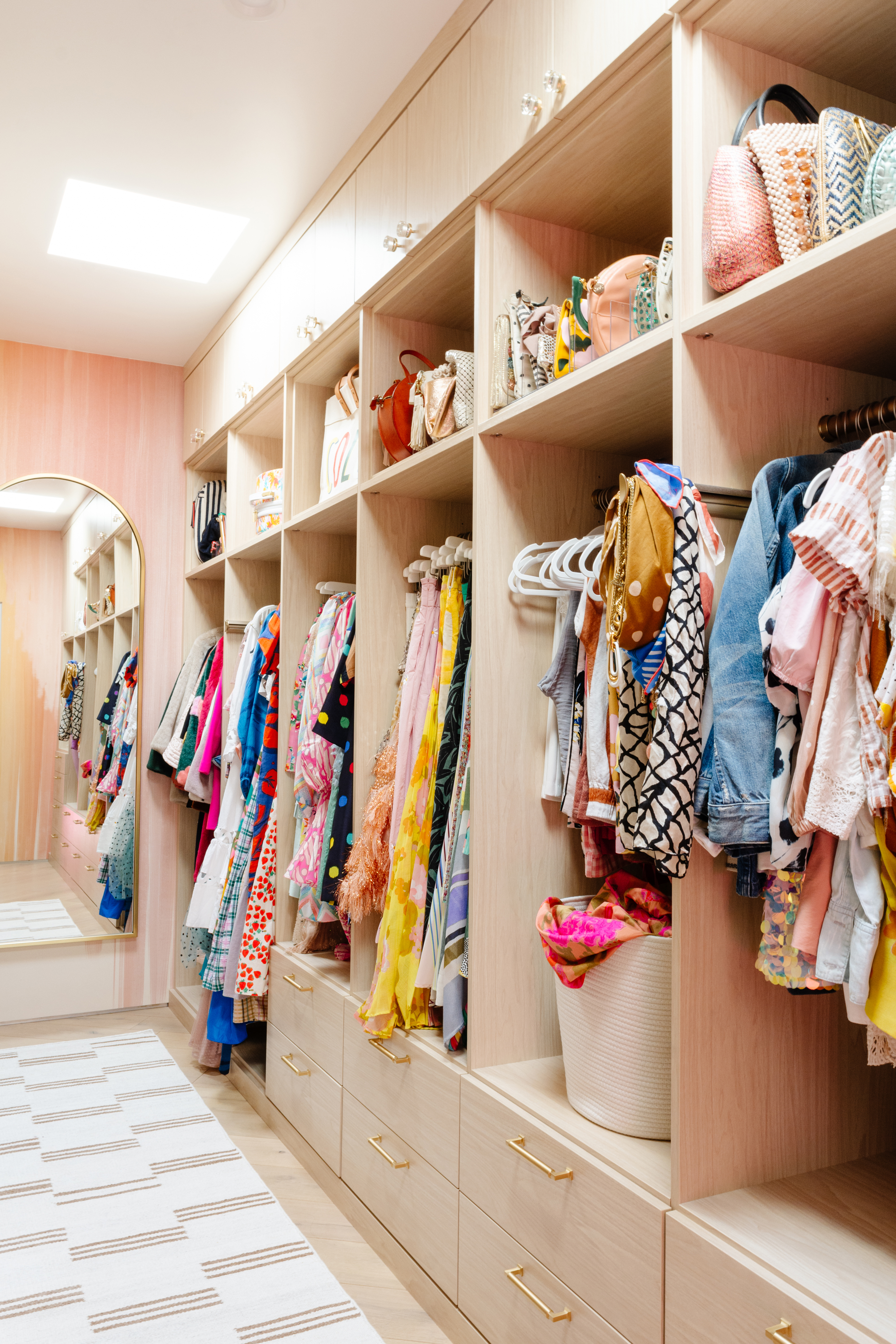 Hangers
If you're ever looking to do a closet refresh, the first thing to do for a clean and grown-up look is to get all the same hangers. I've been trying to do this for years, but our move (and a year stuck at home) finally gave me a real reason to update them all. This is the first time I have consistently stuck with that and it really does make me feel like an adult. It takes some time to switch everything over so you can do it gradually if you can't do it all at once!
This is truly one of my favorite spaces that I love so much. If you have any questions, feel free to ask in the comments below…
P.S. See all house posts right here!
Credits:
Reveal photos: Bethany Nauert
Progress photos: Lily Glass
Closet Design: Nicole Caswell of California Closets
Design: Cleo Murnane of Project M Plus and Joy Cho
Styling: Joy Cho
Architecture: Project M Plus
Construction: Boswell Construction
Hair and Makeup: Danielle Walch
All furniture and materials sources noted within captions below photos. *Indicates an item that was designer discounted or gifted to us in exchange for coverage on Oh Joy. All opinions are my own. Please leave a comment if we missed anything you would like to know the source of!