Today is the last of my studio reveals, and I'm ending with the focal point of the studio space…the living room! This part of the open space has the best view of the house with a front seat to this incredible A-frame window. Come see more…
Here's a look back at progress, and how far it's come!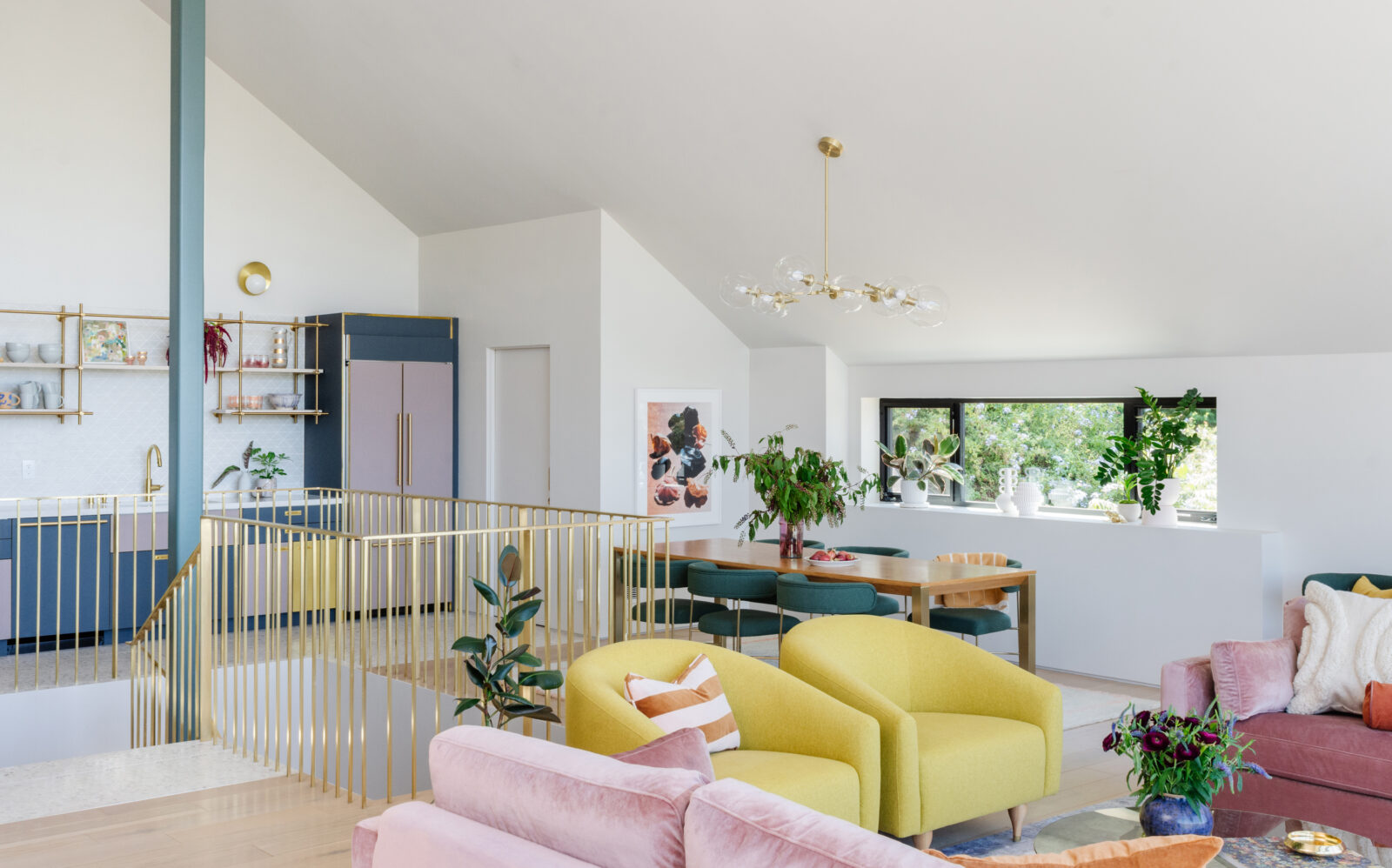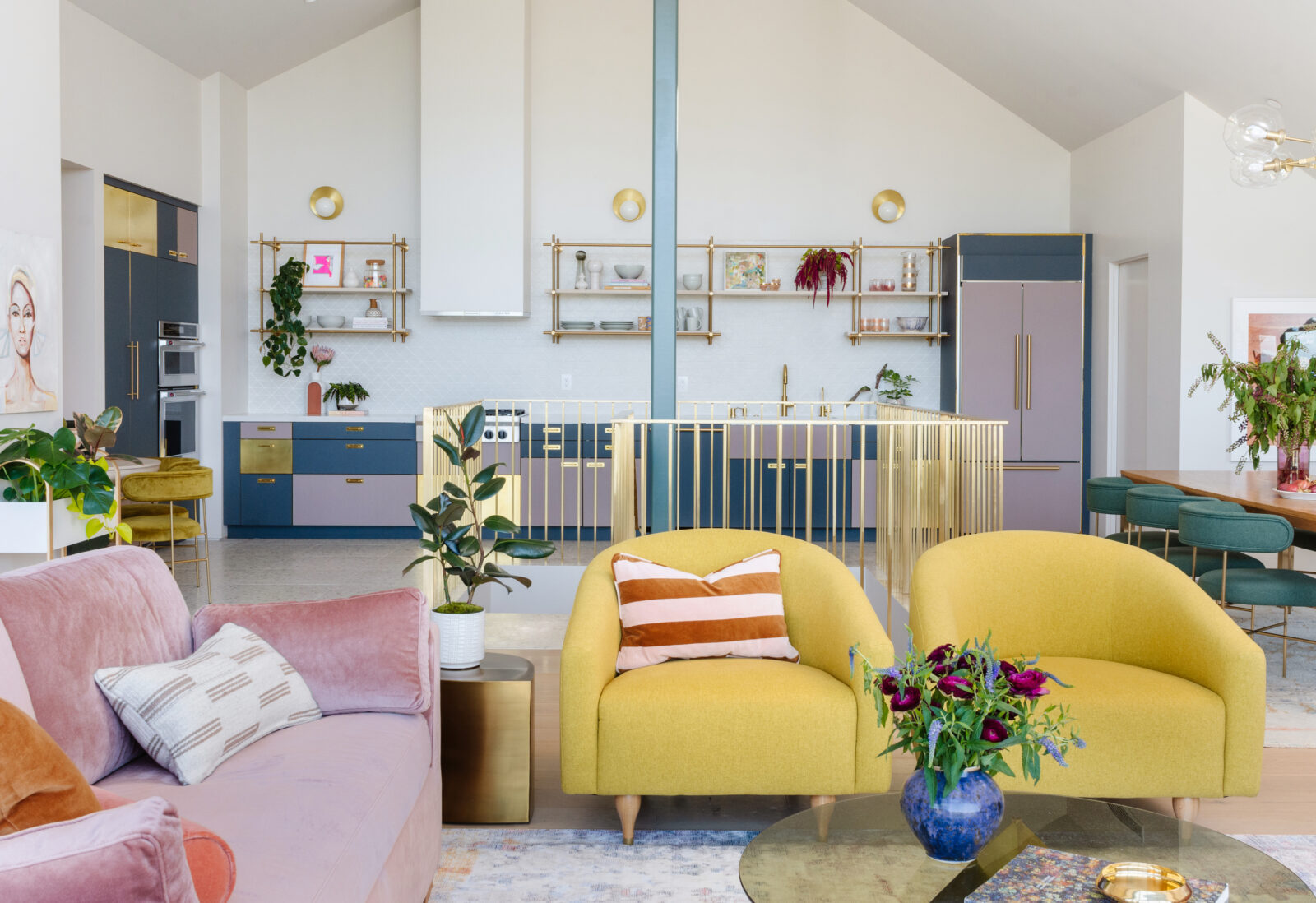 The Layout
Because the studio is one open space, the living room sits right next to the dining room (my main work area) and the breakfast nook. But it's within feet of the kitchen and bathroom as well and functions like a studio apartment. With high ceilings and plenty of light, all the colors really pop.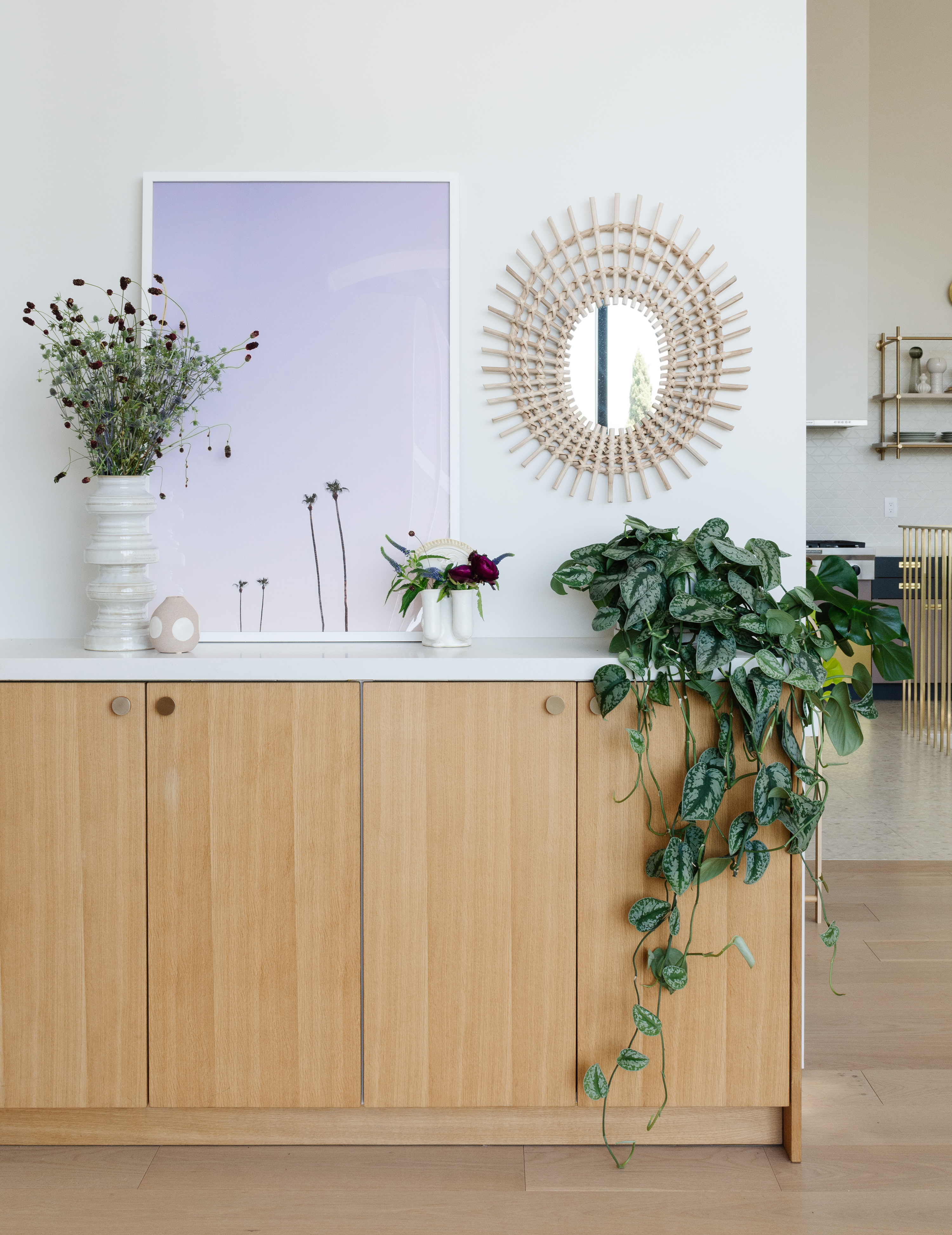 Separate Entry
There is a separate door and entry for the studio space so that we can enter on this floor without disturbing my parents (or guests) who may be staying downstairs. Because of the double entry, we needed some simple storage (like the armoire) to hold jackets, shoes, and a counter space to serve as a landing space when you walk in.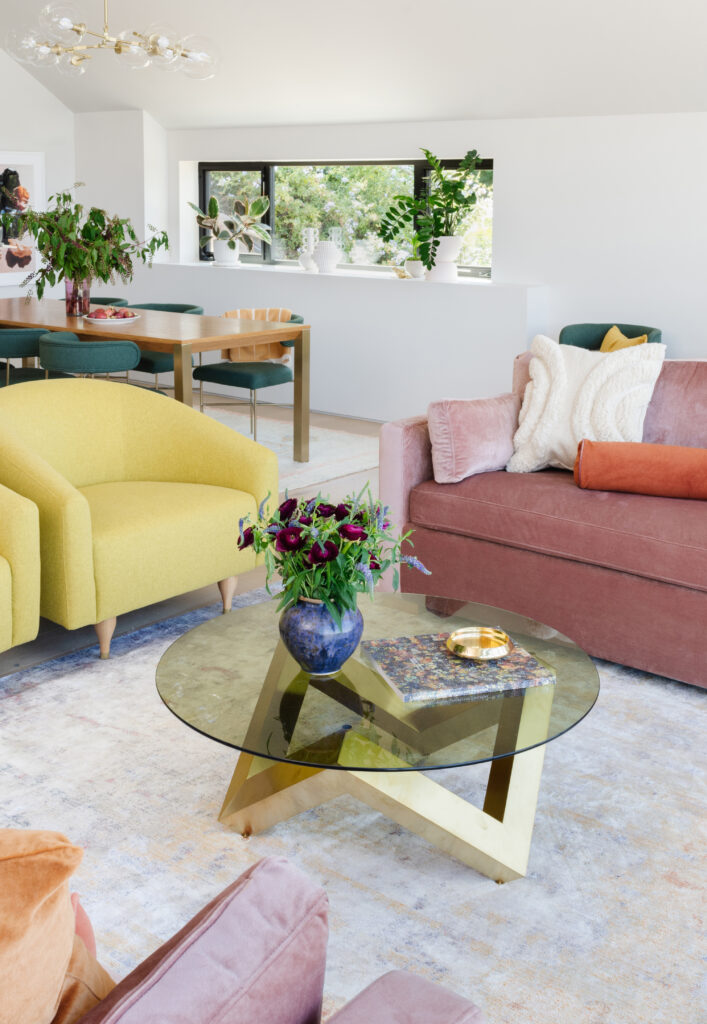 Details & Texture
When you have a new space that doesn't come with the historical details that older homes do, it's important to bring in lots of texture in furniture and decor. Plus, I love bringing in vintage pieces whenever possible. Since I'm an avid collector of vintage objects, small vessels, books, and art from past homes filled the space so that everything doesn't feel too new and modern.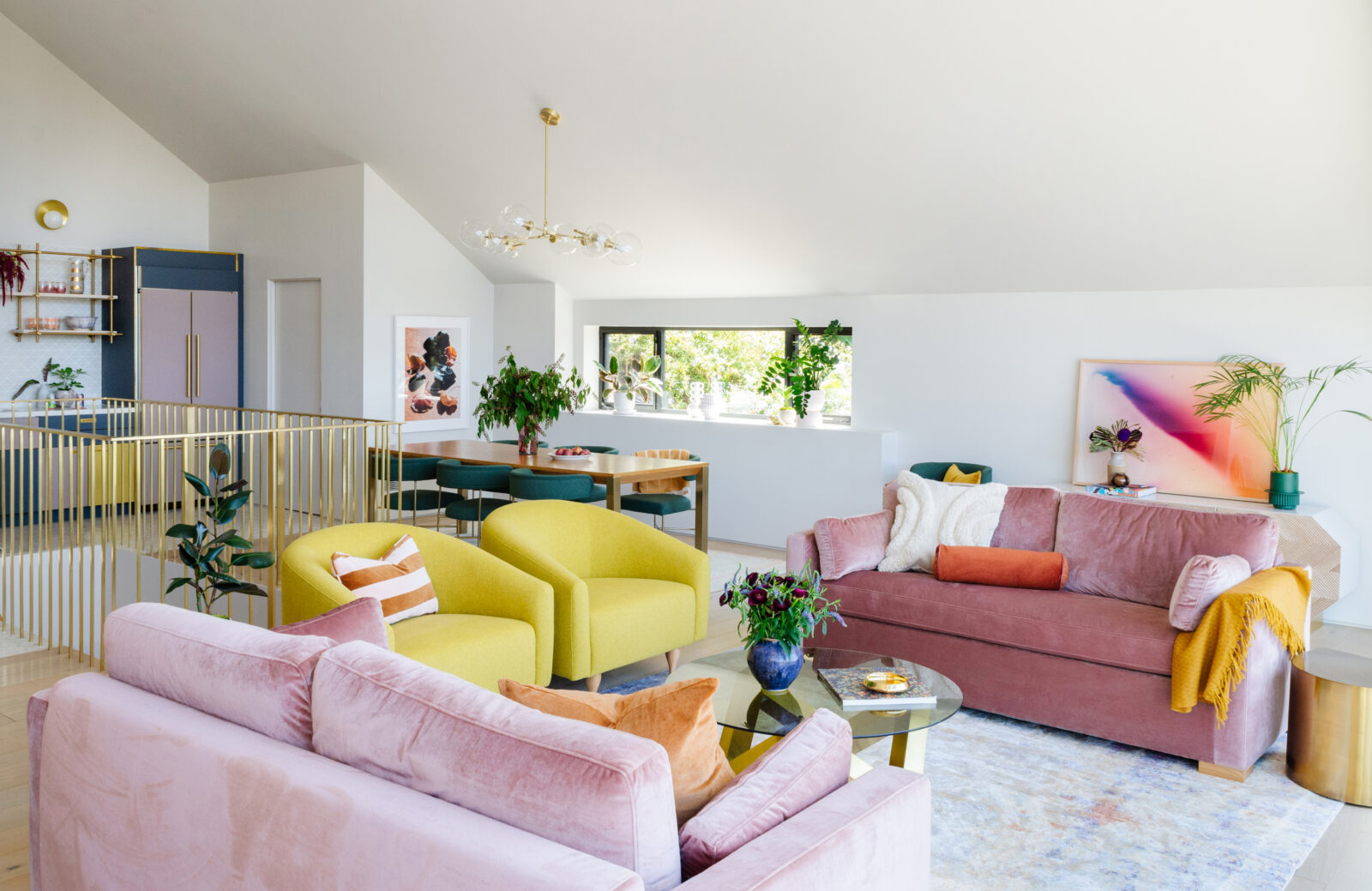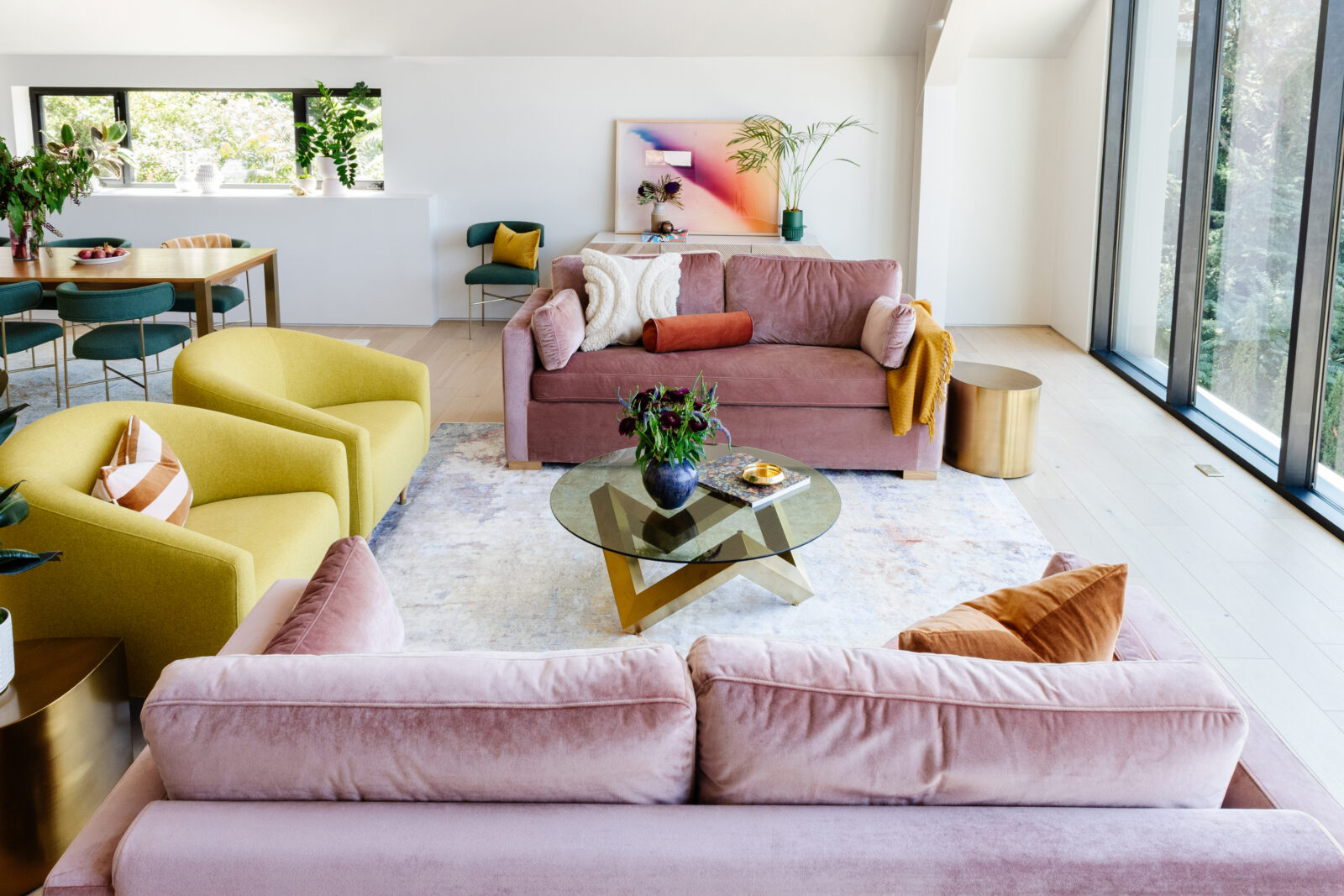 Colors
The colors of this space were inspired by sunrises and sunsets that will inevitably be seen out the grand window. Shades of pinks, blues, purples, and citron were focus colors with brass as an always-accent.
Double Function
Since this space doubles as a guest house, both couches are sleeper sofas! It allows for 4 additional people to have a place to sleep, and has worked well for large families who have come to visit. The vintage coffee table is lightweight which makes it easy to move to the side when the couches need to be turned into beds.
Storage
We use the credenzas and extra storage all around to store not only work stuff (for when guests are over and things need to be hidden away) but also to store things like extra blankets for guests to stay and feel comfy. Storage has made such a big impact in my house project for helping me keep things more clutter-free and organized.
This space has truly been a dream project to create alongside the team at Project M Plus and Boswell Construction. It took a lot of financial stress, tears, and time to make this all happen. I truly almost gave up and stopped our project so many times. But being able to use the space now for both work and for guests has been a dream.
P.S. See all house and studio posts right here!
Credits:
Reveal photos: Bethany Nauert
Progress photos: Lily Glass
Design: Cleo Murnane of Project M Plus and Joy Cho
Styling: Cleo Murnane of Project M Plus and Jonas Bergkvist
Architecture: Project M Plus
Construction: Boswell Construction
My Outfit: Selkie dress, dRA blazer (both are past season)
All furniture and materials sources noted within captions below photos. *Indicates an item that was designer discounted or gifted to us in exchange for coverage on Oh Joy. All opinions are my own. Please leave a comment if we missed anything you would like to know the source of!